Prior to the COVID-19 pandemic, generators were considered a luxury item. They were handy to have when the electricity went out, but most average people weren't making the investment. But as the power needs of homes and businesses increase and extreme weather events become more common, owners are looking for better ways to protect their property investments.
Benefits Of Investing In A Backup Generator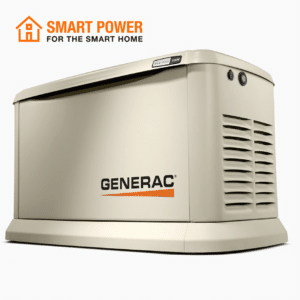 There are many reasons to consider investing in a backup power source for your home or business. When you have a whole-home generator installed, it automatically starts as soon as your electricity goes offline and runs until the electrical grid is back online.
You don't have to flip any switches or make any changes to operate your generator. These units will automatically start when your utility power fails and keep all critical circuits running, even when the power is out for a long period of time. This is important for things like:
Medical equipment, like CPAP machines, oxygen concentrators and nebulizers.
Refrigerators and freezers that store perishable foods and medications.
Cooking appliances like microwaves and stoves
Hot water heaters, washers and dryers
Heating and air conditioning systems
When you have backup power to your home or workplace, you don't have to worry about things like expensive groceries going bad or exposure illnesses like hypothermia or heat stroke when your HVAC is down. These things are more than just an inconvenience – elderly, disabled, and disadvantaged communities frequently rely on medical equipment and air conditioning continuing to work in order to live safely.
N.E.T.R., Inc.'s backup generator systems provide a cost-effective solution to power outages, even when they continue for long periods of time, helping to keep communities safer.
N.E.T.R., Inc.'s Turnkey Backup Power Solutions
N.E.T.R., Inc. offers home and business owners the option to purchase a backup generator outright or on a monthly installment plan that includes ongoing maintenance.
Whichever you choose, our turnkey price includes the generator, installation, electrical and gas fittings, necessary permits, and everything else you need to get started.
Our standard system installation flexible payment plans can be as low as:
14 kilowatt generator with a 100 amp auto switch – $170 per month
18 kilowatt generator with a 100 amp auto switch – $195 per month
22 kilowatt generator with a 200 amp service switch – $225 per month
24 kilowatt generator with a 200 amp auto switch – $245 per month
The most common reason for generator failure is a lack of maintenance, regardless of which brand you choose or which contractor completes the installation. That's why we developed our pay-as-you-go generator installation and service package, so more home and business owners can take the next step in protecting their properties.
Our service allows you to access critical equipment during an emergency or power outage with affordable generators and annual maintenance done for you.
When our technicians service your generator, we:
Change the oil
Replace the oil filter
Replace the air filter
Test for error codes
Confirm proper start up, power transfer, and shut down.
Perform other routine maintenance.
N.E.T.R., Inc. – Your Authorized Generac Contractor
As authorized Generac dealers and contractors, we're proud to partner with one of the best brands in the industry. We choose Generac brand generators because they have:
99% success rate
5-year limited warranty regardless of hours
24/7/365 customer service
Remote equipment monitoring
Quiet operation
Smart controls
Air-cooling technology
These generators are reliable, affordable, and American-built and engineered to last for many years to come. Other manufacturers often have weak warranties or inferior craftsmanship, all of which can result in the malfunction of the system or even a fire or electrical hazard.
When you work with us, our factory certified technicians and licensed electricians schedule a time and date that works for you to come out to your location and discuss your backup power needs. We'll go over how much power you need, where you want to put the generator, and any questions that may arise during the installation process. Our team will assess your specific requirements and talk through the different options that may be available to you.
Contact us today to learn more or to set up a time to meet with our team and discuss backup power solutions with you on-site. Call now at (781) 933-6387 or fill out our short contact form and we'll get back to you as soon as possible.
Serving the following areas:
Metro Boston
Metro West
North Shore
South Shore
Southern New Hampshire
Browse Our Other Electrical Services