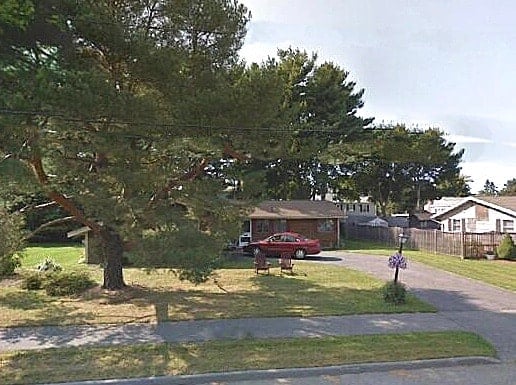 The homeowners of this great ranch home in Danvers had a problem. They were trying to cool the home with fans and the summers here are getting hotter and more humid by the year. They had great oil heat for the winter, but no ductwork for central AC. They were looking for a more permanent solution for their home than noisy window air conditioners. Which are loud, expensive to run, and can be a safety concern since criminals have been known to push in a window unit to break into a home.
The homeowners wanted to make sure they got a system that was affordable to install, energy efficient, and didn't cost an arm and a leg to run. When they gave us a call here at N.E.T.R., Inc. we knew we could design a solution for their home that would meet their needs now and provide the option to expand in the future, if they wanted.
---
Problem: The owner of a 45-year-old ranch home had great oil heat, but no central AC and was using only fans for cooling in the summer. They were looking for heating and cooling options that were efficient and cost effective.
Solution: We installed a single-zone of Mitsubishi ductless unit in the living room, with an option to expand the system in the future and create additional zones.
---
After talking with the homeowners, we recommended that they install a single zone of Mitsubishi ductless air conditioning in their living room. This would give them the comfort they wanted where they spent most of their time. If they like the ductless unit, they can expand the system later to create additional zones for other areas of the home.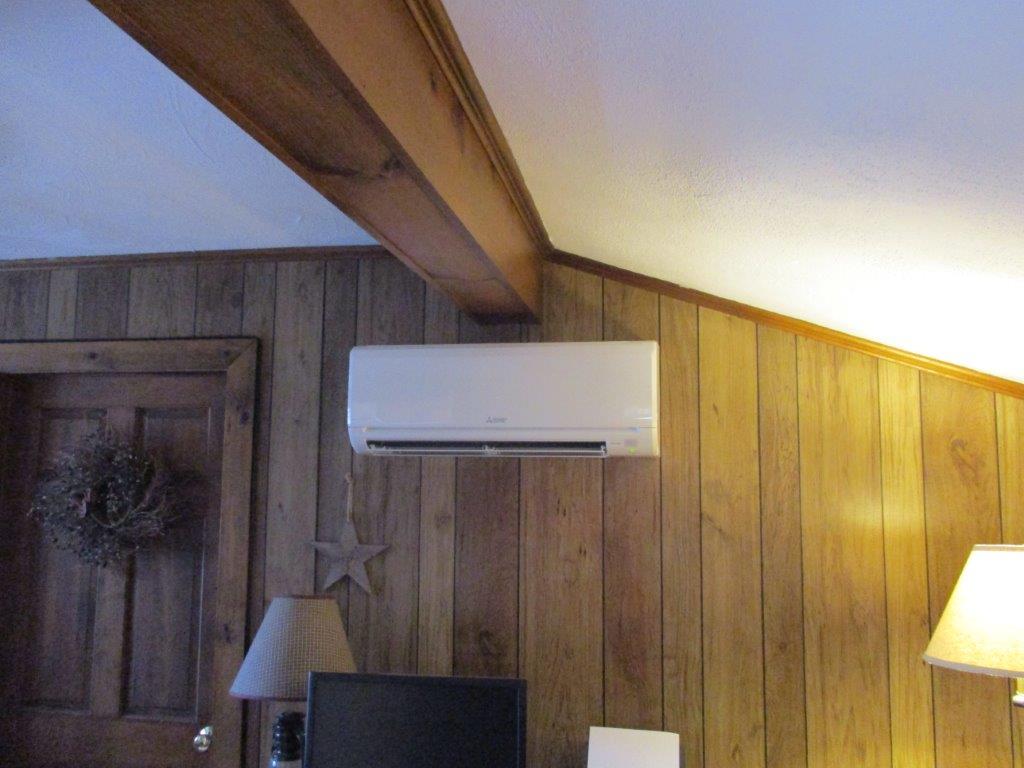 Ranch homes are built on a single floor, which means air circulation is critical. Unlike window ACs, ductless air conditioners circulate air throughout a space and monitor it to make sure you have the comfort you want in every area of the room- not just one cool space near a window! By placing the unit up on the wall, it is out of the way and can provide optimal air circulation to ensure that quiet comfort in the space the homeowners use most!
We were able to run the unit's piping through the garage, which made it essentially invisible and didn't take away from the brick exterior of the home.
One of the best things about Mitsubishi ductless air conditioning solutions like this one, is that they are modular. One outdoor unit can control multiple indoor units, so you can get one zone of heating and cooling, or multiple, depending on your needs. Each indoor unit creates a different zone of comfort, allowing you to control each room's temperature as needed. The homeowners can even turn off any ductless unit in an area that isn't in use, saving tons of money in energy costs.
Our homeowners might want to expand in the future, but they weren't ready to commit to the full install yet, so we let them know expanding the system in the future was easy! All they would need is another indoor unit and the piping required, so future new installations would cost less than the initial setup. This also would allow them to essentially "test drive" their system and expand when they are ready – a great decision, especially when you're on a budget.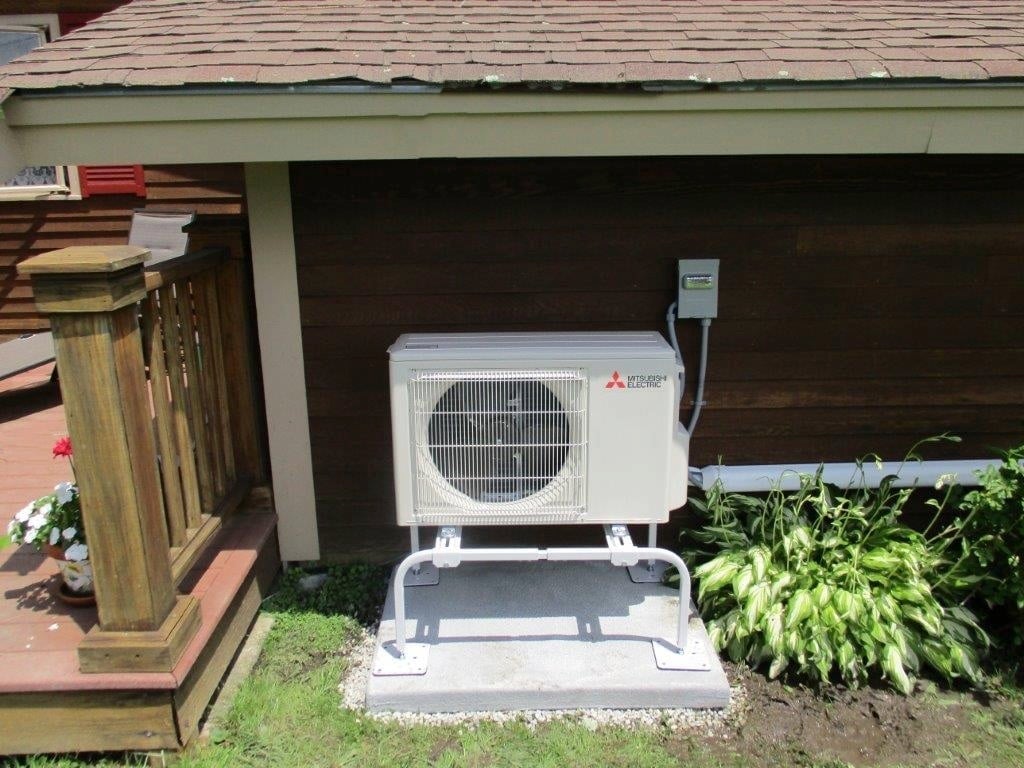 The other great thing about Mitsubishi ductless systems is that they can act as heaters as well as ACs. This means that when weather starts to cool off this fall, our homeowners can add just a touch of heat with their ductless unit to the living room, without turning on the heating system for the whole home. Because these systems are so efficient, many of our homeowners find that the flexibility of the ductless system provides better heating and cooling without adding to their energy bills. In fact, the Mitsubishi Hyper-Heating heat pumps and air conditioners often save our customers money by delaying when they normally would turn on their more expensive main systems.
The homeowners were so happy, they wrote us the following review:
Hi Jimmy,
So far, I'm thrilled with my unit! I will be recommending you and  N.E.T.R., Inc. to anyone looking a cooling/heating unit. I thought everything was professionally handled from start to finish. I also appreciate so much that you did not try to talk me into anything more than I was requesting. After dealing with several other companies, you have no idea how rare this is. We'll see how this summer goes and I know I can always add a second unit if needed.
Thank again for everything.
Linda
There's nothing better for us at N.E.T.R., Inc. than getting news like this from happy customers. Great products and installation helped us to become a #1 Mitsubishi Electric Elite Diamond Dealer in Boston, MA, and the surrounding areas. This title enables us to offer twelve-year warranties on all Mitsubishi ductless units to our customers- she best in the industry! More importantly, our business centers on ensuring you get the system you want, designed to deliver the comfort you want. We strive to treat you like family from start to finish. We want to take care of you and your home, and that's why we're simply the best Mitsubishi Electric ductless installer in New England!