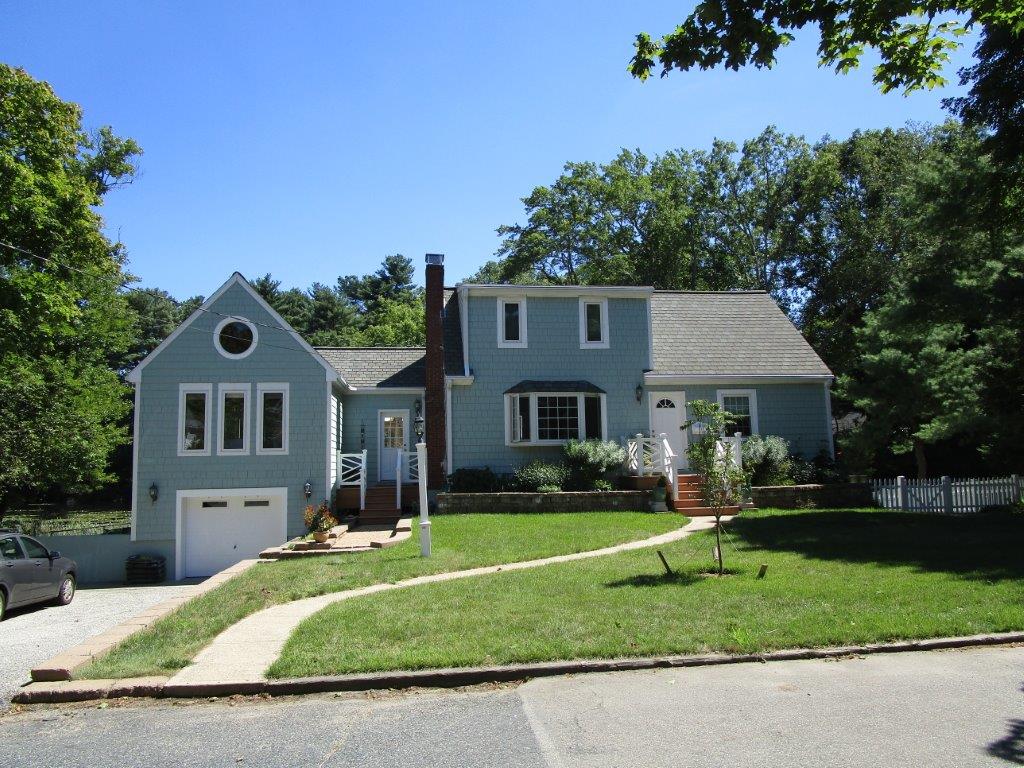 The homeowners of this picturesque expanded cape home in Walpole, MA wanted more comfort. They had a large, post and beam style family room, and because of its size, the window air conditioners they were using to try to keep it cool just weren't doing the job. As you can see from the picture, they have gorgeous casement-style windows, and they needed additional air circulation throughout the room to keep it comfortable- something window a/c units just don't do very well. The homeowners were essentially losing the use of their family room for several months of the year because it was just too hot and sticky- and they knew there had to be a better solution available.
They knew they wanted additional energy efficiency that would help them save money on monthly bills, and started doing their research online. They chose N.E.T.R., Inc. because of our status as an elite diamond dealer/contractor for Mitsubishi Electric, along with our outstanding reviews and reputation for great customer service.
Problem: The homeowner was looking for more comfort in their large family room that wasn't being adequately cooled by window a/c units. They wanted and energy and cost-efficient solution that would give them the comfort they wanted without costing a fortune to operate in the increasingly hot and humid summers.
Solution: A single zone of Mitsubishi ductless air conditioning system will provide the family room with year round comfort at the touch of a button- making sure the family can truly enjoy their time together. The family also benefited from $875 in rebates, helping to make this energy-efficient solution even more affordable.
When we sat down with the homeowners, their main cooling problems could be solved easily by a single zone of ductless air conditioning in the main Family room area.  This large room needed air circulation and humidity control, so the family would finally have a really comfortable place to spend time together, every day of the year. With a Mitsubishi Electric Hyper Heat ductless unit, the family will get all the comfort they need, throughout the space, controlled through a simple remote control.  They can adjust the temperature to their liking, and the unit with help distribute the air throughout the room, preventing those hot and cold spots you get with window units that just can't keep up with a room this size.
Even better, ductless units also can work as heaters, so when we start having those first chilly nights in the fall, the family can also add just a touch of heat for comfort in this main area, without having to turn on the heat for the whole house. The unmatched efficiency of Mitsubishi ductless will be able to provide cost-effective heating to the family, letting them save even more money come Winter!
The family was also able to combine rebates- a Mass Save rebate of $250 and a Mass CEC rebate of $625 to help defray the cost of installation!  The Commonwealth has two programs that can help homeowners upgrade to more efficient heating and cooling solutions, the Mass Save and Mass CEC rebate programs- helping homeowners save money while helping us all out by saving energy- and the environment!  These rebates helped our homeowners save a total of $875, and these programs could make adding a heating and cooling solution like this one more affordable for your family as well!
Give us a call here at N.E.T.R., Inc. and find out how we can help make your home more comfortable today. Check out our case studies throughout the greater Boston area- we've likely worked on a home similar to yours, and you can see how our customized solutions could help make a difference for your home as well.