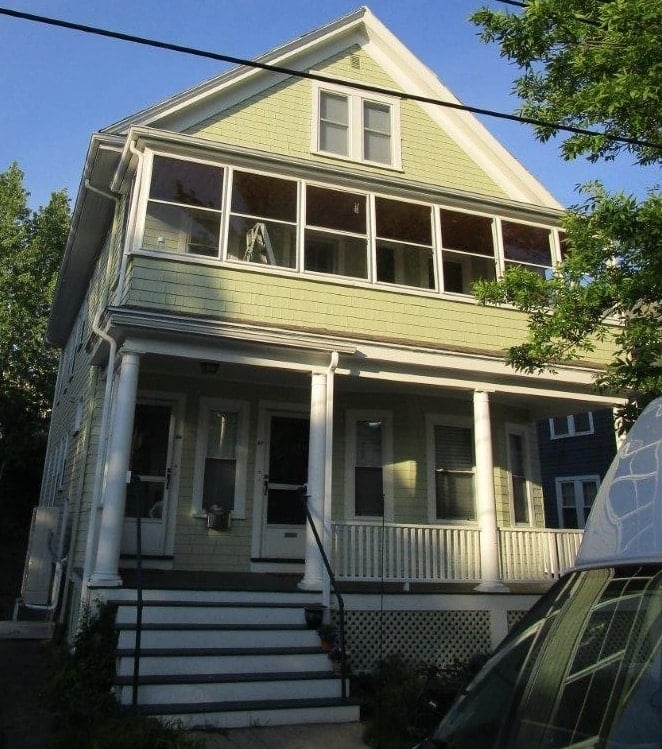 Our homeowner's converted three-story home is a great investment property. She lives on the third floor and rents out the other two as a second unit. Now, she was ready to improve her air conditioning.
Like many older homes in Arlington, MA, this one didn't have central air conditioning. It wasn't an option for homes until the 70s, and this house was around before that.
In many cases, an hvac company can add a central unit to existing ductwork. But, that wasn't the case here. Our homeowner had forced hot water heat. It uses pipes and radiators instead of ducts and vents.
As a result, our homeowner used window air conditioners. They kept a few rooms in her condo cool. But, they didn't do a great job.
Window air conditioners use more energy than other ac units. They also lose a lot of cool air and waste energy doing so. Plus, they're loud and require maintenance. Our homeowner was ready for a change. Fortunately, she called the right people.
This condo was perfect for a Mitsubishi ductless mini-split system. We provided her with the power of a central cooling system. Our solution uses less energy and therefore costs less to run. And, it's quiet and doesn't require as much care.
Here's how the new system worked for this homeowner.
Problem: A three-story house in Arlington, MA converted into a two-family home did not have central air. The homeowner wanted better cooling for her condo.
Solution: Installed a three-zone Mitsubishi Electric ductless mini-splits system.
How does a ductless cooling system work?
A ductless cooling system works by circulating air throughout the house using wall units, or air handlers. Each one works independently.
The process begins with an outdoor heat pump. Like the condenser for a central ac, it's the part of the system that generates the cold air. From there, the air travels through small plastic tubing. This tubing delivers it to the indoor units.
What's significant is that the tubing does the job of ductwork. That's a big difference because it's so easy to install. Our techs drill a small hole in the side of the house and then run the tubing through walls as if it were electrical wiring.
On the other end, the tubes connect to the back of the indoor units where you can't see them at all. It's a quick process. And, it's much easier — and less expensive — than designing, fabricating and installing ductwork.
That makes it especially attractive for an older home. In this case, our homeowner's didn't want to make any major changes to the inside of their house. If we need to add ductwork, we would have to take up closet space and build out around walls to house it.
Instead, the only part of the new system our homeowners will see are the air handlers. And, they're mostly out of sight. We mount them high up on a wall. And, they make virtually no sound while they're working.
Using ductless mini-splits to create zoned HVAC
Another great benefit of ductless cooling is building a zoned hvac system. This setup separates the home into different zones. Then, it treats the climate control in each area independently of the others. It's an improvement over a central air conditioner, where one thermostat controls the cooling for the entire house.
Every air handler has a thermostat. That means our homeowner can set them all to the same temperature. Or, she can set each one differently. It allows her more control over the climate control in her house.
Setting all the indoor units to the same temp provides even cooling throughout the house. That's an improvement over one thermostat on the first floor. With a single thermostat, it's typical for the rooms upstairs to be hotter than the ones downstairs.
It happens because the system shuts off once the room with the gauge is cold enough. But, the thermostat isn't measuring the other parts of the house. With the mini-split, each zone gets treated by its air handler until the job is down.
Our homeowners can also set the indoor units to different temperatures. For instance, if she prefers her bedroom cooler than other rooms, she can set that one colder. And, they can let the air handler in the living room work less at night when she's asleep.
Saving money with a ductless cooling system
A ductless cooling system does more than provide great, customizable climate control. It also uses less energy than a central air conditioner or window units. And, using less power means spending less money on monthly energy bills.
The Mitsubishi mini-split system our homeowner chose is certified Energy Star. That means it uses less energy than other ac's to provide the same service. It does so in a few ways.
First, the outdoor heat pump uses much less electricity than a traditional condenser. A heat pump employs a heat exchange process that draws heat from the home, extracts it and sends the cooled air back in. It's a self-contained, cyclical process that works mostly on its own with just a little bit of outside power.
Next, the tubing that transports the air is sealed tight. That's in contrast to ductwork. In this case, treated air doesn't leak out along the way, thus getting wasted.
Finally, the high wall units circulate air more efficiently than vents. And, since they are permanently installed, treated air doesn't escape as it will with a window unit.
Of course, installing a mini-split is a substantial investment. In fact, the cost of the indoor units plus installation is more than introducing central air when there's already ductwork. But, our homeowners didn't have ducts and vents.
Fortunately, we found ways to bring down the cost through rebate programs. Across the country, clean-energy advocate groups offer cash incentives for homeowners to install energy-efficient appliances. We let our homeowner know about two such groups in the Bay State.
As a result, our homeowner received more than $2,600 in rebates just for installing this system. She got $300 from Mass Save, a collaborative of utility companies in the state. And the Massachusetts Clean Energy Center came through with $2,343.
Those incentives made a sizable dent in her installation costs. And, now she's saving money every summer with lower energy bills. In a few years, the system will have paid for itself.
Do you want a better and more cost-effective and efficient option for heating and cooling your home? Contact us, and we'll design the perfect solution for you!