Homes like this split-level ranch in Beverly, MA, often have sunrooms and other additions that can be hard to heat and cool. Sunrooms are designed with lots of windows and to help bring light into a home. All that glass can make the room hard to keep a steady temperature since it traps heat in the summer and allows in the cold in the winter. This fluctuation can make an inviting space uncomfortable a lot of the time and sometimes causes these rooms to be underused. Sometimes homeowners will try window air conditioners which are noisy and block the windows for the entire summer. Space heaters in the winter are not a safe option, either.
Our homeowners in Beverly got tired of this problem and decided to find a more permanent solution that would allow them to enjoy their sunroom every day of the year.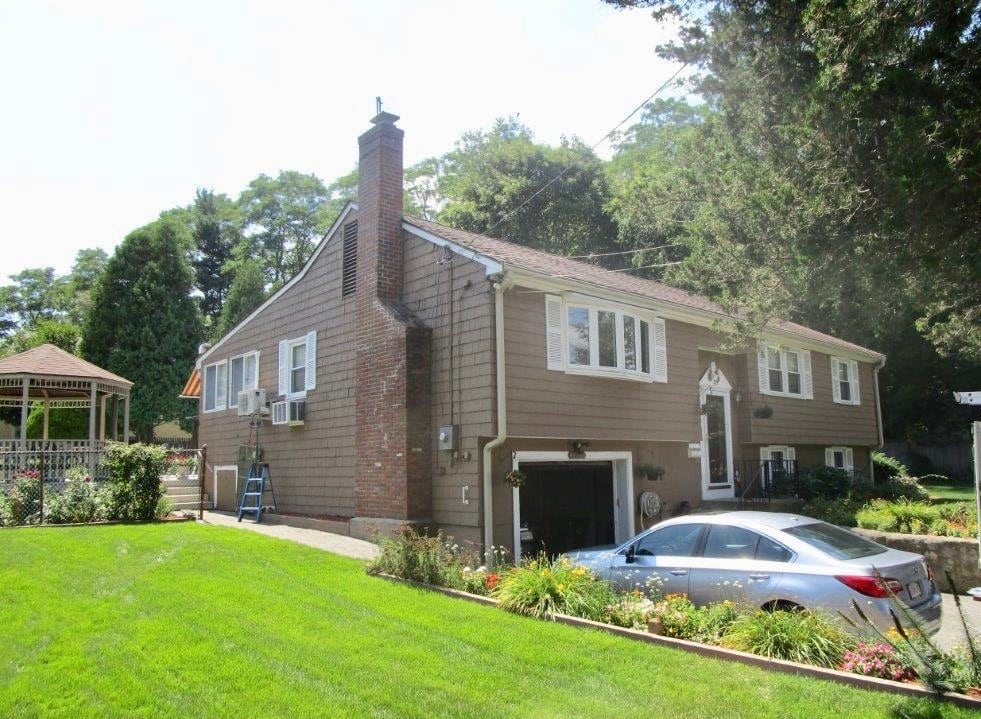 ---
Problem:
Our homeowners had a sunroom that was hard to heat and cool. It was too hot during the day and in summer months, and too cold to enjoy during winter. They weren't getting the use out of the space because of the comfort problems.
Solution: Installed a Mitsubishi Hyper-Heating ductless unit to allow pinpoint control of the temperature in their sunroom, ensuring comfort 365 days a year.
---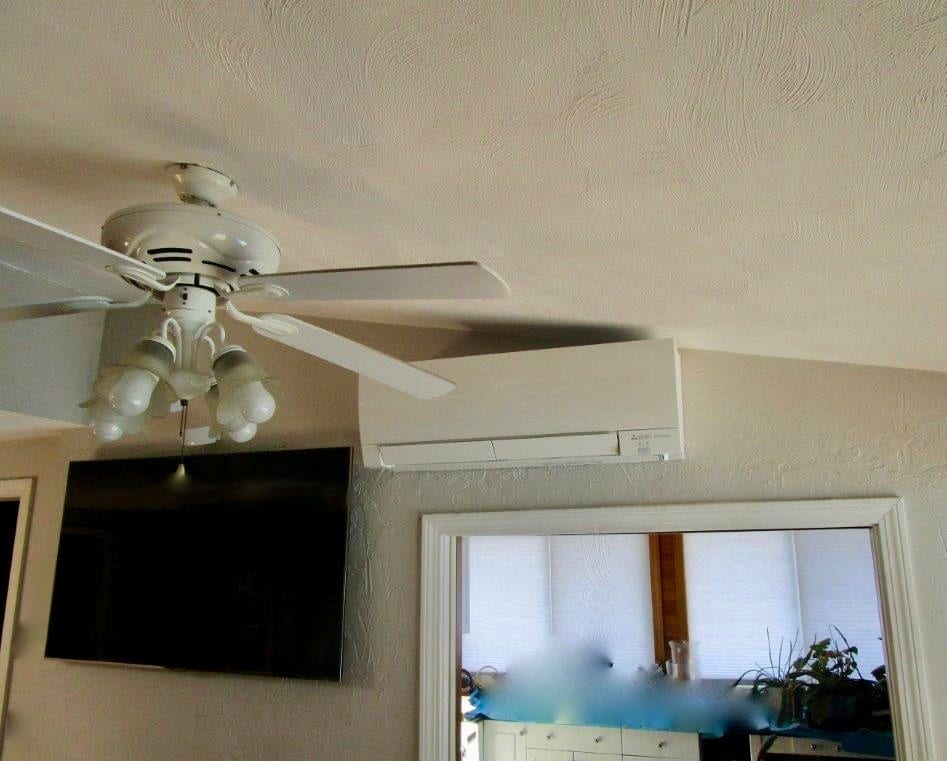 The problem this family had was making sure their sunroom was comfortable. Split-level ranch and raised ranch homes like this one can be a challenge to heat and cool in general. Air circulation is crucial to ensure there aren't hot spots and cold spots. It takes an innovative solution to ensure comfort in the winter and summer. The sunroom in this home was a great example of this problem- it never seemed to be the right temperature. Their existing unit, seen on the right, wasn't able to to sufficiently heat the home, and the family needed something to keep the room more comfortable.
By adding a Mitsubishi Hyper-Heating ductless system (seen on the right), this family will be able to enjoy their sunroom every day of the year. These units work as AC and heat pumps. The ductless units are deigned to control humidity as well, improving the overall air quality wherever they are installed!
The sunroom will now be cool and breezy even on the hottest days of summer, and there won't be a chill anywhere come winter. Instead of having to crank up the heat in the rest of the house to make sure the sunroom is warm, this newly created zone will take the burden off the main heating system. No new radiators or ductwork was necessary! This supplemental heat pump will be able to work right alongside their existing system and should reduce their heating bills this winter!
This family qualified for a rebate of $1,125! Because this is energy efficient technology, rebates are available for these systems since they are environmentally friendly. Additionally, the warranties on the systems has recently been extended to twelve years, giving homeowners peace of mind as well as increased comfort in their homes.
There are still rebates available, so if you are interested in this type of energy efficient equipment, be sure to ask your N.E.T.R., Inc. heating and cooling specialist about what sort of rebates would apply. 
The key points of this home and our solution:
The homeowners now have a comfortable, quiet solution to heat and cool the sunroom in their split-level ranch home, making it comfortable all year long.
Their energy bills will go down because of the energy efficient technology.
No removal or replacement of existing equipment was necessary and the new system will supplement the existing system to lessen the yearly wear and tear.
A $1,125 rebate was available to these homeowners which helped reduce their initial costs, along with the money they will save due to smaller energy bills.


A Great Investment

This kind of installation is going to help this family with a few things. They are still using their current system to heat, so this ductless heating and cooling system install will supplement their current system to make the sunroom completely comfortable. No removal of an old system necessary. This permanent solution will be quiet and efficient, a big improvement over window air conditioners or space heaters that many homeowners might otherwise rely on.

This technology will also help save money on energy bills, being that it is an energy efficient solution. The homeowner was also eligible for a $1,125 rebate!

The warranty on all qualifying systems installed after April 1, 2015 has been extended to 12 years! Click here to see the details.