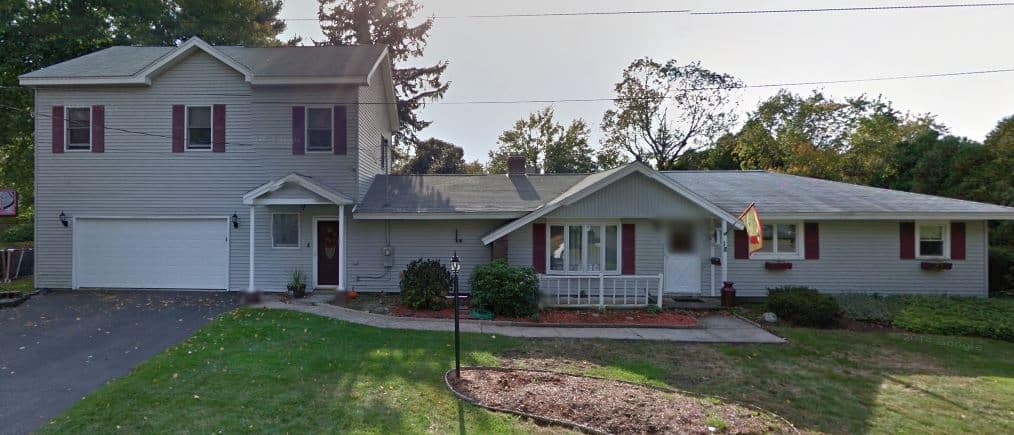 Stoneham has lovely homes, and this ranch home is no exception.  This cape-style ranch has been expanded over time, adding a second story above the garage which has a new family room!  With most additions, one of the largest issues is how to find a good heating and cooling system to serve this additional space.
Often a home's main HVAC system has not been designed to serve this additional load, so homeowners consider options like electric baseboard heating and window air conditioners to get by. The problem with these solutions is they are inefficient and expensive to run, and they really don't give you the "finished" and upgraded feeling that you want after spending money on a brand new addition.
The family gave us a call here at N.E.T.R., Inc. to explore ways to cost-effectively heat and cool their addition, and they were interested in whether we could design a solution that would also be able to provide cooling comfort in the summer, to replace their current reliance on window units.
---
Problem: The homeowners of this great expanded ranch home needed heating and cooling for the expanded portion of the home, and cooling throughout the rest of the home.
Solution: N.E.T.R., Inc. installed three zones of Mitsubishi ductless in order to heat and cool the addition, and provide world -class cooling comfort for the other areas of the home, which saving on energy bills!
---
When we sat down with the homeowners, we knew a ductless solution would be perfect to help heat and cool the addition. Mitsubishi ductless systems rely on super-efficient heat pump technology and can provide both heating and cooling from an installed wall unit, making it perfect to provide year-round comfort for hard to heat spaces in your home, just like the new family room over a garage like this one.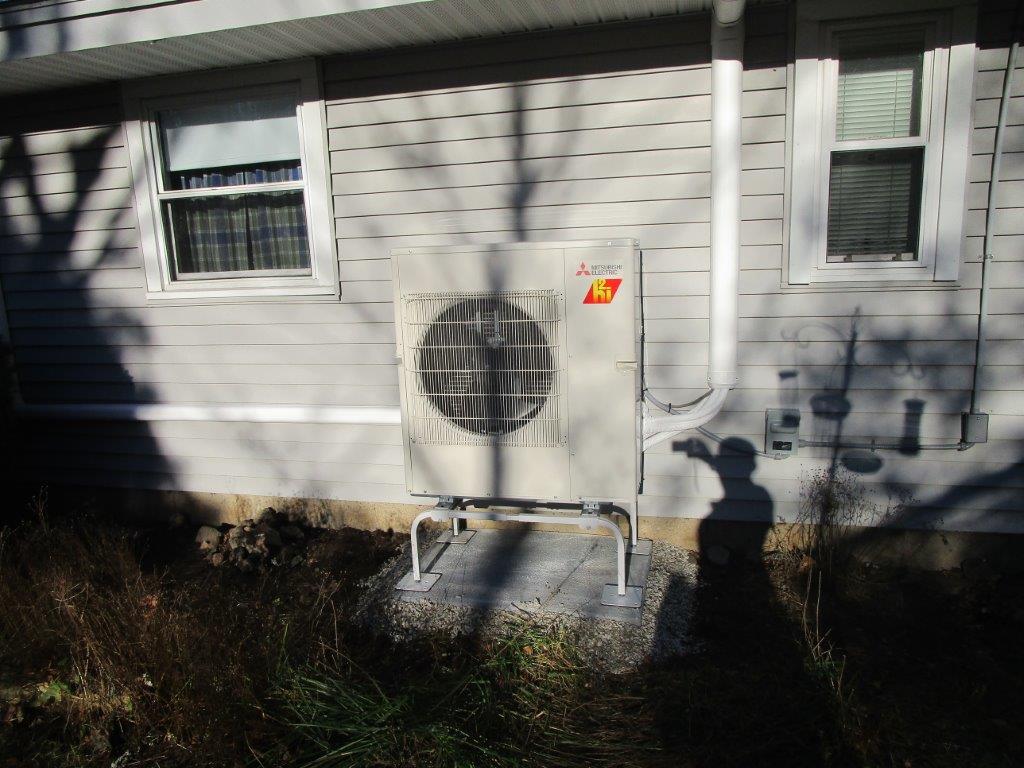 Ranch homes are long and spread out, so one of the concerns we always have is to make sure we place the outside unit in such a way to minimize the piping on the outside of the home, to maximize the indoor and outdoor aesthetics.
We were able to install the main outdoor heat pump unit outside the home and then run a majority of the required lines through the attic crawl spaces, to ensure that each and every room receiving an indoor unit used the minimum amount of piping, to maximize the final outcome.
The results are easy to see in the pictures below.  Each indoor unit is mounted up on the wall, where it can provide the maximum amount of comfort throughout the room, but still be out of the way. We try to make any connections necessary invisible as much as possible, making your home and its beauty the center of attention, not the comfort system.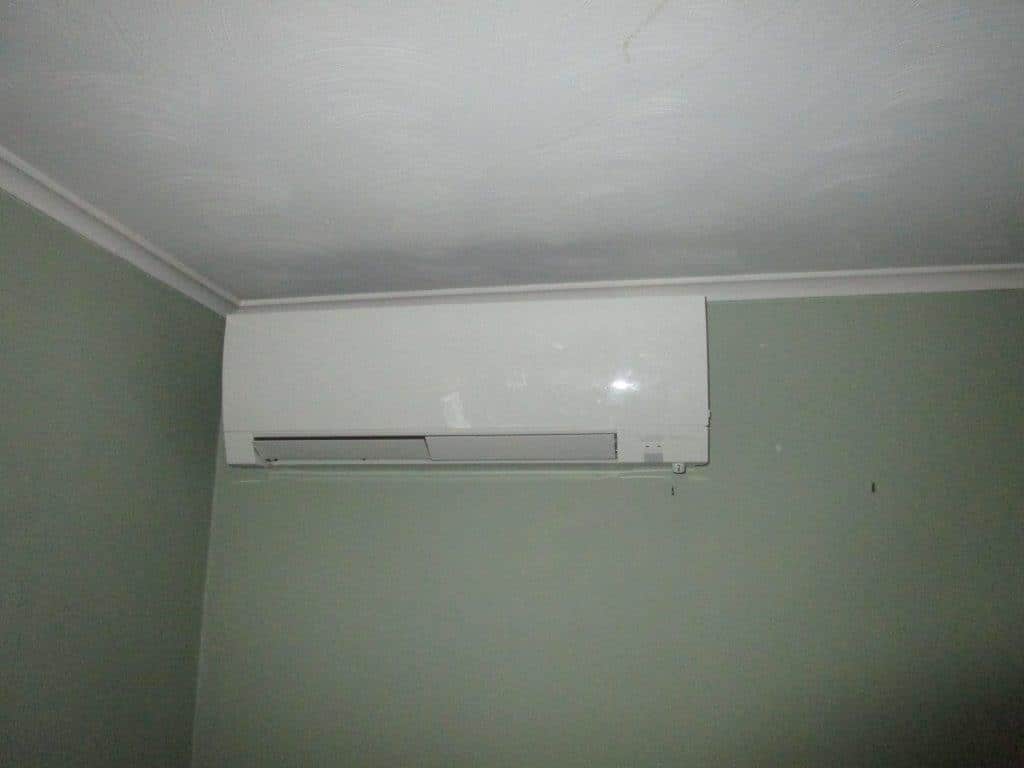 For this home, we installed three separate Mitsubishi Ductless indoor units, in the new family room, the living room in the main portion of the original home, and the master bedroom. Each unit can be controlled independently, with a handheld remote. (Other options, like wall thermostats and cloud-based controllers are also available!) All you have to do is adjust the temperature to your preference, and the ductless unit will adjust the temperature and humidity as needed to keep you perfectly comfortable.
Mitsubishi ductless is a great option for homes like this one because it is incredibly energy efficient. The systems use inverter technology, which allows the sensors to use the minimum amount of energy necessary to provide the comfort you need, and keep the comfort level steady. This controls the speed of the fan and motor in such a way to not only deliver great comfort, but to also to minimize the wear and tear on parts. As Mitsubishi Diamond Contractors, we even offer a 12 year warranty on the units, ensuring your family will enjoy perfect comfort for years to comes.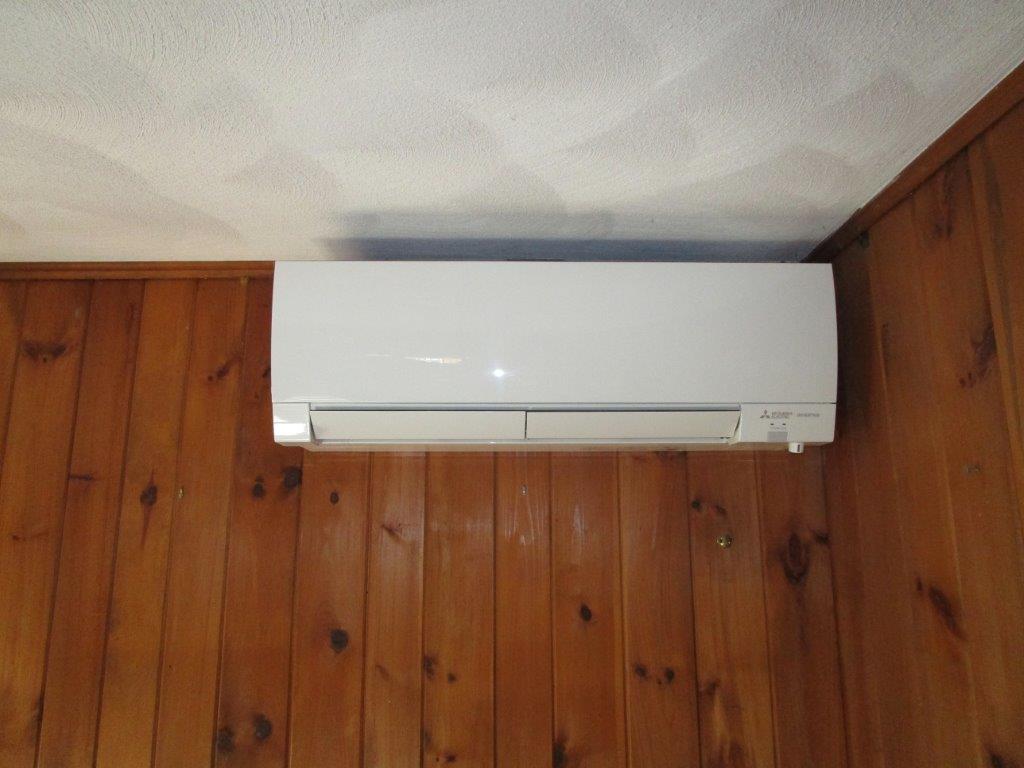 In fact, these units are so energy efficient, they qualify for rebates from two government programs- Mass Save and Mass CEC. This family qualified for a Mass Save rebate of $300 and a Mass CEC rebate of $1,490, for a total of $1,790 in savings on the installation. And, because of the efficiency, many customers see up to a 40% drop in energy bills, which is music to a homeowner's ears.
We know the owners of this great expanded ranch in Stoneham will love the comfort they'll get in their new addition, but also the world class cooling comfort they'll get by replacing their old window air conditioners with Mitsubishi ductless, as well as getting their windows back for half the year!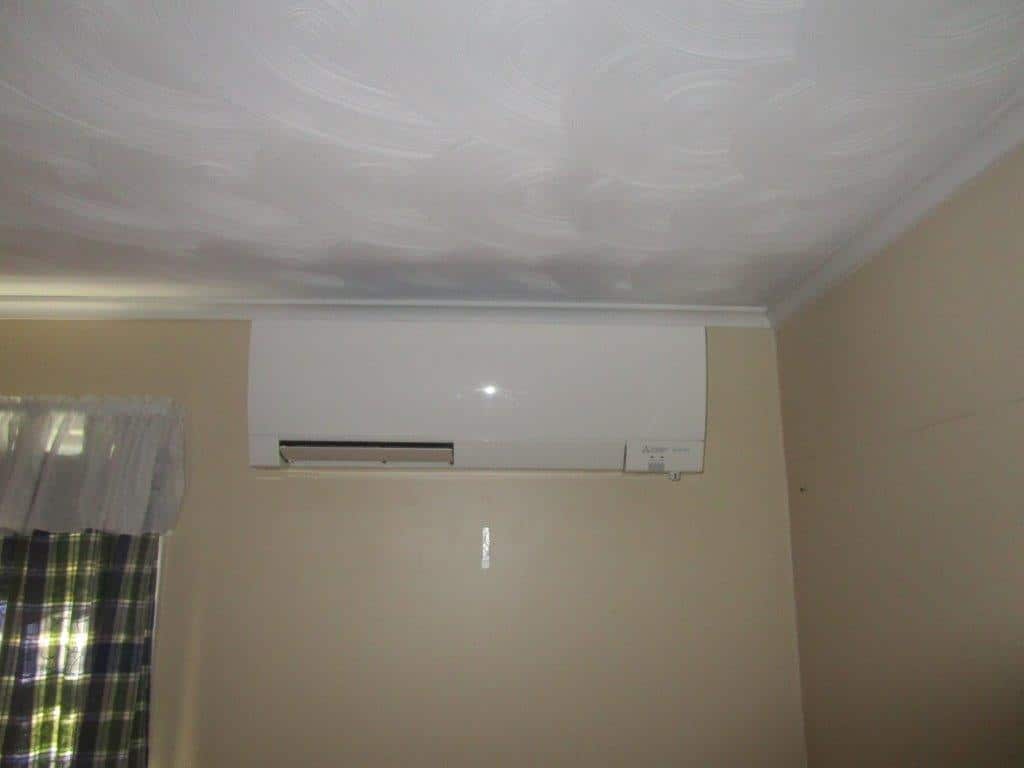 If you live in Stoneham or other communities on the North Shore, give us a call here at N.E.T.R., Inc., and let us show you how replacing your old window air conditioners can bring you cooling comfort as well as a touch of heat right where you need it, with a cost-effective and energy efficient Mitsubishi Electric Ductless system today!