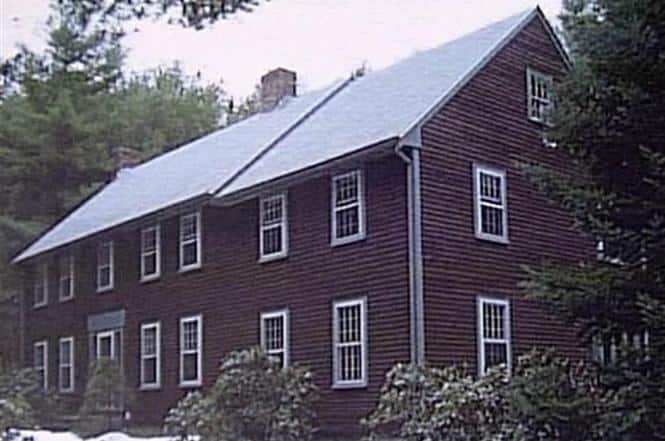 A new addition to a home needs heating and cooling just like every other part of the house. A ductless heating and cooling system makes that process much easier and much more efficient than other options.
Our homeowners had just added a new room off the kitchen of their large colonial home in Carlisle, MA.
Now, they would need supplemental heating to handle that part of the house. Meanwhile, the house did not have central air and the homeowners used window air conditioners in the summer.
Ready for a fresh start with their new addition, our homeowners called N.E.T.R., Inc. They'd read our outstanding reviews and saw we are the number-one Mitsubishi Electric Elite Diamond Dealer in New England.
We quickly got to work designing the perfect electric ductless mini split system for their home.

---
Problem: A colonial home in Carlisle MA needed cooling and supplemental heating for their kitchen and a new addition to their home. The house had oil heat and no central air.
Solution: Installed a Mitsubishi Electric ductless mini-split system with an outdoor condenser and two indoor ductless units.
---
Ductless HVAC in a New Addition
There are many advantages to installing a ductless HVAC outdoor unit. These benefits have an even bigger impact on a new construction.
Much of this has to do with how the ductless split system works. As the name implies, it doesn't require ductwork to operate. This means our installers don't have to map a route for ductwork, then build and install it. Meanwhile, our homeowners don't have to pay hundreds, if not thousands, for the additional labor.
With a Mitsubishi Electric ductless system, an outdoor condenser provides the warm or cool air. That air travels through small, flexible plastic tubing, which is about two inches in diameter. Therefore, our installers can feed it through a wall. This is much simpler — and cheaper — than designing and installing ducts.
Finally, that tubing connects to a ductless unit where the air is distributed into the room. The tubing itself comes through the wall behind the unit and connects to it.
Since the HVAC unit doesn't require a vent, out installers can place it anywhere in the room. This allows us to find the best spot for optimal performance. Each unit comes with a remote control, so the homeowners can control the temperature, even if the unit itself is installed out of easy reach.
This makes ductless HVAC perfect for this new addition and one less thing for our homeowners to worry about. They can design the room however they want and adding the ductless unit will be little more than an afterthought.
Ductless Cooling Replaces Window Units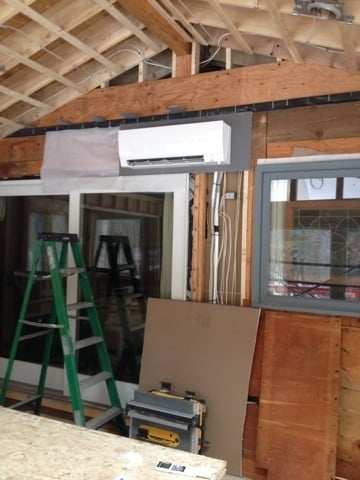 The electric ductless system in this home also handles air conditioning. The units are a huge improvement over the old window air conditioners the homeowners previously used.
Window units are commonly used in an old house like this. Central air wasn't available in most homes until the 70s and it can be expensive to install it later.
Once again, the ease of putting in a ductless system was a big benefit. Installing central air means, at least, tapping into existing ductwork and, often, new ducts. That would certainly have been the case in the new addition.
Instead, the same ductless units that provide heat in the winter also provide cool air in the summer and they do it faster and quieter than the window units.
Thanks to the technology in ductless units, they are whisper-quiet. This is very different from the old, loud AC's the home had previously. In addition, unlike the window units these don't require a lot of maintenance.
In the past, our homeowners had to spend a day taking out the window units from storage. They'd have to clean them out and maybe get them fixed. Problems like broken coil and low refrigerant coolant are common in window units over time, but this is not so with ductless units.

Saving Big with Ductless Heating and Cooling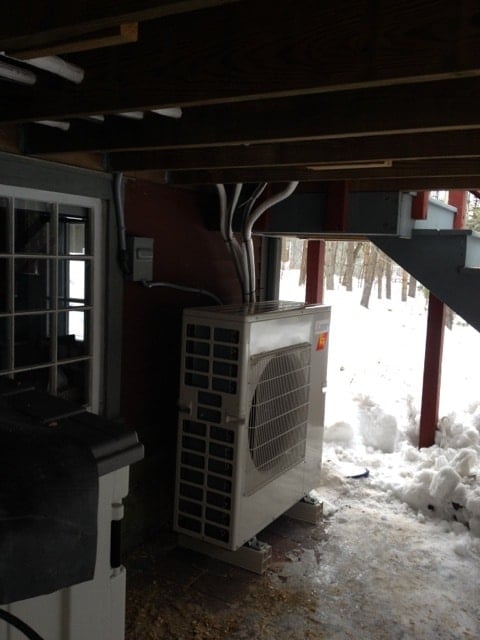 Convenience and great climate control are huge benefits of a ductless HVAC system. For many people the cost is just as important. The systems we install deliver on that just as well.
An electric ductless mini split system is a big commitment, but it's one that pays for itself over time by lower monthly energy bills.
Ductless units, on average, use less energy than other HVAC options to work. There's also the zoned aspect of ductless units. There's also the zoned aspect of ductless panels.
Each has its own thermostat, which means our homeowners can control each unit separately. This is very different from an oil burner using one thermostat for the whole home. When there's one thermostat, the system turns on and off just based on the temperature in that area.

Even if other parts of the home heat up before that spot, the whole house continues to get warmer until the thermostat hits its mark. This results in the system using more energy than needed.
With a ductless unit, our homeowners can customize them to use less energy. For instance, if the kitchen gets warmer before the new addition, then that unit can turn off before the one in the new room.
It also means the homeowners can wait an extra few weeks to turn on their more expensive oil heat in the fall. Instead, they can use the more efficient ductless units for just a little bit of heat. Then, they can fire up the burner when it really gets cold.
All this made the new ductless units the finishing touch for this home's new addition. The units give the home a state-of-the-art HVAC system that uses less energy and provides more comfort than they had before.