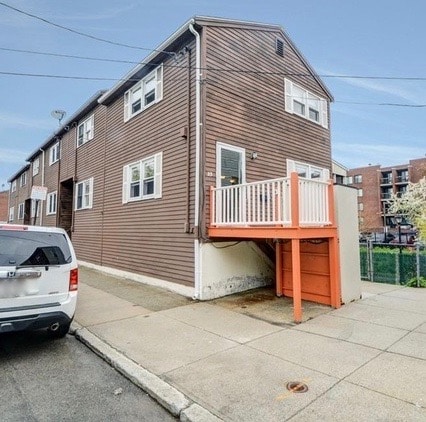 Townhomes, like this one in East Boston, were often built with electric baseboard heating, which was great for its time, and frequently were not equipped with air conditioning since it wasn't widely used at the time. Townhomes often have multiple levels and, without central ductwork, keeping all areas of the home perfectly comfortable can be a challenge. The basement may be cold while the middle floor stays cozy, and the top floor will probably be chilly in the winter and broiling on hot summer days.
Our homeowners were trying to keep their home warm in the winter by relying on electric baseboard heat. They had no central air conditioning units and were forced to use noisy, inefficient window units. They were spending a small fortune in energy bills and wanted to get a new system that would keep them comfortable all year long, without breaking the bank. They heard about Mitsubishi ductless systems and read consistent, great reviews. That's when they decided to give us a call at N.E.T.R., Inc. to see how we could help.
---
Problem: The owners of this East Boston townhouse were heating with electric baseboards and had no air conditioning. They were looking for a better heating and cooling solution that would be energy efficient while giving them they comfort they craved.
Solution: We used three zones of Mitsubishi Ductless to ensure the basement, master bedroom, and kitchen were perfectly comfortable. This provided cost-effective heating and air conditioning right where it was needed most.
---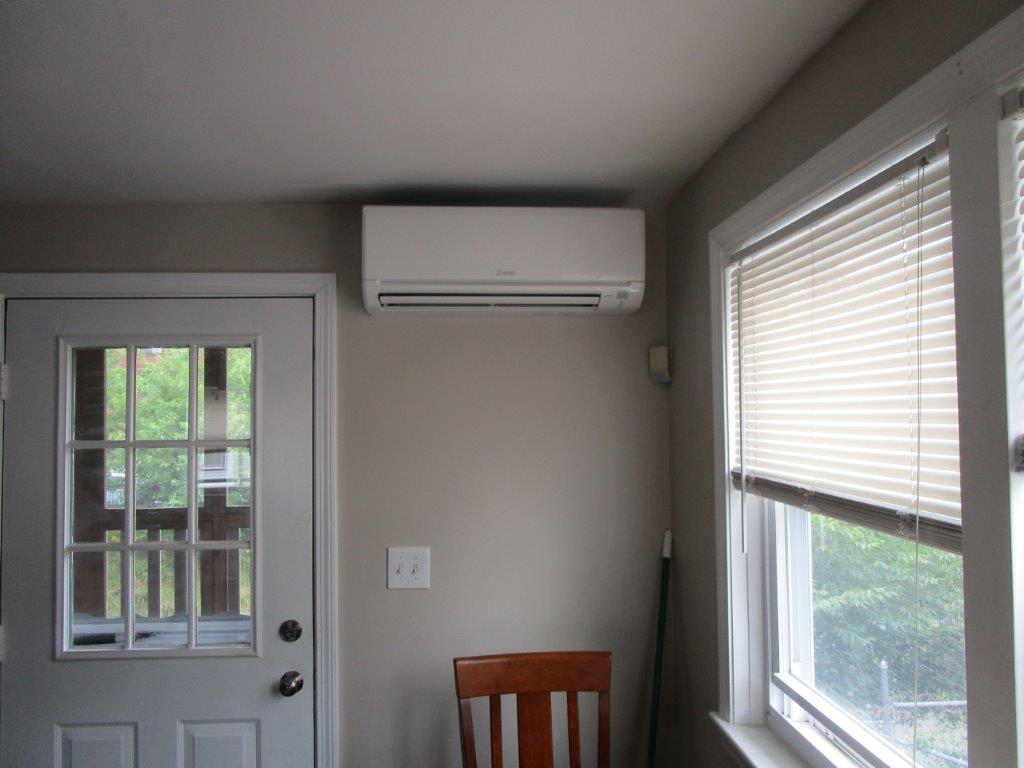 Like most townhomes, we knew they would need comfort on several floors on the home, and the air would need to circulate well through a space to eliminate cold spots. Electric baseboards and window units are incredibly inefficient at distributing air evenly, they tend to keep certain areas comfortable and leave others cold. Because the old heating and cooling unit do not circulate the air throughout a space.
The window air conditioners unable to keep up with the heat on hot days and they blocked the windows for almost half a year. They are also heavy and hard to install, which is a process that takes up most of a weekend, two times a year!
We suggested a three zoned Mitsubishi Electric Hyper-Heat ductless system would work well for this townhome in East Boston. We installed one outdoor unit and three indoor cassettes, shown in the pictures below.
These indoor units are mounted out of the way on a wall to optimize efficiency. They are each controlled by a convenient remote and they monitor both the temperature and the humidity in the room. The ductless systems distribute the air evenly throughout the space, eliminating those hot and cold spots and giving you the perfect temperature everywhere in the room.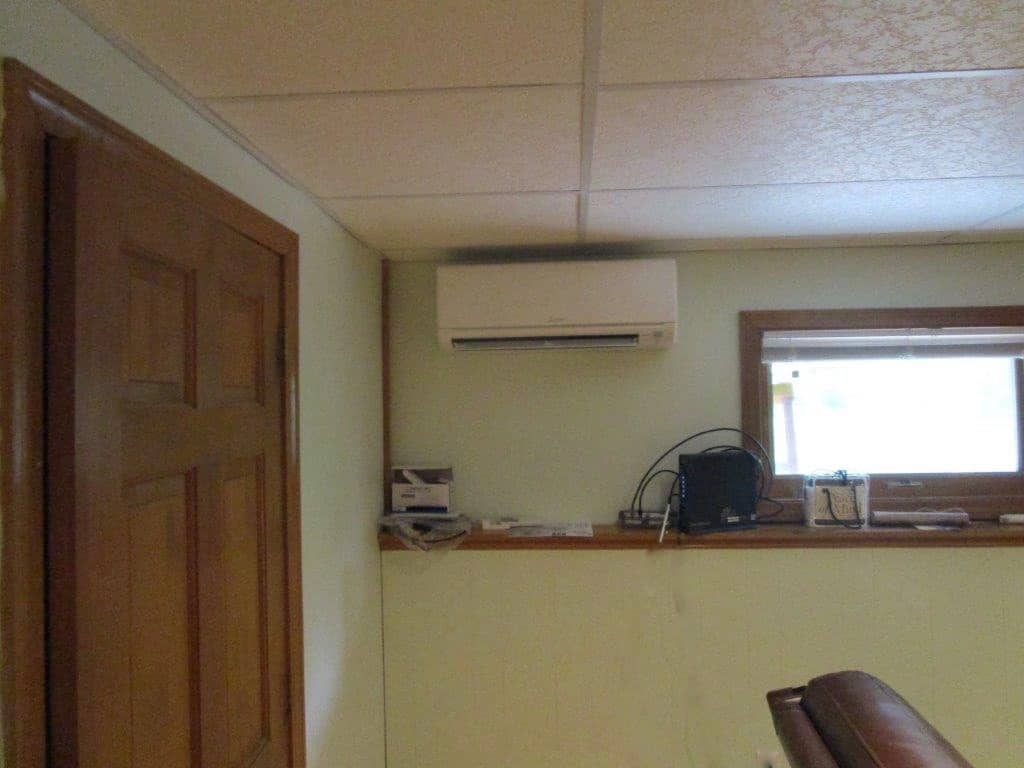 Best of all, the three units operate independently, so you control temperature in the kitchen separately from the temperature in the basement, and master bedroom! This way you can save money by not heating or cooling an area that isn't being used, which will save you a ton of money in energy bills.
Mitsubishi Electric heat pump systems like this one can provide world-class heating and cooling through each indoor unit. The system uses an incredibly efficient inverter technology, that allows it to make small adjustments to keep the temperature and humidity steady throughout a space, rather than the drastic on/off settings you get with other systems. Mitsubishi Electric Hyper-Heat systems work well even when it's -13F outside, meaning our homeowners will be able to stay toasty warm in every room of their home, no matter what mother nature dishes out this winter.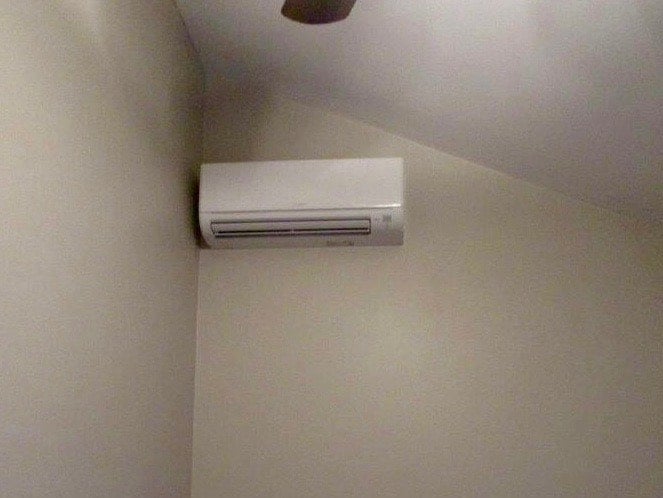 When the hot weather comes again, these ductless units will also function as a great state-of-the-art air conditioning solution. The units are whisper-quiet, ensuring that our homeowners will never have to deal with the rattle and clank of window unit.
The unit the in basement will help keep the office and family room area perfectly comfortable, while eliminating that clamminess that can be common in basement areas. The ductless unit in the kitchen will add heat or cooling as needed, making sure no one gets too hot when making meals or spending time together. Best of all, the quiet comfort in the master bedroom will ensure that our homeowners get a peaceful night sleep even on the most extreme days of the year, without worrying about sky-high energy bills.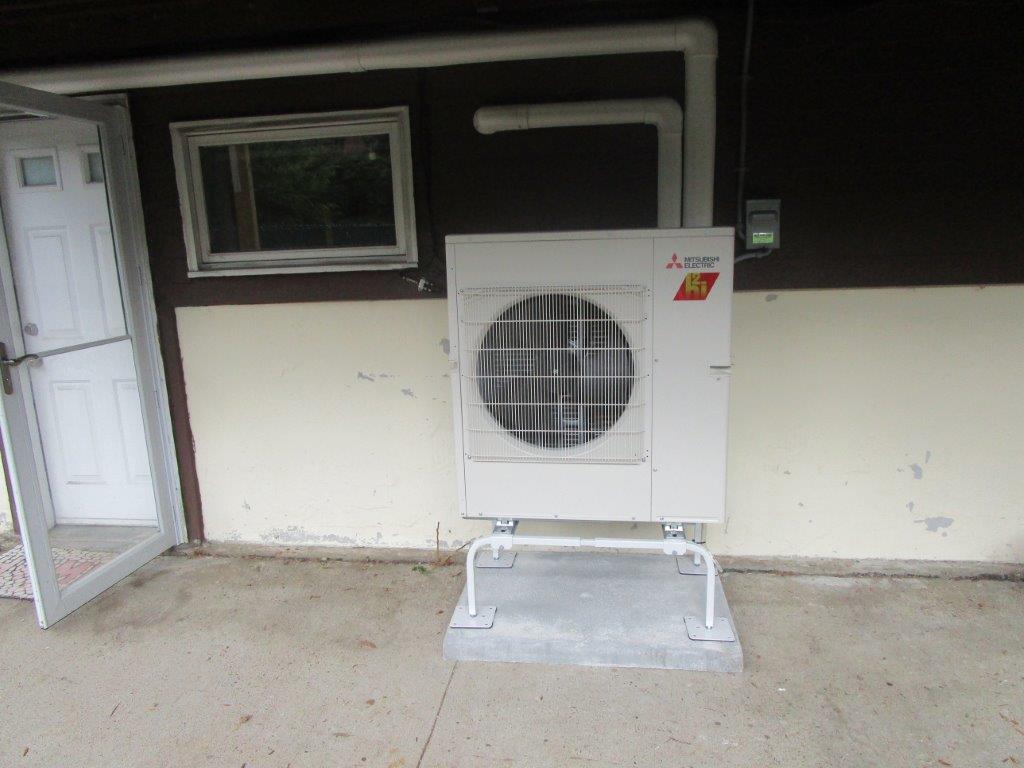 Because these Mitsubishi Electric Hyper-Heat ductless units are so efficient, our homeowners should see a dramatic decline in their energy bills, especially this winter. They'll also enjoy the ability to add just a touch of heat or chill to a room with a quick touch of the button.
Just think, when it's a frosty morning and your nose tingles because you can feel the cold in the air, you can just reach over to the remote on the bedside table and adjust the temperature. Now, when your feet hit the floor the room will be perfectly comfortable and no one will be struggling to stay warm while getting ready for the day. That's a quality of life improvement our homeowners really appreciate about the convenience and comfort that Mitsubishi Electric ductless brings to their home.
Here at N.E.T.R. Inc., we've been installing Mitsubishi Ductless units throughout Boston for years and we're the top Mitsubishi Electric Elite Diamond contractor in the area. This allows us to offer a full 12-year warranty on these systems, so that your investment in your home comfort pays off for years to come. Our homeowners in this East Boston townhome chose us because of our outstanding reviews and experience. We always work hard to go the extra mile to make sure we treat your home like it was our own.
If you have a home in the Boston area that needs additional heating and cooling, give us a call! We'll be happy to show you how Mitsubishi ductless systems can bring you the comfort you crave and save you on your energy bills due to its outstanding efficiency. Some homeowners even qualify for energy-saving rebates from Mass Save and CEC to help reduce the costs through the Mass Save program.