Deck houses often feature a lot of glass and soaring ceilings with exposed beams. While these make the home stunning aesthetically, this can also make them more of a challenge to heat and cool. The many windows can make the rooms hot in the summer and hard to heat in the winter. In addition, with no basement or attic, it can be a challenge to locate equipment and run the lines necessary and keep traditional heating and cooling systems hidden.
Our homeowner was getting ready to move to the area, but still lived in California and wanted to have the home ready as soon as she arrived. This posed a challenge as well and would require great communication between the owner and contractor to make sure everything was done to her specifications. This homeowner knew from reading our many outstanding reviews, that she could trust N.E.T.R., Inc. to handle her unique situation easily.  Our customer service is something we pride ourselves in being able to deliver every day.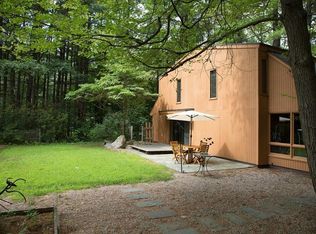 ---
Problem: This post & beam deck home needed efficient heating and cooling year-round, but the homeowner was still living out of state. Efficient AC units were needed in the studio, living areas, and bedrooms and the project needed to be done before the owner moved here from the West Coast.
Solution: A four-zone ductless AC system with both Daikin and Mitsubishi ductless split systems were installed. The Daikin unit would cool the studio, and the Mitsubishi Hyper-Heating units would be used to cool and heat the rest of the home.
---
The hidden bonus?
Our homeowner will get the added benefit of cost savings from her new Hyper-Heating units. As some of the most efficient systems available on the market, Hyper-Heating can work at temperatures down to -13F, which is especially important in a home like this one that have so many windows.
The units will save the owner money each month on energy bills, and because of the four-zoned design.  she will be able to just heat and cool the areas she's in – saving money by not wasting energy heating or cooling areas not in use. The ability to control comfort at the touch of a button is not only convenient but cost effective!
The efficiency of these systems is one of the reasons Mass Save works with New England utility companies to provide the highest rebates on exactly this type of heat pump and air conditioning technology. Many homeowners can qualify for rebates on installations like this one, while adding long-term value to their home with modern and efficient comfort.
Increasing the value of this home
In choosing this type of system, the owner has made a permanent upgrade to her home and increased her long-term property value by going with some of the best heating and air conditioning technology available to the residential market.
The warranty on all qualifying systems installed after April 1, 2015 has been extended to 12 years! Click here to see the details. 
A custom multi-zone ductless solution achieves perfection for this Post & Beam home.
Our homeowner needed to ensure that her home would be comfortable- whether she was spending time in her studio, in the living area, or in the bedrooms. Because she still lived out of state, she found N.E.T.R., Inc. through our positive reviews online. She knew we could work with her to ensure everything was done perfectly- even when she was across the country. We worked with her by over the phone and by sending pictures through email, so our customer knew exactly what she was getting and could be part of the process from California!
Her post & beam deck house is lovely, but the high ceilings and glass features are a challenge to heat and cool.  We needed to ensure that all lines were run to so that the units were unobtrusive yet provided the maximum comfort possible.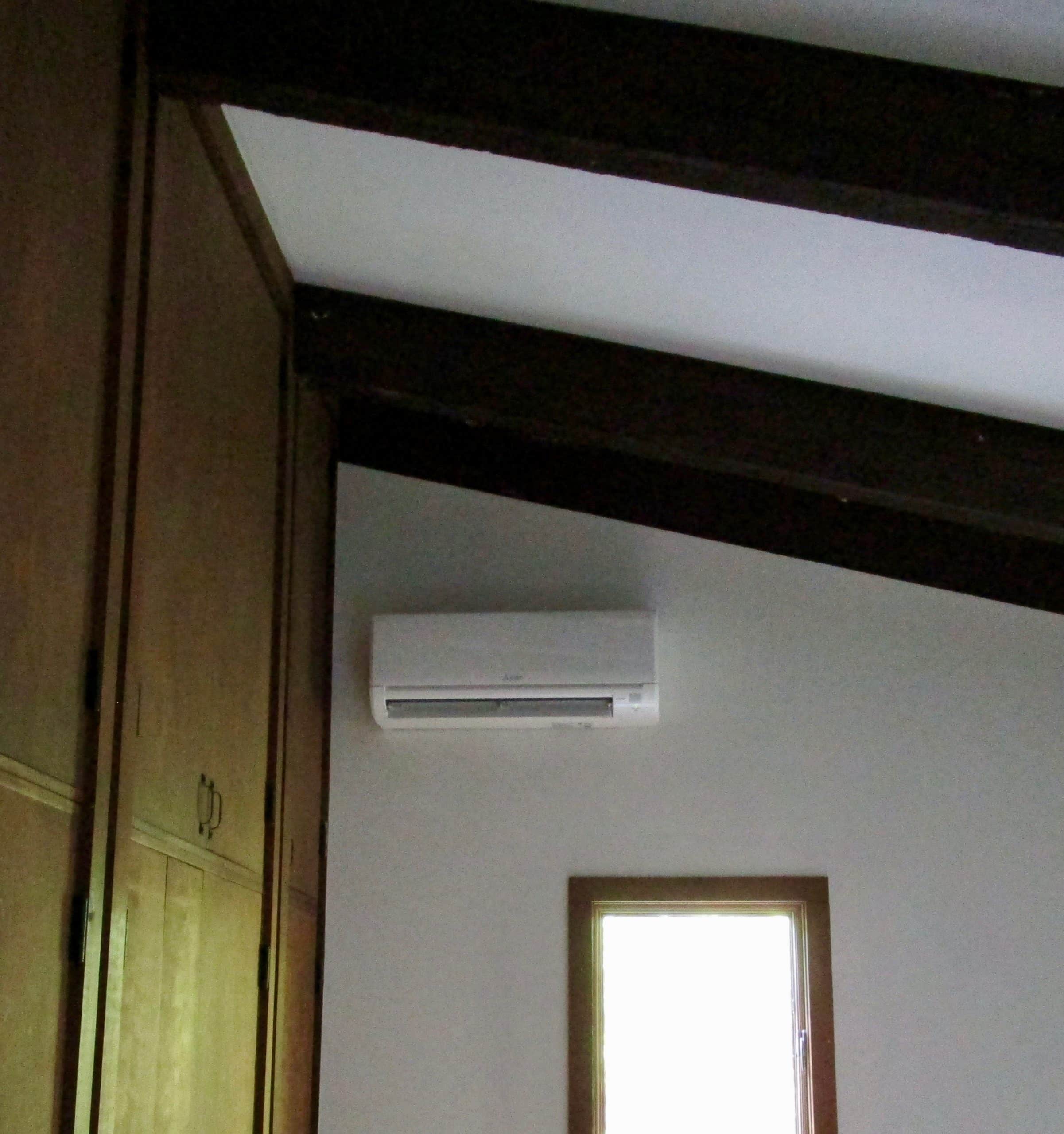 We started by installing a Daikin single indoor-outdoor unit in the studio. We then installed a Mitsubishi Hyper-Heating system with three indoor cassettes to heat and cool the living area and two bedrooms. The ductless wall ACs could be installed high up on the walls, ensuring they were well hidden and provided the proper circulation of heat and cool air.
Installing the units up high also meant that they would not interfere with the post & beam construction, which adds the charm and beauty to this sort of home. You can see the placement in this photo, and there are no ugly lines visible on the wall.
Making sure each unit was positioned correctly to optimize performance and meet the specifications of the owner required a lot of communication. Most of the time, homeowners are there to supervise an installation, but in this case, all the communication was done by phone and through email. The level of trust and clear communication necessary to deliver a project like this can be a challenge, and we're proud to say it went off without a hitch. Our homeowner is very happy with the result, and her home is now completely comfortable, no matter where she is, or what Mother Nature dishes out!