Split-level homes like this one can be found throughout our area, and throughout Framingham. Many of them were constructed without ductwork, making the process of moving heating and cooling through a split-level home even more challenging. Our homeowners were using baseboard oil and gas heat, and were relying on window units for air conditioning, and it just wasn't working well for them. The lower levels always felt slightly damp and too cold, and the upper levels wouldn't get cool enough in the summer.
Our homeowners really wanted a way to add additional comfort to their home all year long, especially to the main living area and basement. Split level homes like this one can be especially challenging to heat and cool, so creating solutions that allow more temperature customization in certain rooms is a blessing. We also knew that we could create a system for them that would also be efficient and help them save money on their energy bills, something any homeowner can appreciate!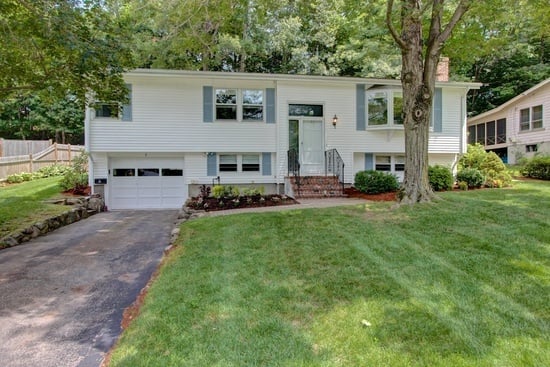 ---
Problem: The Homeowners wanted to add additional comfort to their main living area and basement to supplement existing baseboard heating and add air conditioning, since the window units they were using were noisy, expensive and weren't keeping the house comfortable throughout the summer.
Solution: N.E.T.R., Inc. installed a Mitsubishi Hyper Heat ductless mini-split heat pump system that will allow for added comfort via heating and cooling with two wall-mounted units in both the upstairs and basement areas of this split-level home. This will give the homeowners pinpoint control of the temperature in these two areas of their home, any season of the year, while also saving money on energy bills!
Our homeowners needed more precise control over their heating and cooling. Split-level homes can be a challenge to heat and cool, because there's no efficient air flow, and without ductwork, sharing the heating and cooling between different areas of a home is a challenge. Their existing baseboard heating wasn't the best and they were only relying on window units to try to control the heat and humidity all summer long. Window units are inefficient, noisy, and expensive to run, as well as inconvenient to install and store twice a year! A permanent solution was what our homeowners needed.
Our Solution: By adding two units for a mini split heat pump and air conditioning system, our homeowners are guaranteed to get the comfort they want – upstairs and in the basement area of their home, using one main outdoor unit. This also means you can turn these individual zone systems on or off as needed, and avoid wasting money heating or cooling areas of the home when you're not using them! Even better, because of the energy efficiency of these ductless heat pump systems, rebates are available through Mass Save and CEC and these homeowners qualified for $1,489 in rebates, making installation even more affordable.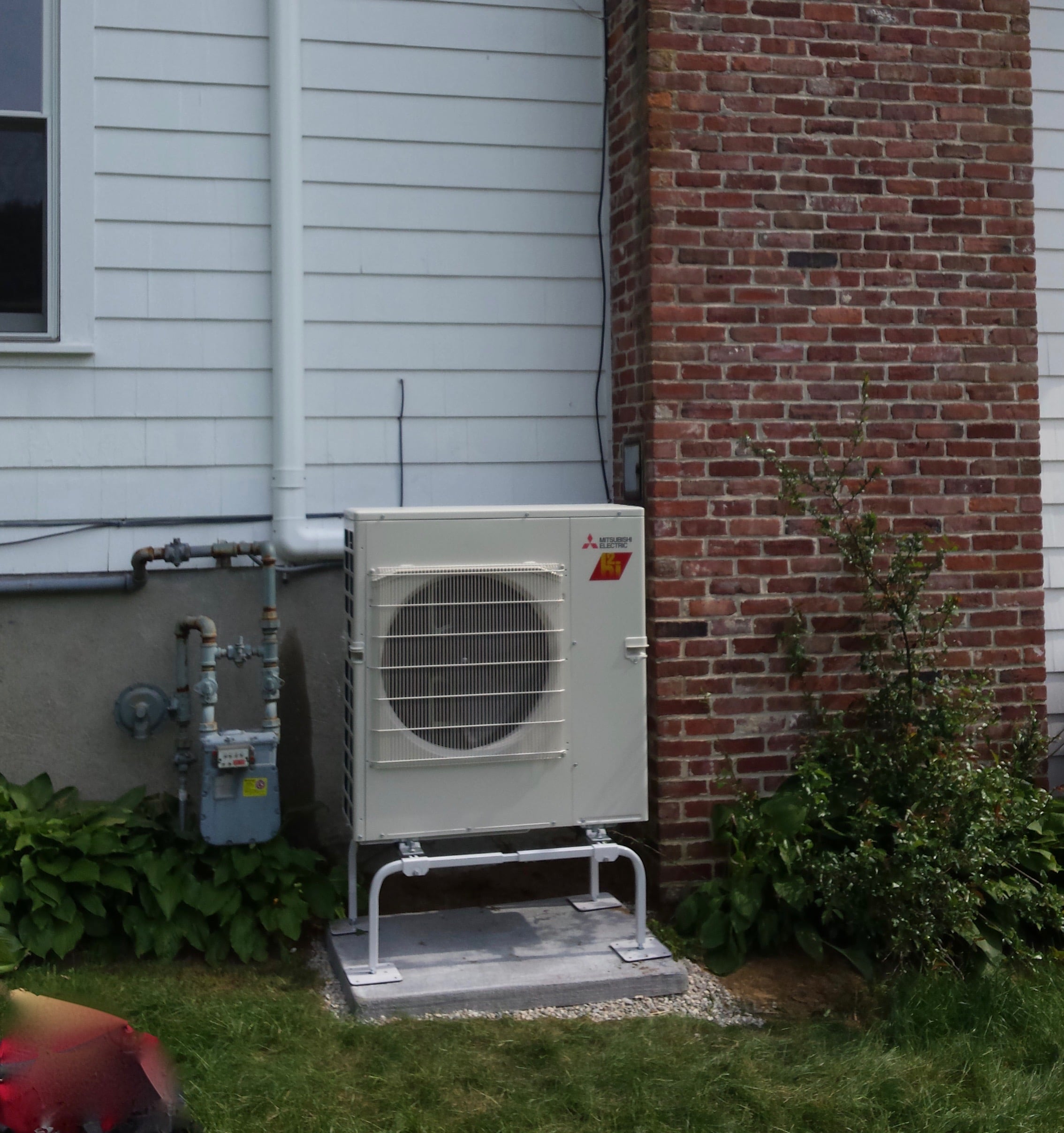 One of the other great advantages to adding ductless HVAC to increase comfort in your home is that it doesn't require removing your existing heating system or adding ductwork through your home- those options can be incredibly costly and are simply unnecessary with a ductless system like this Mitsubishi Electric's Hyper Heat unit.
All you need is the outdoor heat pump and wall-mounted heat and air units, hung out of the way. You end up with a system with multiple zones that can provide efficient heat even when it's -13 degrees outside, and efficient air conditioning in the heat of the summer, all with the touch of a button on a remote control. The existing baseboard heating in this home can still be used or not as the owners see fit, and the ductless HVAC system will provide comfort and airflow through the home they just couldn't achieve before.
To recap the key points of this particular home and our solution:
The home owners now have a comfortable, quiet solution to heat and cool their main living area and basement in the split-level Framingham home.

The energy bills will go down because of the energy efficient technology.

They qualified for $1,489 in rebates, making installation even more affordable!

No removal or replacement of existing HVAC equipment was necessary.

The homeowners will be saving money each and every month on energy bills, since they will no longer have to heat or cool the entire home to achieve comfort.
A Great Investment
This ductless supplemental system is a great addition to any home that suffers from hot and cold spots and will add long-term value to the home. Ductless AC and heating systems are also expandable, so if next year, these homeowners decide to add additional comfort to a bedroom, all that's needed in another wall unit and a connection- maximizing additional comfort at a comfortable price.
Also as this ductless heating and cooling system will be supplementing the traditional heating system with Mitsubishi's ultra-efficient hyper-heat technology, the homeowners should expect to see savings in their energy bills this Winter- some of our customers report dramatic reductions in the first year! This sort of efficiency is why Mass Save continues to provide rebates to homeowners replacing legacy systems with more efficient heating and cooling options!