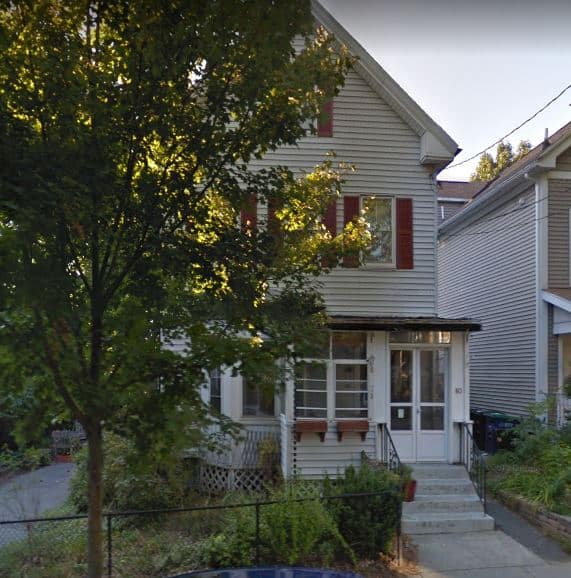 There are many colonial-style homes like this one in Somerville, MA. And like most homes, this one lacked the comfort the homeowners really wanted. The homeowners really wanted to be more comfortable in the summer heat, and needed a better solution than noisy, inefficient window air conditioners to keep them comfortable.
They gave us a call here at N.E.T.R., Inc. because they were interested in whether Mitsubishi ductless air conditioning would be a good solution for them.  They were impressed by the product reviews for Mitsubishi ductless HVAC systems, and their reputation for low noise and great efficiency. Our homeowners had also looked carefully at all of our online reviews and gave us a call because of our trustworthy reputation and outstanding reviews throughout the Greater Boston area.
When we came to the house, we sat down with the owners and learned about the main areas where they were having the most problems. We then discussed how we could bring them the maximum amount of comfort where it was needed most, while keeping expenses under control, and keeping in mind any savings available through Mass Save and Mass CEC rebate programs, which help homeowners defray the costs of upgrading their home systems to more energy efficient options.
The homeowners opted to have three separate zones of Mitsubishi ductless air conditioning and heating installed in their Somerville, MA home. Attics are notorious for getting way too hot in the summer and being chilly all Winter long, even with good insulation. Mitsubishi du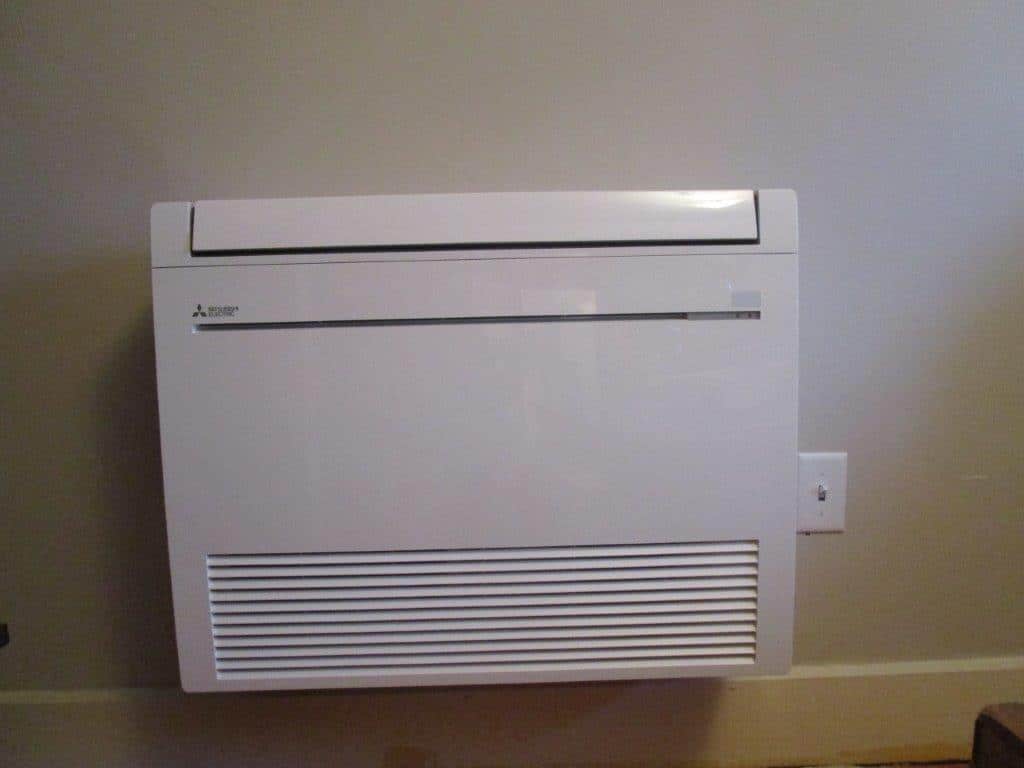 ctless can use a variety of indoor units, ones that mount low on the wall in cramped spaces like attics, and others high on the wall, elsewhere in a home. 
We started with putting one wall mounted unit in the attic area. As you can see from the picture, it mounts flush to the wall, and takes up very little room, making it perfect for rooms with sloped ceilings or low ceilings where other typical ductless units might not fit in as well.
For the other two rooms in the home, the bedroom and kitchen, standard wall heads are more easily mounted high on the wall. These units sit up high on the wall, out of the way, and help monitor the room for temperature and humidity. The units then turn on or off as needed, putting the perfect amount of comfortable cooling into the room, and helping distribute it throughout, making those hot and cold areas in a room a thing of the past.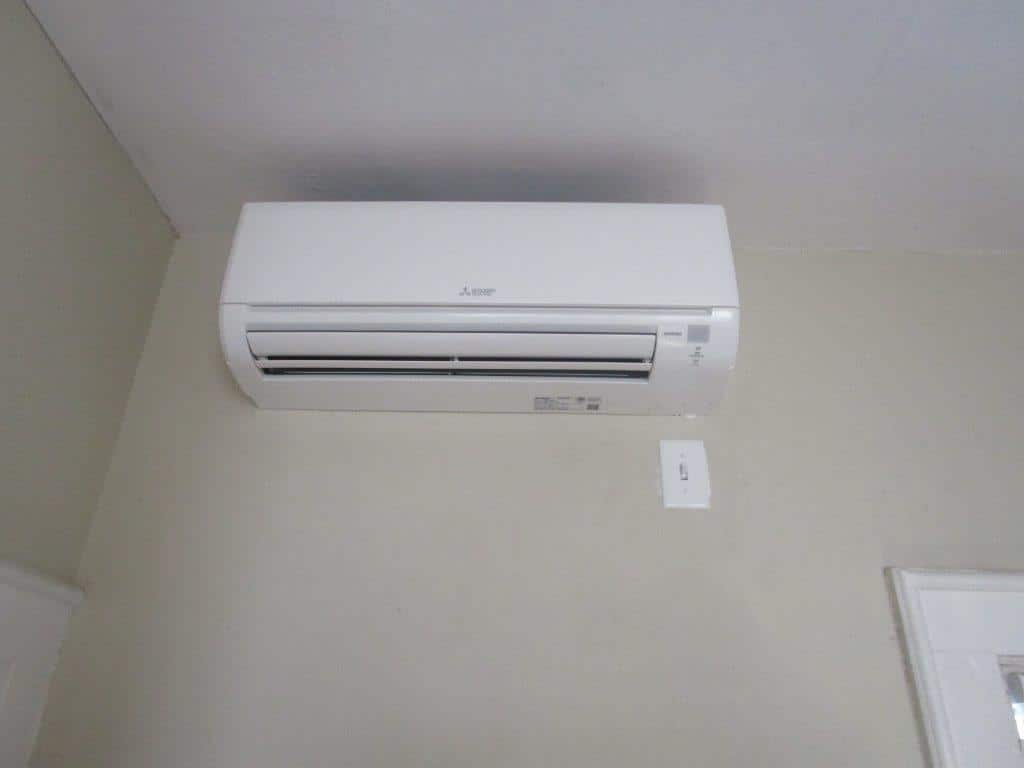 Particularly for the bedroom, the wall-mounted Mitsubishi ductless units are a great option. The units operate at only 22db, whisper-quiet operation that you barely notice when they come on. This makes ductless a vast improvement over the noisy, inefficient window units many homeowners without central air conditioning rely on, and will make sure our homeowners can have a peaceful night sleep, every day of the year.  
As you can see from the pictures, we take a lot of care to make the units flush and hide any of the lines necessary from the outside unit to the inside heads, to keep the beauty of your home intact while adding work-class comfort.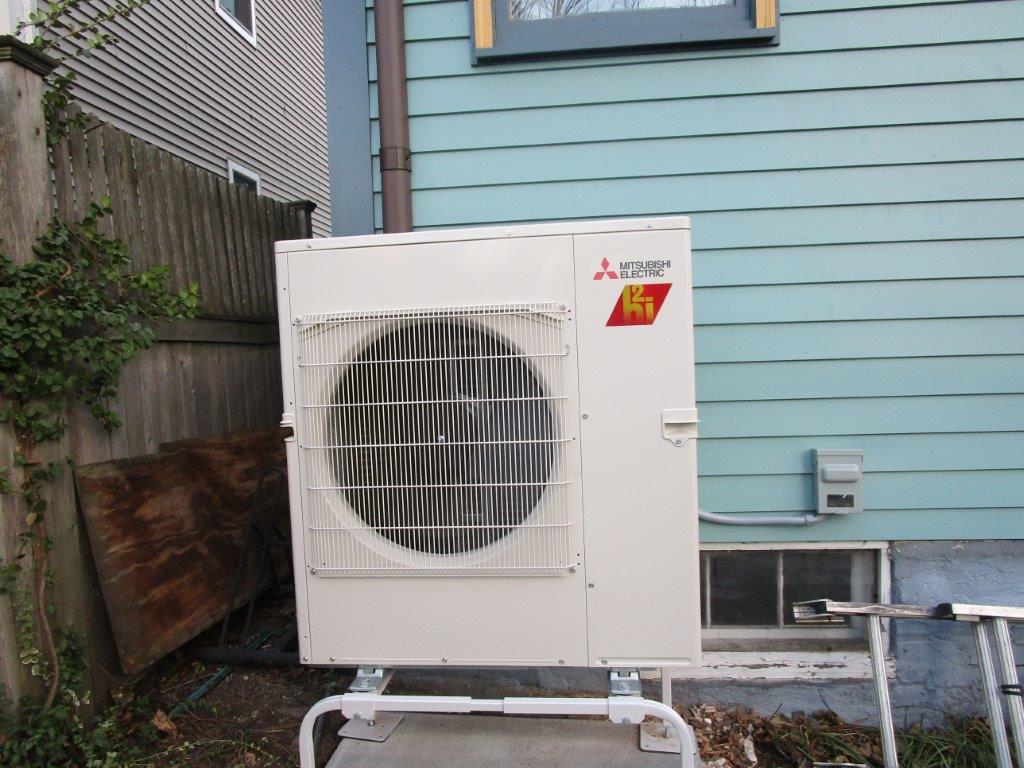 Best of all, adding three zones of Mitsubishi Electric ductless will help the owners save significant money. First of all, by upgrading to such an efficient technology, the homeowners were able to qualify for a Mass Save $300 rebate and a Mass CEC rebate of $1,490, for a total of $1,790 right off the bat.
However, the real impact of this great cooling option for this Somerville, MA Colonial will be felt in their monthly energy bills. Our homeowners see a reduction in their energy use is the summer, but also in the Winter, when these units can also provide supplemental heating just where its needed, letting you keep the overall use of your main heating system to a minimum.
We were so happy to be able to deliver a system to our homeowners that's super easy to use, will provide them with all the comfort they need, and do so while saving energy. If you have a home like this colonial in Somerville, MA and need more comfort, give us a call here at N.E.T.R., Inc., and let us a design the perfect system for you!