Uneven heating and cooling can make some areas of a home less popular, and that's a shame, especially when it comes to areas like a family room, which is meant for folks to get together and spend time as a family. This is a common problem with bonus rooms, finished basements or attics, or a lower level family room like the one in this Winchester, MA home. The homeowners had a pellet stove they were using, but they found it was providing inconsistent heat and had significant maintenance issues. The pellet stove was difficult and timing consuming to clean, hauling pellets was a burden, and it was becoming more and more expensive to heat the home in this manner.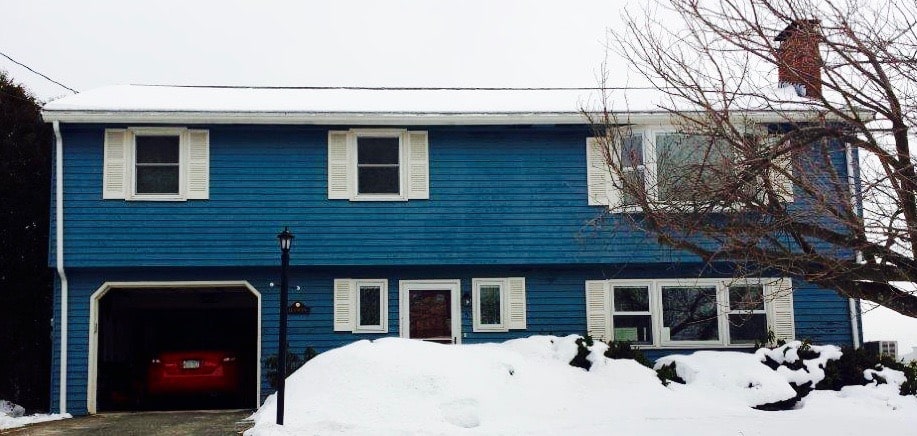 ---
Problem: The pellet stove used to heat the lower level wasn't doing its job and was difficult and time consuming to maintain, as well as expensive. The living area upstairs also wasn't getting the heat needed, so something needed to change.
Solution: Installed two Mitsubishi Electric Heat ductless wall-mounted units, one in the living area and one in the lower level family room. This will provide hassle-free heating and cooling, all year round, without the burden of pellets. In addition, the new system is more efficient, providing significant ongoing energy cost savings.
---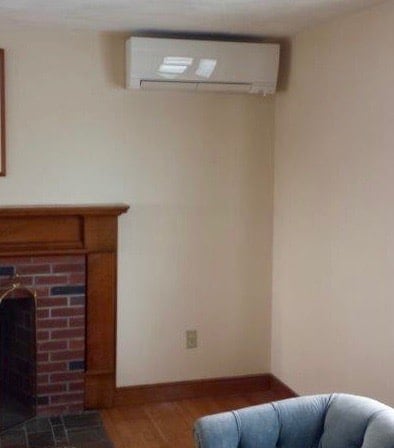 The problem this family was having was heating all levels of their split level home, and their pellet stove just wasn't doing a good job. Split-level homes can be a challenge to heat and cool and to make sure you get the right air circulation without hot spots in some places and cold spots in others. In order to make sure the home is comfortable all year long, they needed another solution that didn't require the upkeep and hassle involved with their pellet stove.
Our Solution: By adding a Mitsubishi Electric Hyper-Heat ductless system, we were able to add year-round comfort for this family while significantly reducing the amount of upkeep and maintenance they were doing with their pellet stove. In addition, the ductless mini split heat pump units also act as air conditioning in the summer, providing a new level of comfort to this home.
This family was also able to save money with a rebate of $2,300! Because this is energy efficient technology, rebates are available for these systems through the MassSave program. since they are helping out the environment. Additionally, the warranties on the systems has recently been extended to twelve years, giving homeowners peace of mind as well as increased comfort in their homes.
Don't Get Left Behind!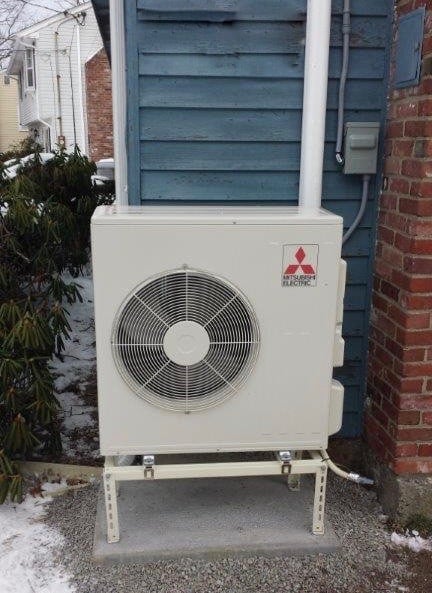 There are still rebates available, so if you are interested in this type of energy efficient equipment, be sure to ask your comfort specialist about what sort of rebates would apply.
To recap the key points of this particular home and our solution:
The home owners now have a comfortable, quiet solution to heat and cool their split level home.

The energy bills will go down because of the energy efficient technology, and the family no longer has to worry about hauling around pellets in order to make sure they have the heat they want.

No removal or replacement of equipment was necessary. We only added a heat condenser unit and wall mounted indoor units.

$2,300 in rebates were available to home owners to help reduce initial costs, and they will save additional money each month on energy bills by adopting this efficient system while increasing comfort to their home.
A Great Investment
This kind of installation is going to help this family with a few things. They are still using their current system to heat, so this ductless install will only supplement their current system to make the house completely comfortable. No removal of an old system necessary.
This technology will also help save money on energy bills, being that it is an energy efficient solution. The homeowner was also eligible for a $2,300 rebate!
The warranty on all qualifying systems installed after April 1, 2015 has recently been extended to 12 years! Click here to see the details.
Learn more about Mass Save and CEC rebates.