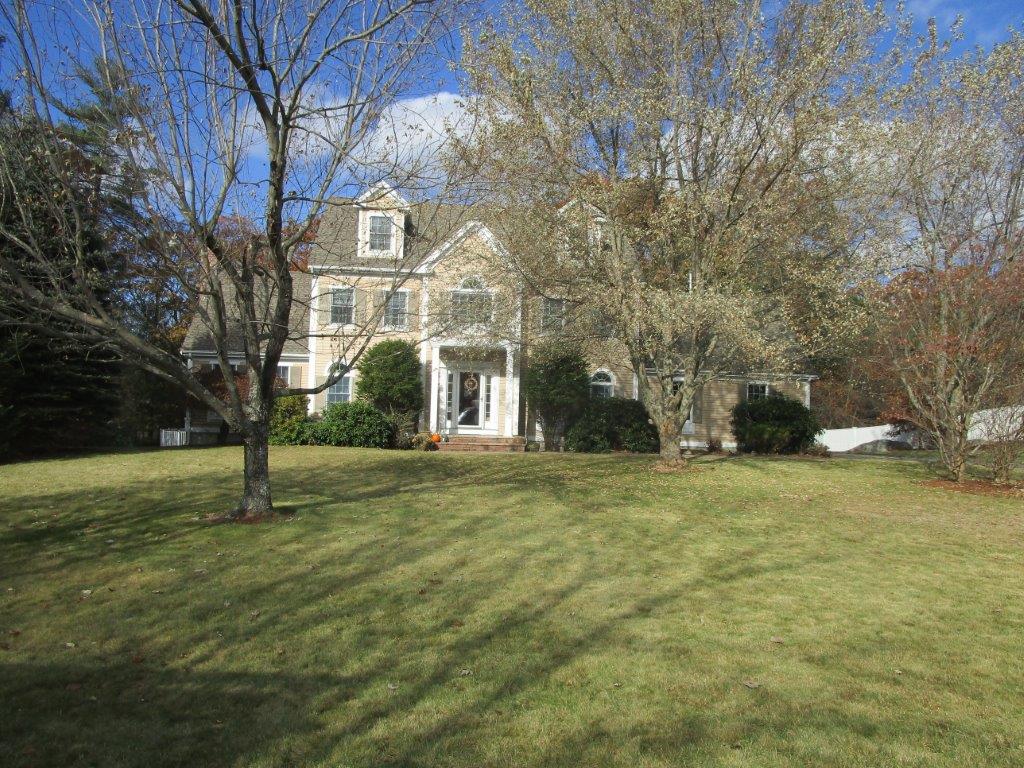 This old-fashioned colonial in North Reading, MA had an old-fashioned heating system. And, that worked fine when the weather was cold. Summers were a different story, however.
No matter what our homeowners did, nearly half the house ever got as cool as they wanted it. Of course, there were some challenges here. It was a split-level, for starters. These kinds of houses commonly cool or heat unevenly. The fact that it was a large house meant heat could travel and collect in different spots.
The homeowners tried using window air conditioner units across the house, but they weren't cutting it. The units were noisy, bulky and expensive — and they still didn't quite do the job.
When the homeowners called N.E.T.R., Inc., they discussed with us what they already knew about Mitsubishi ductless HVAC systems. As the number-one rate Mitsubishi Electric Elite Diamond Dealer for Mitsubishi Electric products in New England, we were excited to utilize our experience to help them solve their troublesome air conditioning problems and get the comfort they wanted.
Problem: Five rooms in a spacious split-level colonial home with dormer windows would not stay cool in the summer. The homeowners used window unit air conditioners, but they were too loud and didn't work well.
Solution: Installed five Mitsubishi ductless HVAC units and outdoor unit.
HVAC in Split-Level and Colonial Homes
Homes like this one can be tricky to heat and cool. For the former, our homeowners used forced hot water, or FHW, heat. This is more commonly known as radiator heat. Water gets heated in a boiler then travels up to the radiators in various rooms.
Radiator heat has a few advantages over gas or electric. It feels fresher for starters. it heats the room through infusion rather than forced heat from a furnace. This is similar to how tea steeps into hot water. It's also quieter: there's no roar of a heater.
The drawback here, however, is there's no way to use radiators to cool a home. And, in a home like this, that can be very tricky.
Here's the problem: Heat likes to rise. When you start cooling a house, the hot air moves up from the bottom floors. Often, it gets trapped on the top floors where the bedrooms are.
In a split level, this gets trickier. In the case of this home, the main part of the house is a two-story structure with dormer windows in the attic. Then, there are one-floor living room areas on either side of the main structure.
What happens here is that the basement and those two living room areas get cool very easily. The basement is partially underground, so it stays cool. So, those two one-story areas are easy to handle.
However, this causes all the hot air to be forced into the main area. Then, it travels upwards to the bedrooms. Meanwhile, the dormer windows on the attic are letting in plenty of sunlight. That makes the very top of the house even warmer. That extra heat also affects the second floor.
To address all this, our homeowners would need much more than bulky window air conditioners to give them the climate control they wanted. We had just the thing.
Ductless Air Conditioning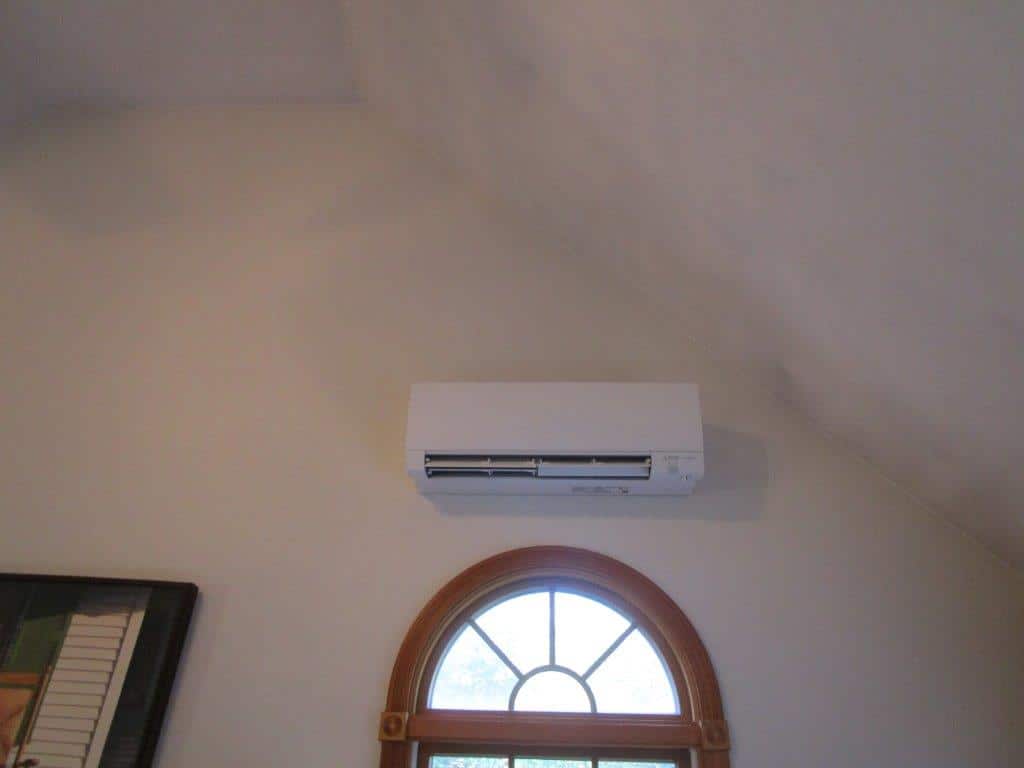 Mitsubishi ductless HVAC units were clearly the way to go in this home, since they met all of our homeowners' needs. They're quiet, energy-efficient and very effective. On top of that, they are easy to customize and simple to install.
A ductless mini split system works by sending forced heat or cool air up through plastic tubes instead of ducts. This makes it much easier to set up than a central air conditioning system.
The tubes are less than an inch in diameter. They can run through the wall like electrical wiring. That's a lot easier than retrofitting ductwork to travel all through the house. It costs much less, too.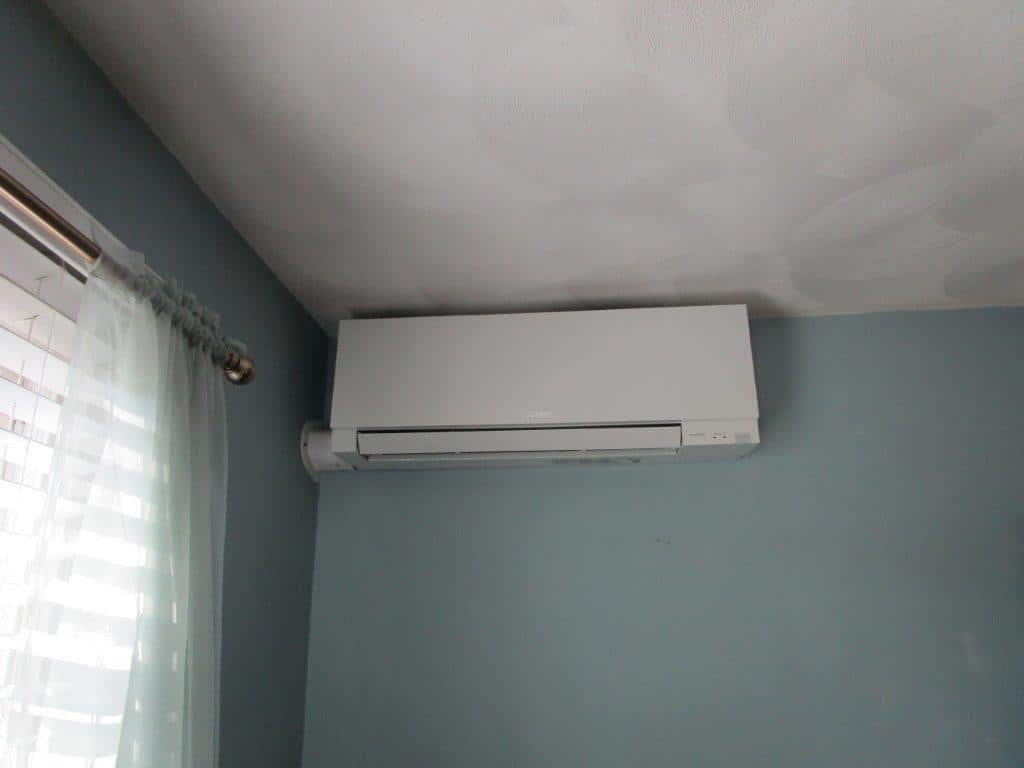 At the other end of the tubing is the ductless AC unit. We can mount these anywhere on a wall, and just connect it to the tubing through a tiny hole behind the unit. This allows us to place it in the most effective spot in the home and we don't have to block a window to do so.
Those units distribute the heat or cool air. They're whisper-quiet, unlike an air conditioner. At the same time, they're also much more powerful.
Each ductless unit has its own thermostat with a remote control. This way, our homeowners can control each one separately. Even though the units are mounted high on the walls, where they work best, they're still easy to adjust.
Zoned Air Conditioning for Cost-Effective Comfort
Those separate thermostats help create what's known as "zoned" heating and cooling. This goes a long way in making ductless HVAC units so effective and cost-efficient.
Here's how: a ductless system can heat or cool an entire house just like a traditional furnace or central air conditioning system. The difference with ductless is that the entire house is not controlled by a single thermostat.
Instead, each ductless unit handles one zone in the house. Since each has its own thermostat, each zone can be set to a different temperature.
This comes in handy when you know you're not going to be in a certain area of the house. It's great for a spare bedroom, for instance. Or, you can set the bedrooms to a higher temperature during the day, then begin cooling them down as it gets close to bedtime.
The opposite is true in rooms that get the hottest. The units in those zones can keep working to get the temperature you want while the others shut off earlier.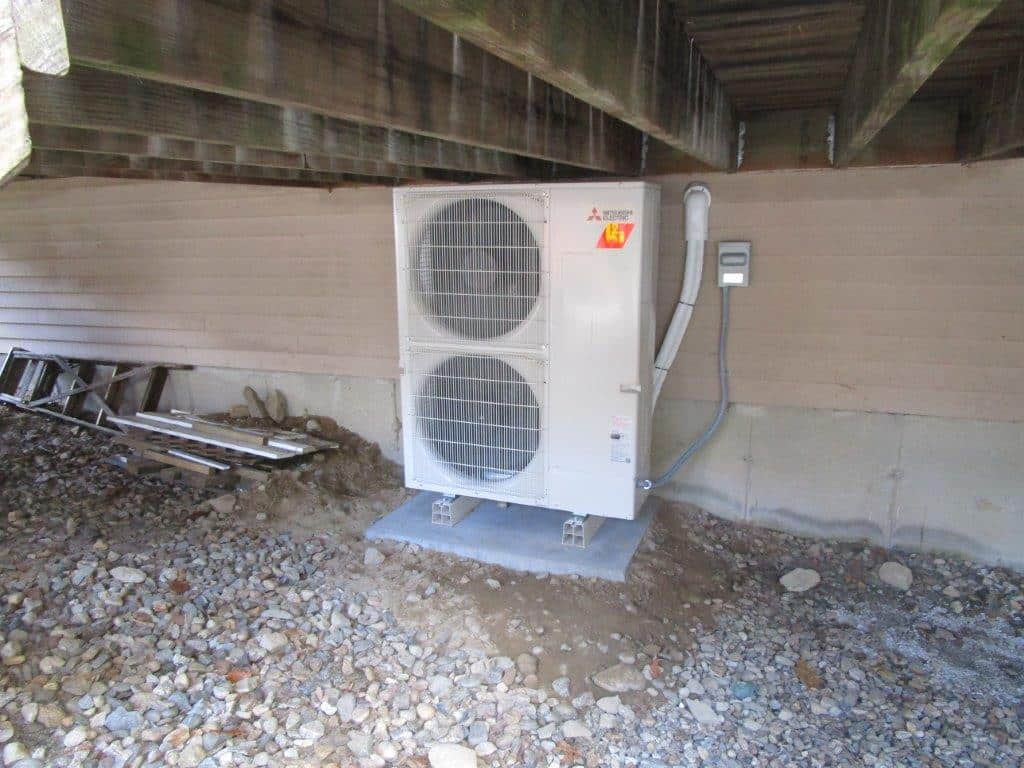 All that customization bring more than comfort. It also makes for lower energy bills. When you're not using as much energy to heat or cool your entire home at once, you get charged less each month.
And, for the owners of this split-level colonial the lower cost of ductless AC was the icing on the cake. Finally, they're getting the air conditioning they've always wanted throughout the house. The units are quieter and easier to use than window units. And, even with all those extra features, they cost less to operate.
Do you want a better and more cost-effective and efficient option for heating and cooling your home? Contact us and we'll design the perfect Mitsubishi ductless HVAC solution for you!