---
The number of people who work from home is increasing nearly every day. Many people run their own businesses from home, while others work for employers from their home offices. If you're working from the comfort of home, you want your space to actually be comfortable — and Mitsubishi ductless heating and cooling is the perfect solution. Want a climate-controlled home office that feels comfortable so you can focus on work? Then, check out this guide to using ductless heating and cooling in your home office.
Why choose ductless for home offices
Ductless heating and cooling solutions allow you to create multiple zones throughout your home. When your home office is its own zone, it can have its own temperature. That means you can heat or cool your office, without heating or cooling the rest of the home that might not be in use during the workday.
Many people set up home offices in areas that are not connected to their central HVAC system, and a ductless unit can be the perfect way to bring heat and AC to your attic, basement, home addition, or other areas. Similarly, if your home office is in an outbuilding, a ductless unit can easily provide the heating and cooling you need.
Benefits of ductless heating and cooling for home offices
When you opt for a ductless heating and cooling system in your home office, you get to enjoy the following benefits:
Energy-efficient heating and cooling that saves money on electric bills.
Quiet operation so you can focus on work.
Enhanced air filtration to improve the health of your indoor air.
Control over airflow to safeguard your comfort.
Even heating and cooling that prevents unwanted hot or cold spots.
The ability to change settings from the comfort of your desk chair with a remote control or app.
Each of our indoor units comes with features designed to improve your comfort. When you contact us, we will help you find the right model for your home office.
How Mitsubishi ductless works in home offices
Ductless heating and cooling for home offices consist of an outdoor unit and an indoor air handler. The outdoor unit discretely connects to the indoor unit with refrigerant, electrical, and drainage lines that run conveniently through the wall. Installation is fast, easy, and non-disruptive.
The system uses an electric heat pump to heat your office in the winter and cool it in the summer. Refrigerant draws in heat from the outside during the winter and carries it to the indoor unit where it is used to heat your office. During the summer, the process works in reverse — refrigerant in the indoor unit extracts the heat from your office and carries it out to the outdoor unit.
Related Resources
Case Studies
At NETR, Inc, we have guided many home and business owners through a wide range of heating and cooling challenges. Take a look at this case study:
Homeowners Adds New Ductless Zone to Home Office (Saugus, MA)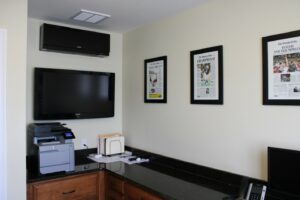 To learn about how we've helped people make their home offices more comfortable and energy-efficient, check out our residential case studies page. You can search based on home type (ranch, colonial, multi-family, etc) or look specifically for case studies in your town.
Ductless Heating and Cooling
Learn more about Mitsubishi ductless heating and cooling
You don't have to take the journey to efficient, ductless heating and cooling on your own. We want to be along for the ride, and to help you learn more, we've put together the following resources.
Or contact us directly to learn even more. In addition to our extensive experience, we have completed hours of training to earn Mitsubishi's highest level of contractor certification, and we're always happy to answer questions.
Rebates
Rebates for ductless in home offices
You might not have to foot the cost of a ductless heating and cooling system on your own. There are rebates that can help to offset the price. And if you work for yourself, you may even be able to claim a business deduction for expenses related to upgrading your home office.