In the Boston, MA area, a traditional or unitary American Standard air conditioner with installation costs around $4,500 or higher depending on several different factors.
If you're thinking about investing in an American Standard central air conditioner for your home, you may be wondering how much these units cost and what factors affect the final price tag. Keep reading for answers to these questions.
The Value of Professional Installation
If you search for American Standard air conditioners online, you may see sticker prices that are cheaper than the numbers quote above. Typically, this happens when you look at the cost of an AC unit without installation.
Keep in mind that quality HVAC professionals provide a valuable service, and although their fees drive up the total cost, their expertise ensures the unit is installed correctly. Improper installation can cause inefficiencies or breakdowns, and additionally, DIY installation voids many warranties.
To learn more, check out: 7 Reasons to Choose Professional Installation for Your Heating and Cooling System
What Determines the Cost of an American Standard AC?
For over 100 years, American Standard has been an emblem of quality, and investing in this type of AC improves the comfort of your home. So, in light of a history of quality and comfort, how much should you expect to pay for an American Standard AC?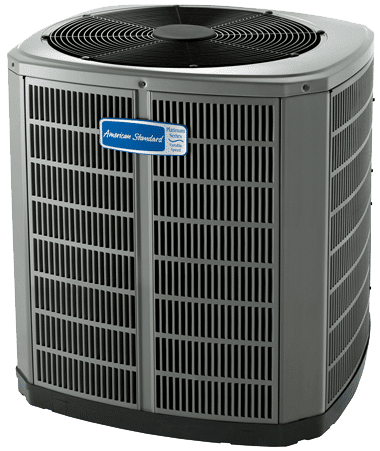 Ultimately, the cost of a new AC in Boston, MA depends on several factors including the following:
Seasonal Environmental Efficiency Ratio (SEER): The SEER rating indicates the efficiency of an AC unit, and as a general rule of thumb, you should expect to pay higher prices for units with higher (more efficient) SEER ratings. All American Standard ACs meet or exceed the minimum SEER levels for Energy Star certification, but gold and platinum models have higher ratings than silver American Standard models.
Cooling Area: The size of the area you want to cool dictates the size of the air conditioner you need, and of course, large ACs cost more. For example, while a 1.5 ton unit can easily cool a 900 square foot space, you typically need a 5 ton unit, if you want to cool three times that area (2700 square feet), and with the increase in size, your costs nearly double.
Ductwork: If your ducts are in good working order, they won't affect your final cost, but if they need to be repaired or extended into certain parts of your home, you should budget for a higher upfront cost.
AC Model: American Standard comes in three different tiers with various models in each level. The Platinum and Gold levels feature variable stage compressors and Spine Fin coils to help boost efficiency, while the Silver series models combine value with reliability.
Size of Outdoor Compressor: The above price range correlates with a 2.5 ton outdoor compressor. In commercial environments, multi-unit residences, or even very large homes, you may need a larger compressor which can increase the cost of your American Standard AC.
Installation Challenges: Unique installation challenges can also affect the cost of installing an American Standard AC, but when you work with an experienced HVAC contractor, they can assess the situation and give you heads up about potential installation issues or extra costs before they get started.
Additional Equipment: If you need to add an air handler or a furnace, you should expect to pay a higher price.
Tax Credits, Special Offers, or Rebates: In some cases, you may be able to offset some of the cost of an American Standard air conditioner with tax credits, special offers, or rebates. These types of deals change frequently, and when you contact an HVAC professional, they can tell you about any offers currently available.
Is American Standard a Good Value Air Conditioner?
American Standard is committed to quality, and by investing in an American Standard air conditioner, you boost efficiency, reduce unnecessary energy consumption, and make your home more comfortable even in the hottest temperatures. The three different tiers lets you balance the features you need with a price you can afford.
How to Get an American Standard AC in Boston, MA
At N.E.T.R., Inc, we have been selected by American Standard to be a Customer Care Dealer. When you contact us about a new AC, we don't just quickly choose cooling equipment based solely on the size of your home. Instead, we use our extensive training to assess multiple elements about your home environment and your cooling needs to ensure we choose the ideal American Standard model for your situation.
To learn more, contact us today. We have been meeting the heating and cooling needs of homes and businesses in the greater Boston area for over 30 years, and we look forward to improving the comfort and efficiency of your home.