At N.E.T.R. Inc, we pride ourselves on excellent customer service, and we want to provide you with the best possible experience, even in the best of times. These days, with the risk of COVID-19, we are especially careful to follow all CDC and Massachusetts state guidelines, and we want you to know exactly what to expect from the day you schedule a consultation until the day you receive your final paperwork and are relaxing in the comfort of your new heating or A/C system, and how we're working hard to keep you safe.
Click on the image below to enlarge our Customer Experience Roadmap, and read on to learn more about what you can expect from N.E.T.R. Inc.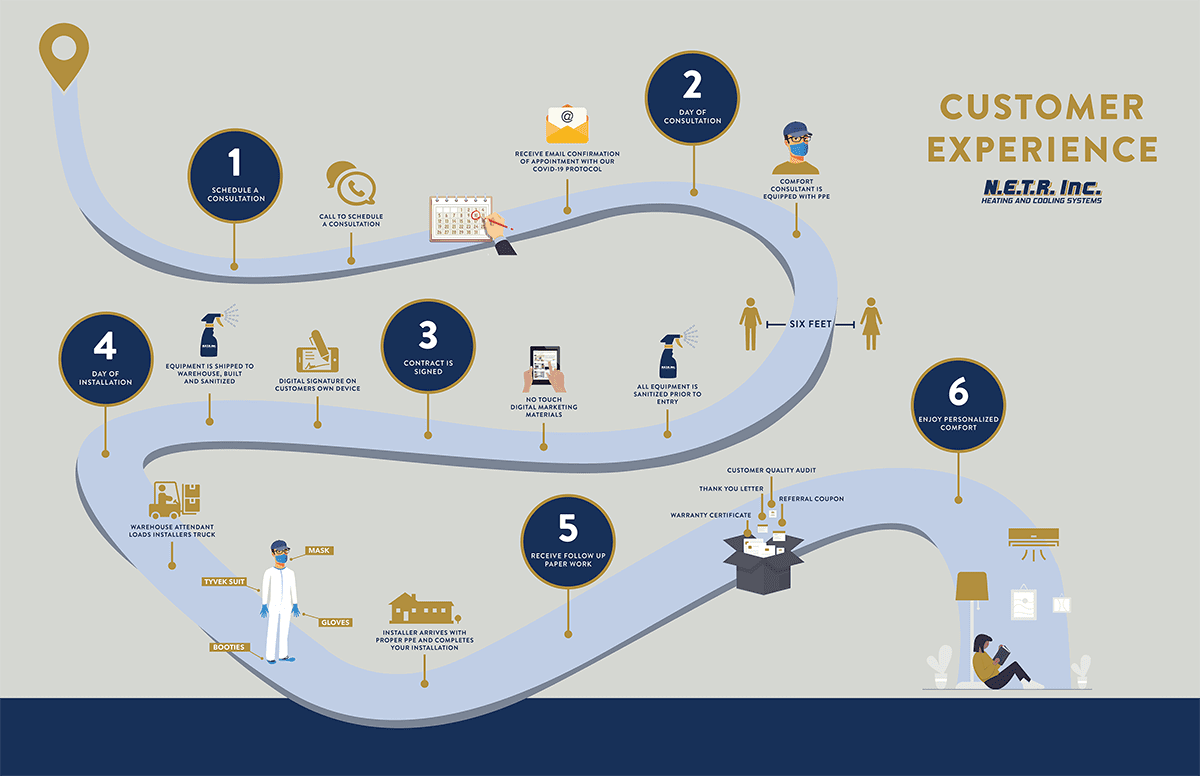 Step 1 – Schedule a Consultation
You can call us at 781-933-6387 or use our website to schedule a consultation. You'll receive a prompt reply, and an email confirmation of your appointment, along with information about our COVID-19 protocols.
Step 2 – Day of Consultation
Our comfort consultants are all equipped with PPE (Personal Protective Equipment) including masks. They will practice "social distancing", and any equipment that we bring into your home is sanitized prior to entry. We will also show you marketing materials digitally, on a tablet or other device, to prevent any possible spread of germs through paper flyers, etc. (bonus – it saves trees by using less paper too!)
Step 3 – Contract is Signed
We will send the contract to your phone or computer, and you can sign the contract digitally — no pen or paper required. Any equipment required for your installation is shipped to our warehouse, not your home, and we assemble and sanitize your equipment for you.
Step 4 – Day of Installation
On the day of your installation, a warehouse attendant loads the installer's truck with your equipment. All trucks are individual to your installer, and are not shared between installers. Your installer will arrive at your home wearing PPE including mask, Tyvek suit, gloves and booties, where they will complete your installation as quickly as possible and sanitize all equipment before leaving.
Step 5 – Receive Follow-Up Paper Work
Following your installation, you will receive all follow-up paper work in the mail, including any warranty certificates, referral coupons, a customer quality audit, and a thank you letter from N.E.T.R. Inc.
Step 6 – Enjoy Personalized Comfort
The final step is for you to enjoy your newly installed heating or A/C system. At N.E.T.R. Inc., it's all about your comfort, and you can rest knowing that we've completed your installation in the safest way possible, with your protection and comfort in mind.