In the quaint town of Reading, MA, you'll find a delicious new ice cream parlor set up in a converted farm stand. Offering specialty flavors, a variety of cones, and all the toppings you could want, Cal's Creamery is a great place to visit on hot summer days.
When the owners of this ice cream parlor first moved to this new location, the building required a few upgrades before the shop could open. The owners knew they would need several different industrial temperature control systems to keep the ice cream cool and ready to serve.
After some searching, the owners found N.E.T.R., Inc., and read some reviews about our industrial freezer and cooler installations throughout Boston and the surrounding areas. Seeing how N.E.T.R., Inc., helped other businesses find the temperature control solutions that were right for them, Cal's Creamery decided to give us a call.
---
The Problem: The new ice cream parlor, Cal's Creamery, in Reading, MA, needed three different temperature control systems to keep their ice cream chilled and ready to serve.
The Solution: N.E.T.R., Inc., designed a system that included a blast freezer, a holder freezer, and a cooler to help keep Cal's Creamery's ice cream at the right temperature from production until it is served to the customers.
The Design
Because Cal's Creamery makes their own ice cream, the new location would need a temperature control system known as a blast freezer. A blast freezer is fitted with blowers that force the intensely chilled air over the surface of the food inside to create a quick-freezing process. This freezer will help the ice cream shop make and freeze their own ice cream faster than a traditional freezer.
Additionally, the creamery would need a standard industrial freezer to store the flavors of ice cream they created for the day. This freezer would need to be slightly more significant than the blast freezer and is known as a holding freezer. Instead of circulating the air at high speed throughout the freezer, like the blast freezer, the holding freezer maintains a low and steady temperature to keep products at the perfect temperature until they are ready to move into the cooler.
The holding cooler is the last item for this temperature control system. A holding cooler is the type of freezer you see in most ice cream parlors. It is built to hold ice creams ready for serving and keep them at the proper temperature throughout the day.
The Installation
The repurposed farm stand was an excellent choice for Cal's Creamery to use as their new ice cream parlor. The farm aesthetic lent itself well to the ice cream they served, and the space was large enough to allow the installation of these three temperature control features with ease.
Firstly, N.E.T.R., Inc., mapped out the placement of all three freezers' temperature control systems and the size of equipment they would need to keep the spaces cooled adequately. Next, it was time to start installing the freezers.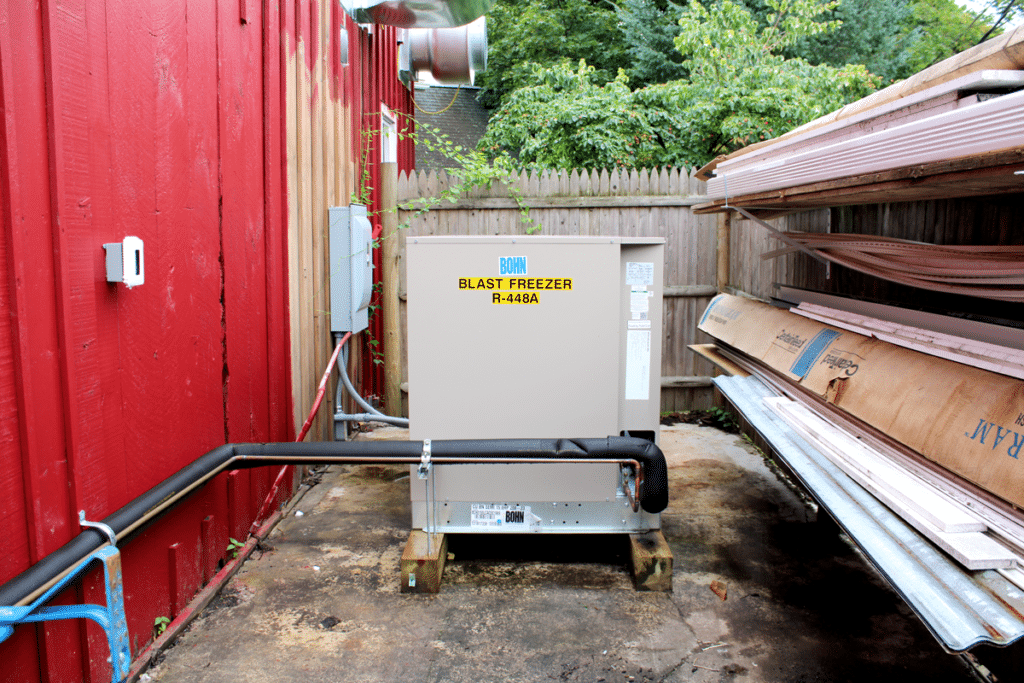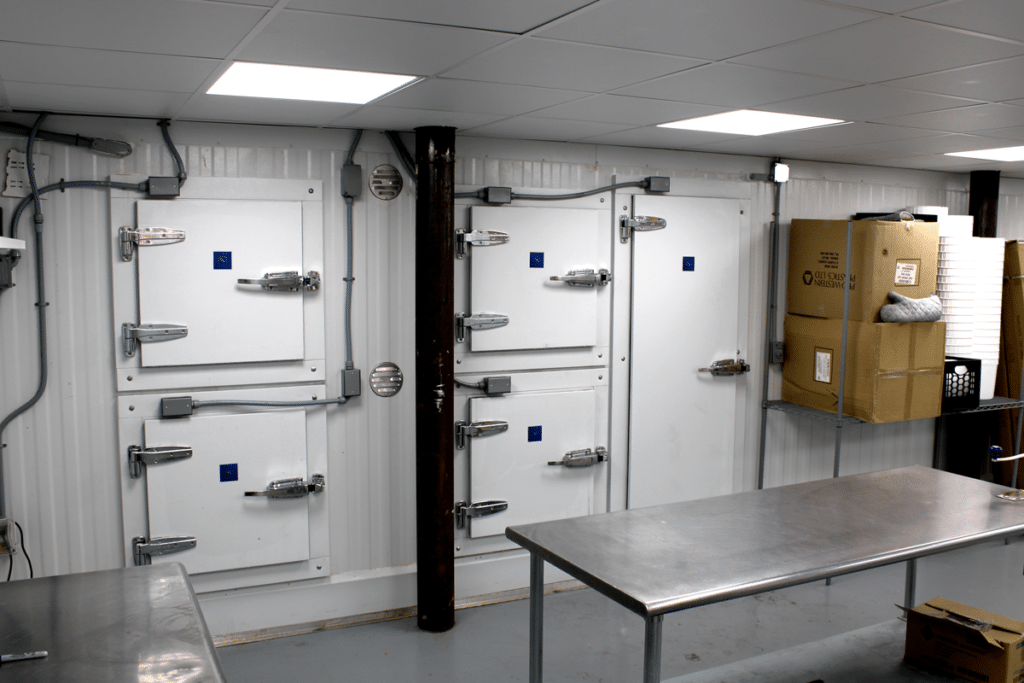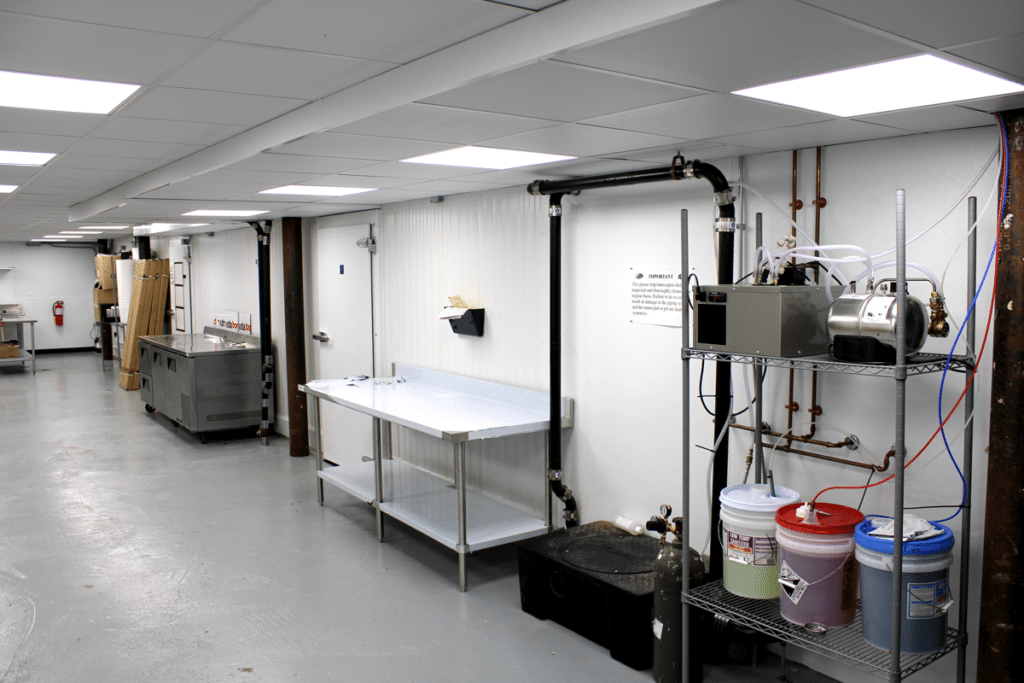 Mike Cappuccio and his team used a 15 horsepower Copeland™ Discus outdoor condenser unit for the blast freezer. This powerful system could provide the proper cooling for the 15' x 15' x 8' freezer.
The holding freezer was a 15' x 17' x 8' space that would need a 3.5 horsepower low temp Copeland™ Scroll outdoor condenser unit to keep it at the proper temperatures. Lastly, the holding cooler used a 1.5 horsepower medium temp Copeland™ Scroll outdoor condenser unit to keep the 15' x 17' x 8' cooler maintained.
Each of the outdoor condenser units was installed out of sight on a concrete pad where it would be easy to access for maintenance and repairs without looking like an eyesore for the creamery's customers.
Additionally, the team at N.E.T.R., Inc., installed and furnished one medium temp evaporator coil with an air defrost system to ensure the system keeps everything cooled to the correct temperatures no matter the weather. Now, Cal's Creamery has high-quality temperature control systems that will ensure their ice cream is always perfectly frozen.
After the Installation
Cal's Creamery opened its doors in Reading, MA, in the spring of 2021 in the new location. The locals and out-of-town visitors that stop at this unique spot are always impressed by the wide selection of chilly treats. Cal's now offers many dairy-free options, as well as specialty Deco-Cones and ice cream sandwiches.
No matter which treats tickle your fancy, you can rest assured that the ice cream sweets will be perfectly chilled! If you are ever in the neighborhood and craving something sweet, head over to Cal's Creamery for some delicious frozen treats!
In Need of Commercial Refrigeration or Temperature Control?
N.E.T.R., Inc., has years of experience helping small businesses and large corporations find the perfect temperature control solutions. Our team of experts is high-trained and equipped to handle the design, installation, and maintenance of numerous industrial-grade heating and cooling systems.
Whether your boutique needs a new air conditioning system or your research facility requires a freezer with pinpoint accuracy for keeping samples chilled, we can help. Read our case studies from previous installations and see how we can help you get the temperature control systems your business needs to thrive.
Contact us today to schedule a consultation with our team and get a quote for your project.