Marlborough is as picturesque as New England towns get, a mix of historic elements and the natural beauty everywhere. It's a great place to live, but if there are areas of your home that just aren't comfortable, they will be under-utilized and end up just being wasted space.
Our homeowners had a third-floor bedroom in their home, and like most rooms on the top floor of a house, it was way too hot in the summer and almost too cold in the winter.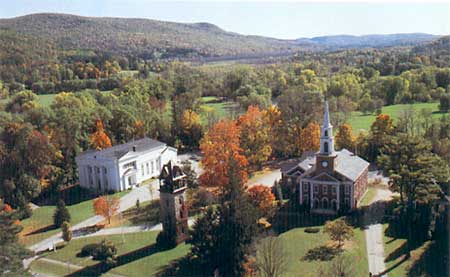 ---
Problem: The third-floor bedroom was uncomfortable most of the year — too hot in summer and way too cold in winter, despite the skylights! The homeowners needed a way to make this space comfortable and usable for their family. 
Solution: A simple Mitsubishi ductless heating and cooling unit will bring added comfort to the third floor, making it a place everyone will want to be, any time of the year.
---
A Ductless Mini Split is a Good Investment
This ductless style of heating and cooling is a great investment. Our homeowners have turned their third-floor bedroom into one of the best spots in the house. Even after the kids leave home, this third-floor space will be a great guest room or office – the only problem will be getting the guests to leave after being in such comfort!
The additional comfort adds functional square footage to the home and will help increase its long-term value as well, as it will be an attractive feature for any future buyer. The year-round comfort will be appreciated not only by the family, but by guests and future owners as well, making it a great long-term investment in any home.
The warranty on all qualifying systems installed after April 1, 2015 has recently been extended to 12 years! Click here to see the details.                                                                                                               

The Ideal Heating and Air Conditioning System for an Attic or Third-Floor Bedroom
While the rest of this modern home had adequate heating and cooling, and wonderful casement windows, this wasn't working well for the third floor. Even with central air, a third floor/attic room will always be a challenge to heat or cool. Window air conditioner units don't work with casement windows or skylights, that's for sure, and the baseboard heaters just weren't providing enough heat to keep the space comfortable.
Our experts at N.E.T.R., Inc. knew that a simple single-unit ductless HVAC system from Mitsubishi could solve this problem once and for all and make the third floor one of the most comfortable spaces in the home! The energy efficient technology is able to both heat and cool on demand and do so without adding significantly to the energy bills for the rest of the home.  In fact, since the existing system will have to work less hard by not needing to heat or cool the third floor, we wouldn't be surprised if the owner's overall energy bills go down over time!