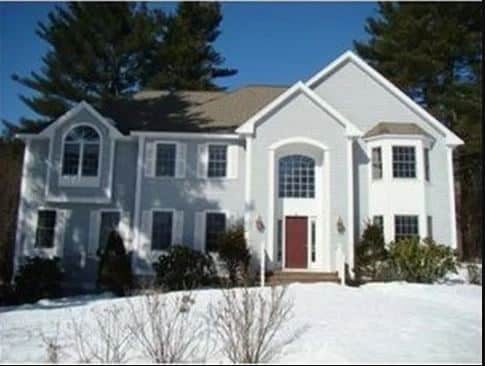 Our homeowner's gorgeous colonial in Andover, MA had it all except one thing: good air conditioning. The home used forced hot water baseboards for heat, as many older houses in Essex County do. But to cool off, she used window units.
This solution was outdated to say the least. Window units are loud, bulky and expensive to run. They're a hassle to install every summer, and they actually make the home easier to break into.
For years, however, homeowners preferred them when central air wasn't option. But today, there are much better ways to get cool air in the summertime. Our homeowner was ready for an upgrade.
Today, ductless cooling offers the power of central air with the flexibility of portable units. It also helps save money on energy bills. As a result, this hvac solution has become especially popular in older homes that don't have ductwork.
Our homeowner decided to go with a Mitsubishi ductless system after reading many outstanding product reviews. And, she chose N.E.T.R., Inc. because we're the top Elite Diamond dealer for Mitsubishi in New England.
We got to work right away designing a system that would serve her colonial home well. Our setup ensured that her home now stays cooler in the summer. And, she pays less on her electric bill to do so.
But, the benefits don't stop there. Our system also added extra heating to the home. This makes it more comfortable in the cold weather. And, again, it does so with lower energy bills.
Problem: A colonial home in Andover, MA did not have central air. The homeowner used forced water baseboard heating and window-unit air conditioners.
Solution: Installed a Mitsubishi two-zone ductless cooling and heating system. It includes an outdoor heat pump and two inside units. One is in the family room and the other in the master bedroom.
Ductless cooling in older homes
Mitsubishi ductless cooling becoming more popular in older homes. That's because it doesn't change the appearance of the home. We can install the entire system in less than a day. And, when we're done you'll barely notice it.
That makes it especially appealing for homes in Essex County. This part of Massachusetts is known for it historic buildings. And while this Andover, MA colonial isn't as old as some of the buildings nearby, it's certainly not new construction. In fact, you can see the inspiration of local landmarks like the Arden or David Gray House in its design.
One drawback of older New England homes, however, is that many don't have ductwork. Instead, they used radiators or baseboard units for heat. Central air wasn't even an option when they were built.
As a result, these homes are not equipped for an air conditioner that treats an entire home. When a home is heated with ductwork, an installer can add air conditioning to that system. But, that doesn't work with baseboard units.
To get around this, homeowners have used window air conditioners to cool off. However, there are some major drawbacks to this method.
First, window units are not nearly as efficient as other ac's. They use more energy and don't provide as much cold air.
Part of the problem is the fact that they're portable. These smaller machines just don't have the power of a larger system. And, since they are not permanently installed, cool air often escapes out of the window where they are installed.
In fact, that leads to another hazard: theft. For decades, burglars have kept an eye out for window units. They know it's easy to just push one back into the house. Then, they have a nice open window to crawl in and out of.
Ductless, on the other hand, doesn't present those problems. The units are permanently installed inside the house. That makes them more efficient and less of a safety hazard. And, since they don't require ductwork, we can place them anywhere.
Creating zoned hvac with Mitsubishi ductless
Mitsubishi ductless system create "zoned hvac." Instead of having one thermostat controlling every vent in the home, each vent works independently. This creates "zones" throughout the house.
As a result, our homeowners can change the temperature in different rooms without affecting the others. In this way, it's like putting a window unit in the spot that needs it the most. But, of course, the HVAC units do a much better job.
Here's how it works. An outdoor heat pump draws warm air from the house, leaving just cooler air inside. Then, it extracts the heat from that air and sends it back in. This drops the temperature down further.
The air travels through narrow plastic piping. The piping is less than three inches thick and made of flexible plastic. We run it through the walls so you'll never see it.
On the other end are the ductless HVAC units. These are also called air handlers. They're white, rectangular devices that we mount high up on the wall. The piping connects to the back of the unit.
Each unit circulates the air in its zone. You can set each one to any temperature you want, using the thermostat built in to them. They come with remote controls for easy access, and you can program them as with most modern thermostats.
From there, they work virtually in silence. Unless you are standing right underneath one and listening, you won't hear a thing.
Saving money with ductless hvac
A Mitsubishi ductless setup does more than just provide superior climate control. It also does it for less money than other systems. The units are energy-efficient and also work with an existing system.
In this case, our homeowner got rid of her clunky old window units. These units had lower SEER (Seasonal Energy Efficiency Ratio) ratings than her new system. A SEER rating tells you how much electricity an ac uses to provide the same effect as a comparable system.
The higher the rating, the less power it uses. Mitsubishi HVAC units are all 14 and above. The old ac's in this house maxed out at 10.
A big reason for this is the outdoor heat pump. Rather than use electricity to run a compressor, condenser and expansion device to create cool air, it uses a heat exchange process. Rather than generate cold air, it removes heat. The pump only requires a small amount of outside power to get the system going to do so.
Next, there are no leaks in this system. The units are inside the room, so cool air doesn't escape through the window where a unit is sitting. And, the tubing is sealed tight, unlike ductwork.
Finally, these HVAC units also provide heat. That means our homeowner can use the system when it's cold, too. When it starts getting chilly, she can use just use the energy-efficient units. Now, instead of firing up her old baseboard heater in October, she can wait until after Thanksgiving, when it really gets cold.
By using the more efficient heating method for a few months, our homeowner saves more money on her energy bills. Then, when it gets warm, she switches it to ac. Now, she's getting higher-quality hvac with lower electric bills.
Do you want a better and more cost-effective and efficient option for heating and cooling your home? Contact us, and we'll design the perfect solution for you!