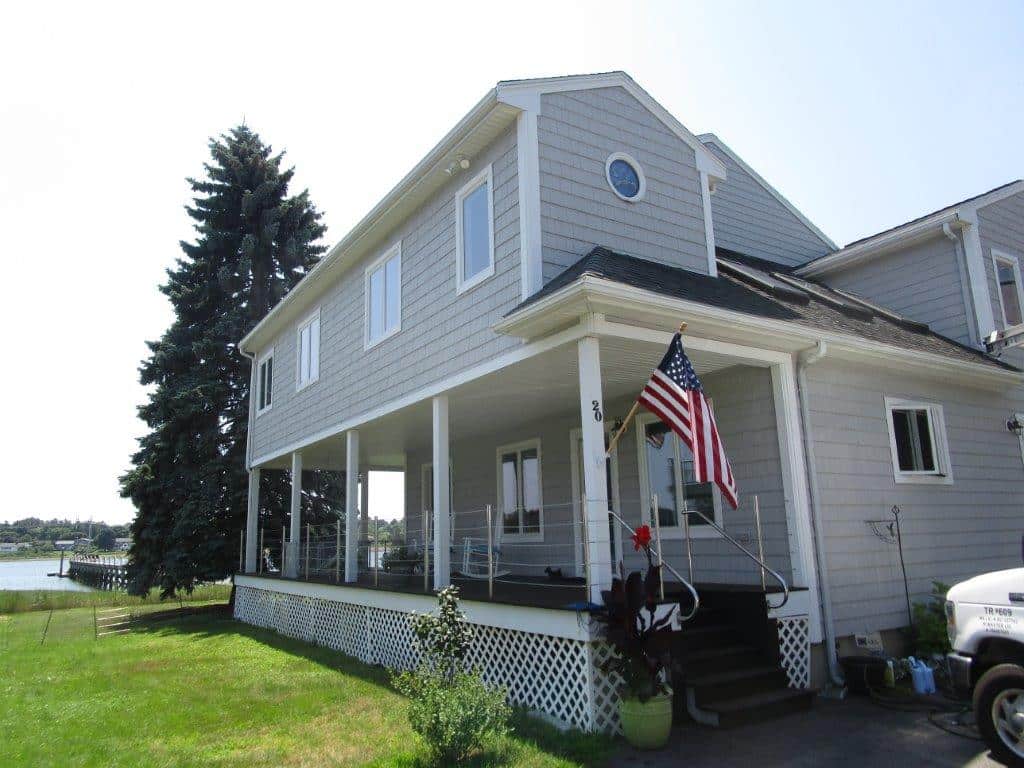 Our homeowners in Beverly, MA never slept quite right in the summer. The master bedroom of their colonial home was always too hot. The couple and their dog would toss and turn. Thanks to ductless air conditioning, now they'll sleep much easier.
Cooling wasn't a problem for the rest of this home. Summers often didn't get too hot. And, ceiling fans kept the first floor and other rooms from overheating. But, the master bedroom just seemed to trap heat.
There were plenty of options. But, they didn't want to settle for just anything. They wanted a solution that was quiet, and that didn't impact their electric bills too much.
They came to N.E.T.R., Inc. thanks to our excellent reputation. We've got plenty of outstanding reviews and years of expertise with homes just like this one.
Once they contacted us, we looked at the house and made some recommendations.
Problem: The bedroom in this Beverly, MA colonial home was never cool enough. Our homeowners were looking for a quiet, efficient way to cool this room for themselves and their dog.
Solution: Installed a Mitsubishi ductless air conditioning mini-split. It consists of a unit on the left wall of the bedroom. And an outdoor condenser unit.
Cooling upstairs rooms in a colonial home
Many people deal with uneven heating and cooling on the second floor of their home. This home had many of the common factors that lead to this. It also had some other considerations coming into play. These include:
Only one thermostat

Rooms without proper insulation

Poor air flow
First is a common one: the thermostat is on the first floor. That means the system heats or cools according to that area, not the whole house.
When the second floor is warmer in the summer, it never gets adequately treated. The ac turns off once it cools the first floor.
Next are the rooms hanging over the front porch. That means they're not as well insulated. And, they don't have that cool air below them. Instead, the heat rises from the porch and into those rooms.
Finally, the second floor doesn't lend itself well to air circulation. It's not just one block on top of the first floor. Instead, there are nooks and crannies where heat can build up.
It also has an attic. These end up being huge heat traps. Hot air rises into it from the rest of the home. And, the sun beating down on it adds more warmth. With no open windows, the temperature rises in there. That affects the rooms below it.
This house doesn't have central air. That's fine for the first floor and most rooms on the second. After all, Massachusetts summers aren't nearly as hot as those in other parts of the country.
But, the master bedroom was a different story. It was always too hot, and it was where the couple and their dog slept. They needed to bring the temperature down.
Ductless air conditioning in a bedroom
Ductless air conditioning was easily the best solution for treating this bedroom. It offers the strength of a central air system with the flexibility of a window air conditioner. But, it's less expensive and quieter to run than both those options.
The main benefit here was the zoned hvac aspect. That's when you look at treating each part of the home separately, rather than with one uniform solution. In this case, we had just one zone: The master bedroom.
Installing here was easy. First, we placed a condenser unit outside. It generates the cold air. Next, we added just one unit, or air handler, in the bedroom. We set it over a window. That way, it's mostly out of sight. And, it's less noticeable because it follows the flow and contours of the installation below it.
We connected the two with flexible plastic tubing. It runs through the walls, making it out of sight and easy to install. This setup is called a mini-split because it has outdoor and indoor components.
Now, we've created the zone. The unit has a built-in thermostat. That means it measures the heat and humidity just in the room it's treated. And, it circulates air as needed.
To use this, our homeowners set the temperature with the remote control that comes with the mini-split. They can set it manually or program it to get cooler at night and not work as hard during the day.
The unit offers better circulation than central air. That's thanks in part to the variable speed motor. This way, it can run at a low speed when maintaining the coolness. And, it can ramp up when necessary.
That's an improvement over being just on or off. This way, the temperature doesn't fluctuate. And, the unit is whisper-quiet. Even on full blast, the sound is still as soft as leaves rustling.
Better cooling for less money
Thanks to their new system, our homeowners finally have the cooling they've always wanted in their master bedroom. And, they're paying much less for it than they expected.
First, they're only treating the area that needs it. Even though the mini-split is as strong as central air, they aren't managing the whole house. They use much less energy this way. And, the less they use, the less they pay for.
Next, the mini-split is exceptionally efficient. It uses less energy than other ac's offering the same amount of climate control. It's Energy Star-certified, which means it meets federal standards proving this.
That makes a huge difference. It's also a big reason why it won out over a window unit or portable ac. Those would have cost much less to purchase and install. But, those units use way more power than the mini-split. Our homeowners' electric bills would have skyrocketed in the summer.
They also don't have to worry about cleaning out a window unit or dragging it in and out of storage. The unit is also much quieter and permanently installed. It doesn't take up window space, blocking out the sun, and it doesn't require nearly as much care.
Finally, the variable speed motor makes a big difference. We mentioned how it has more options than just "on" or "off." That means it's often running in a low, energy-saver mode. This feature maintains the temperature using much less electricity than two-speed appliances.
And, that also extends the life of the mini-split. There's much less wear and tear than if it were constantly turning on and off. That means our homeowners will get years and years of top-notch cooling from their new unit. And, they won't pay nearly as much for it as they would have with other solutions.
Is your master bedroom always too hot in the summer? Contact us, and we'll design a system that's perfect for you!