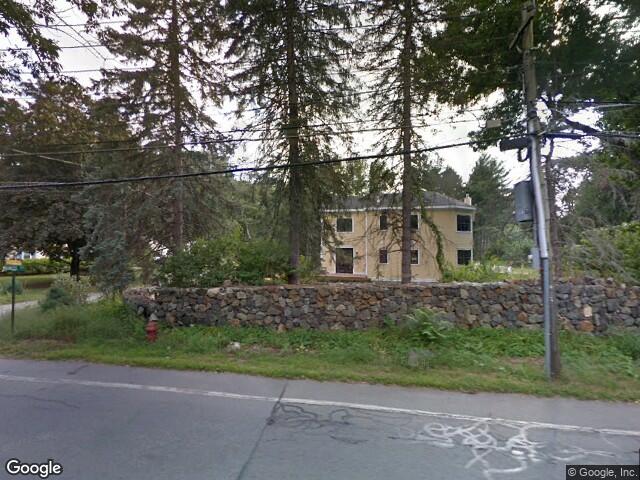 Older homes have a lot of character—but not always the best heating and cooling systems.
Our homeowner in Lincoln MA was ready to upgrade his nearly-70-year-old house. The current forced air system didn't quite get the home warm enough. A few rooms had cold spots. And, there was no central air.
The homeowner called N.E.T.R., Inc. after reading our outstanding reviews. And, he saw we are the number-one Elite Diamond Dealer for Mitsubishi HVAC products. He was confident we could deliver state-of-the-art climate control at a great price. And, he was right.
---
Problem: A Lincoln, MA conventional-style home built in 1950 had cold spots in the winter and no central air conditioning.
Solution: Installed two Mitsubishi ductless HVAC systems with wall mounted units in the living room and dining room connected to an outdoor condenser unit.
---
Upgrading a Conventional Home to Ductless HVAC
A zoned heating and cooling system is a great way to any older home. Ductless units use better technology than what was available decades ago. As a result, they're able to provide better climate control for less money.
How Does a Ductless Mini Split Work?
Ductless HVAC systems are also very easy to install. For a long time, that process was a deal-breaker for many homeowners. Forced heat and central air rely on ductwork, vents and large, expensive units. That makes replacing a heating system is a big-ticket item. The same goes for putting in central air when there wasn't a system like that before.
New ductwork can also cut down on the space in your home. Many times, installers need to use closet space or build out pathways along walls and ceilings. Getting the ducts where they need to go can be a hassle.
But, that's not an issue with a ductless HVAC system. Here, all the forced heat and cool air travel through very small piping. The piping is bendable and just a few inches in diameter.
This means our installers can easily run it through the walls between the beams. They don't even need to break out a wall and build a new one. The piping can be snaked through.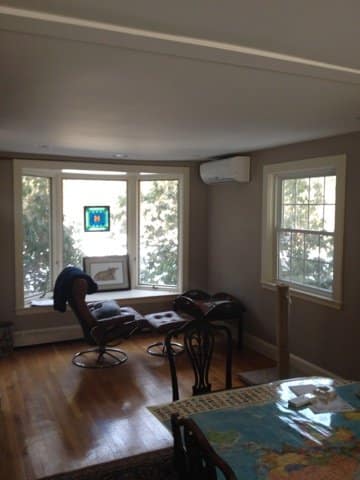 Next, that piping connects to a ductless unit in a room. This is the part of the system that delivers the air. Since it doesn't have to connect to existing ductwork, it can be mounted anywhere in the room. Our installers determine the best spot for it. Often, that's high on a wall and in a corner of the room, out of the way.
Why You Need More Flexibility in Your Home Heating Options
Having this flexibility means a ductless system can completely overhaul the heating and cooling in your home. You don't have to think about where the existing ducts and vents are. Instead, you can easily place each unit exactly where it needs to go.
This also comes into play with air conditioning. For years, the homeowner used window air conditioning units to cool the home in the summertime. A central system would cost less, look nice and work better. But, it would also cost a lot to install.
Instead, we installed a heat pump that provides heating and cooling through the same system. This way, the one system we installed provided extra heat in the winter and better cooling in the summer.
Zoned Heating and Cooling with a Mitsubishi Ductless System
Another big part of that flexibility is creating zoned heating and cooling. This means that each ductless unit in the home controls the climate in a different area, or zone. Each unit has its own thermostat that you can set to any temperature you want.
That's important in a home like this. This homeowner wasn't looking to get rid of his old forced air system. He just needed to add a little more power and efficiency to it.
Zoned HVAC with a Mitsubishi system helps him do just that. Setting each unit to a different temperature means you can account for uneven heating and cooling. This is when one part of the house is hotter or colder than another.
Often, the reason for this is a single thermostat. Most central systems rely on one thermostat to tell it when to turn on and off. It's usually located on the first floor.
But, the temperature isn't always the same in different parts of the house. Let's say the upstairs is still cold when the room with the thermostat reaches the desired temperature. The heater shuts off before the upstairs rooms warm up.
Or, perhaps there's a room that gets warmer than the one with the thermostat. The heater continues heating that room well past the desired temperature. That's because the system stays on until the room with the thermostat hits the right temperature.
A ductless system eliminates this problem. Now, each unit can turn on and off on its own. If the upstairs takes longer to heat, that unit keeps working when others shut off. And, a unit downstairs will run for less time if that zone heats up faster than others.
It's also a great benefit in the summer. In most cases, people use their bedrooms at night and the downstairs in the morning. With central air, you'd have to keep the whole house cool at once. Not so with a ductless system.
Now, our homeowner can set his zones differently. His bedroom can cool down when he's ready to sleep. Then, when he's ready to use the rest of the house, he can power down that zone while treating the downstairs a little more.
Saving Money with Zoned HVAC and Ductless Units
As you can imagine, zoned HVAC saves money on monthly energy bills. When you're not using as much energy every month, you pay less. That's certainly true here. But, that's only part of the story.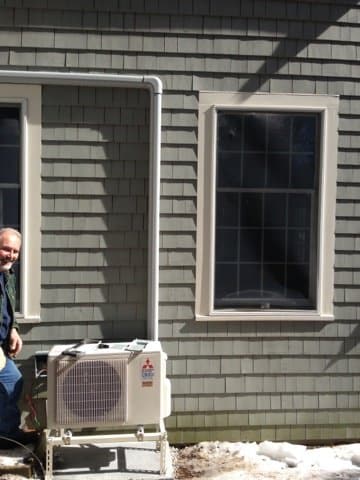 The savings actually start outside the home. That's where the outdoor condenser is located.
Unlike a forced air system, a heat pump does not have to generate its own heat. Instead, it draws in the heat that exists outside. Then, it warms that air further using a heat transfer system. Finally, the piping and HVAC units distribute that air throughout the house.
In the summer, the opposite occurs: The system draws warm air from the home and cools it with a heat transfer process. Then the system delivers that cooled air back into the home.
The big difference here is that the heat pump does not burn fossil fuels to produce the heat. That's the bulk of your energy bills with electric, gas or oil. Instead, the heat pump uses just a small amount of electricity to run.
And, the amount of electricity the heat pump requires is lowered even further due to the zoned system. Unlike a central system, it doesn't have to overheat or over-cool some areas of the home to get problems spots to the desired temperature.
All this adds up to more comfort, more customization — and lower bill each month for our homeowner.
Do you want a better and more cost-effective and efficient option for heating and cooling your home? Contact us and we'll design the perfect Mitsubishi ductless HVAC solution for you!