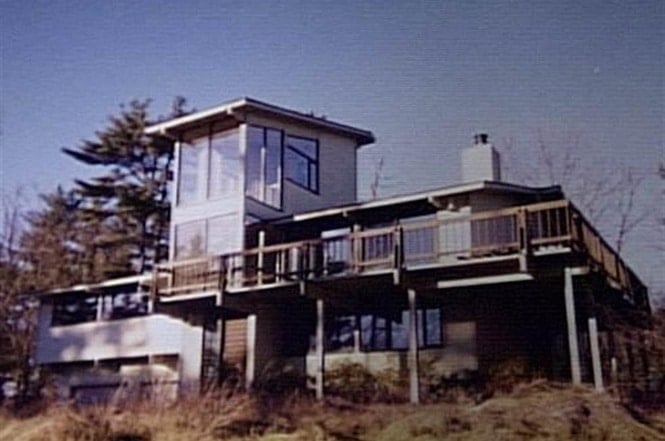 Our homeowners love their unique deck home. Their specially-designed house features striking angles, open floor plans and large windows for plenty of sunlight. And, once they installed ductless air conditioning, the effect truly felt complete.
The one problem they always had was cooling on the first floor. For most of the summer, that area was too warm. But, the house wasn't designed with central air in mind. They didn't have any ductwork for it.
What's more, the wide-open first floor made climate control a challenge. Whatever the homeowners used would need to cover a large space. But, to work correctly, it would need to treat some spots more than others.
For years, our homeowners relied on window air conditioners in their living room and kitchen. They offered some climate control, but not enough. And, they were loud and unsightly. We offered them a better solution.
---
Problem: A homeowner wanted to replace the window air conditioners in the living room and kitchen of his deck-style home. They were loud, expensive and a hassle to move around.
Solution: Installed a Mitsubishi ductless air conditioning system with two indoor air handlers on the first floor. These connect to an outdoor condenser unit.
---
Problems when cooling with window air conditioners
For decades, window air conditioners were the go-to when central air wasn't an option. These units are portable. That way, you can put them wherever they're needed. But, there are plenty of drawbacks as well. These include:
Operating volume

Energy efficiency

Lack of strength
For starters, these are very loud. With some models, it's difficult to hear a television or have a conversation when it's running.
Next, they're not very efficient. These use a lot of energy but provide less cooling than other options. Part of that is due to just outdated hvac technology. But, the other problem is their setup. Since they're never permanently installed, treated air escapes out the window very easily.
Meanwhile, this home's unique layout made it especially challenging to cool correctly. It features a mostly open floor plan and many large windows.
Those windows let in plenty of sunlight. It's nice to look at, but also makes the house hotter. And, they're too large to support an air conditioner.
Next, the open floor plan means that any hvac unit has to handle a lot of ground. When a floor is divided into rooms, separate vents or units treat each area. That wasn't possible here.
Instead, our homeowners used a window air conditioner in the two spots they could fit them. They were in the kitchen and living room. But, they weren't strong enough to reach the entire floor. They also made a lot of noise and used a lot of energy.
Ductless air conditioning vs window units
Our solution for this deck-style home was a ductless air conditioning mini-split system. It offered a zoned hvac setup. This way, we could add units wherever we needed to. We could install components virtually anywhere. And, they were quieter and more efficient than the old window units.
These are called mini-splits because the system uses outdoor and indoor parts. As with central air, there's an outdoor condenser unit providing the cool air. In this case, however, the air travels through small, flexible plastic piping rather than ductwork.
On the other end are units, or air handlers. These indoor units are responsible for circulating the air. To install them, we mount the units on the wall and connect the piping to the back.
We can install as few or as many units as we need. And, each one has a thermostat built into it. This creates the zoned aspect that was missing before. Now, each unit handles a different area of the first floor.
This offers many advantages over the window units. First, we were able to install two on the first floor. Since they mount to the wall, the oversized windows were not a concern. In both cases, we found out-of-the-way spots to place them.
Next, each one does a much better job of circulating the air. This way, the entire floor is treated with just two units. That's a huge leap from just covering the kitchen area.
And, the units are whisper-quiet. That's much different from the constant dull roar of the old ac. Even at full blast, they produce less than 20 decibels of sound. That's softer than leaves blowing around outside.
Finally, the outdoor component is well-concealed. We found a good spot for it under the deck. It's easily accessible. But, it's not an area where people gather. So, it's out of sight and mind most of the time.
Ductless air conditioning costs less in the long run
Of course, the mini-split costs more upfront than cheap old window ac's. But, they not only provide better climate control. They also use less energy to do so. That means it costs less in the long run than what our homeowner previously used.
The new mini-split in this deck home is Energy Star-certified. That means it meets federal guidelines showing that it uses less energy to provide the same cooling as comparable units. And, the less power our homeowners use, the less they pay for.
And, now the family uses each unit less than they did their one window unit. That's in part because they're not trying to crank one ac to cover a considerable area. Now, the job is split between two air handlers.
Each one has a thermostat. That means one can work less than the other if the zone it handles cools off quicker. That means not wasting energy and freezing out one area to treat the other.
Next, the units use inverter technology to keep down costs. They variable-speed motors that can run in a few different speeds. It saves money and extends the mini-split's life.
Most of the time, then, they're in low-power, energy-saver mode. It maintains the current temperature with very little power. If the temperature begins to rise, it can switch to a higher speed to keep it in check.
This is very different from just turning on a window unit and letting it blast for hours and hours. It's even better than central air. Those units usually only have two speeds: On and off.
As a result, the temperature often fluctuates. Rooms heat up when the system is off. Then, it roars to life to cool them again. That ends up using more energy than constant climate control. It also causes the unit to break down faster. All that switching on and off results in plenty of wear and tear.
Fortunately, our homeowners don't have to worry about that. Instead, they have quiet, efficient cooling that works without them even noticing it.
Are you looking for a better hvac solution for your open floor plan home? Contact us, and we'll design a system that's perfect for you.