Sunrooms are one of those features that make a house special. It can be a great gathering place for the family, and a joy to sit in with a cup of coffee in the morning. But many times, these additional spaces can be difficult to heat and cool.
Sunrooms can also get too hot during certain times of the year, and become almost too chilly to use during the winter.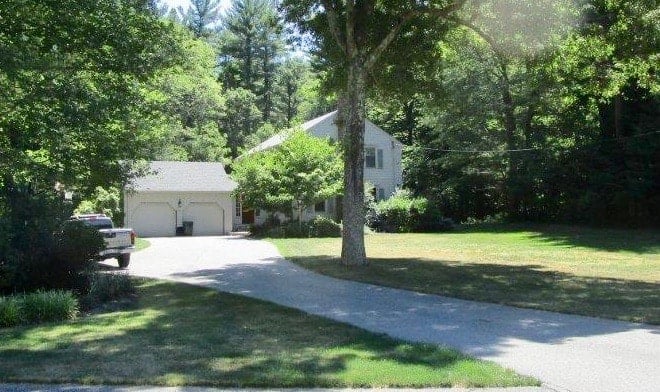 These additions were never factored into the design of your existing heating and air conditioning systems, but they still need to provide the comfort you enjoy in the rest of your home!
Our homeowners in this Marblehead, MA colonial had a lovely sunroom that they were heating with gas baseboard heat and window air conditioning units. The base board heat was mediocre, and the air didn't circulate well around the room. The window AC never seemed to be able to keep up with the demand during the summer.  
This ended up limiting the usability of this room, and our homeowners were looking for a better solution. They wanted to be an energy-efficient and cost-effective solution that would keep them comfortable year-round.
After a lot of research, our homeowners gave N.E.T.R., Inc. a call. Based on our outstanding reviews, they had us come out to see what we would suggest to make their sunroom the perfect place to be, no matter what time of year it was, while also making sure they weren't spending all their money on energy bills!
---
Problem: Our homeowners needed a better solution to heat and cool their sunroom- the baseboard heat and window AC units they were using were expensive to run and weren't getting the job done. 
The family wanted to maximize comfort on the hottest and coldest days of the year, to make sure they got to enjoy the room every day of the year.
Solution: N.E.T.R., Inc. installed a Mitsubishi mini split air conditioner and ductless heat pump that will provide comfort all year long at the touch of a button. The family will get maximum comfort whether it's the middle of August or the middle of January.
They might even need to change the name of the room from Sunroom to Fun Room with the increased enjoyment they will get from the space!
---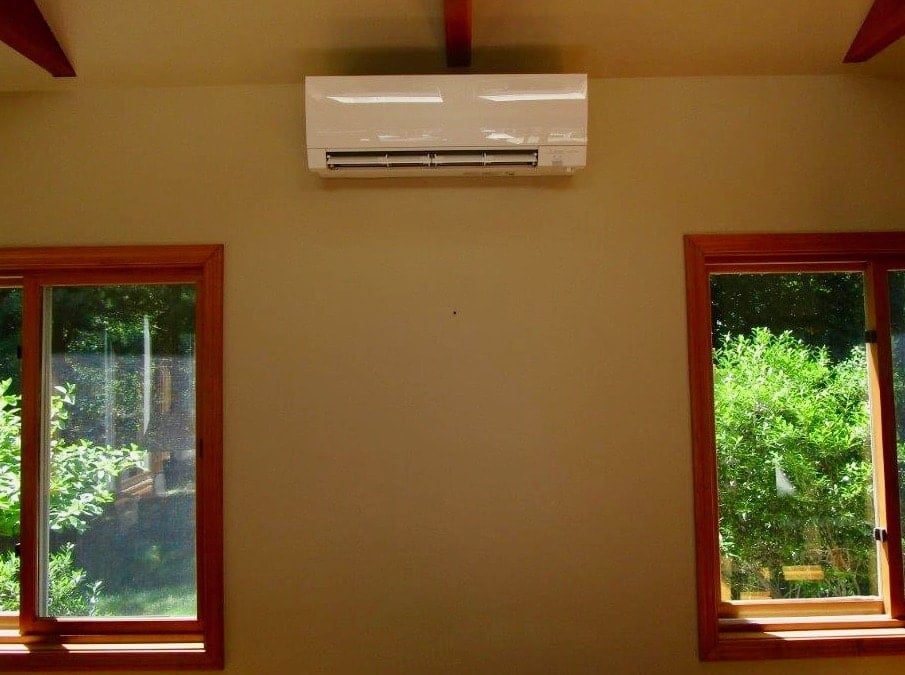 Our homeowners wanted their sunroom to be comfortable all the time—not just "in season." They needed an efficient system that wouldn't run up their energy bills and they were looking for a high quality, reliable system that would last years.
When we saw the room, we knew that a Mitsubishi split system would be the perfect solution to prove the comfort they needed every day of the year and would make sure to control humidity at the same time.
Ductless HVAC is a great solution for sun rooms and three season rooms because it runs separately from the rest of the home's HVAC system. It provides the separate control that's needed to keep a room like this comfortable.
Sunrooms have a lot of glass and provide great views, but it also means that they can get pretty uncomfortable in the dead of winter or in the summer heat. Feeling like you are in a walk-in cooler or a steam room, depending on the season isn't the best way to start the day.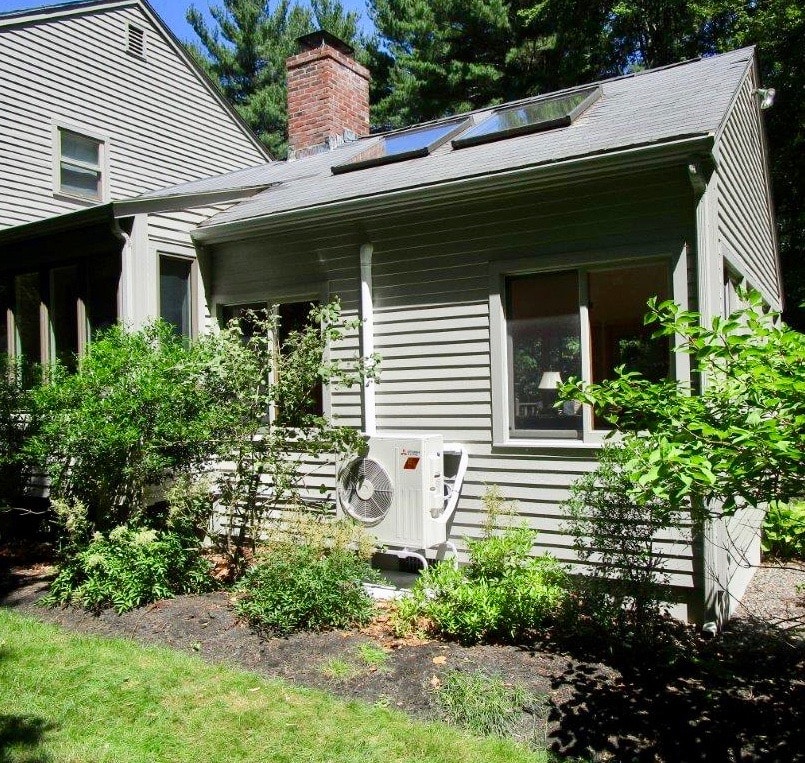 Other solutions just don't do the trick as well as Mitsubishi heating and cooling systems. Space heaters to supplement the baseboard heat can be dangerous, and window AC units simply don't circulate the air enough or control humidity. plus, they are inefficient and expensive to run!
Installing Mitsubishi heat and air units creates an additional, separate zone of heating and cooling for this room.
Temperature can be adjusted easily on a remote control, and the unit will provide pinpoint, quiet comfort at the touch of a button even when the temperature is -13 degrees!
The wall mounted air conditioner is installed, out of the way, and will distribute the cool or throughout the space, ensuring comfort no matter what Mother Nature has in store. It also functions as a ductless heat pump, circulating warm when needed.
Fortunately, the incredibly efficient and quiet heating and cooling provided by the ductless mini split unit will provide just the right amount of heating or cooling needed, when they need it, allowing the homeowners to adjust the temperature to achieve perfection any day of the year.
This means all the time, money and effort in creating this great space in their home won't be limited in its enjoyment to just part of the year anymore. They will get four seasons of comfort and will really enjoy their new space.
They also can add a touch of heat or cooling whenever they want, which is a real blessing when the weather is unpredictable.
On top of that, they will never have to try to figure out the best weekend to install those window AC units ever again, freeing up time while increasing comfort and convenience.
The efficiency of a split system air conditioner and ductless heat pump brings maximum heat without using traditional fossil fuel systems. Many of our customers rave about the money they save in their heating bills once they get ductless heat pumps installed.
This is especially helpful for a hard to heat room like a sunroom, ductless heat pumps will be able to deliver the heat needed at lower operating costs than any comparable solution. It will also provide fantastic cooling and humidity control in the summer as well. Something you don't get with other options like wood stoves or space heaters.
Best of all, because of the outstanding energy efficiency these systems deliver, many homeowners qualify for rebates through different state programs.
Our homeowners were able to qualify for $500 Mass Save rebate, helping to make this solution affordable for installation, as well as helping them save money every month on energy bills, even in the height of summer! That's something every homeowner can appreciate.
The key points of this particular home:

The home owners now have a comfortable, quiet solution to heat and cool their sunroom each and every day of the year, maximizing their enjoyment of this inviting space!

No removal or replacement of equipment was necessary, and the new equipment is installed out of the way. The system will provide heating and cooling for this room, making it one of the most comfortable rooms in the house.

The new system is efficient and will make sure that the new addition doesn't add whopping new energy bills along with it!

The homeowners qualified for a $500 Mass Save rebate, helping to make this installation even more affordable while delivering extra comfort to the family.
Ductless Mini Split Systems Are a Great Investment
Our homeowners will still be using their traditional HVAC system to heat and cool their home, but the sunroom will have its own separate zone, allowing it to be adjusted independently of the rest of the house.
This means that the homeowners will use their ductless AC unit and heat pump only when needed, minimizing any additional costs to heat and cool this great space.
They will get pinpoint control over the temperature in the room, allowing it to be comfortable—maybe even more so than other areas of the house!
This installation will also provide air conditioning, making spring and summer much more comfortable as well and making sure the owners really get maximum enjoyment out of their investment.
The warranty on all qualifying systems installed after April 1, 2015 has recently been extended to 12 years! Click here to see the details.