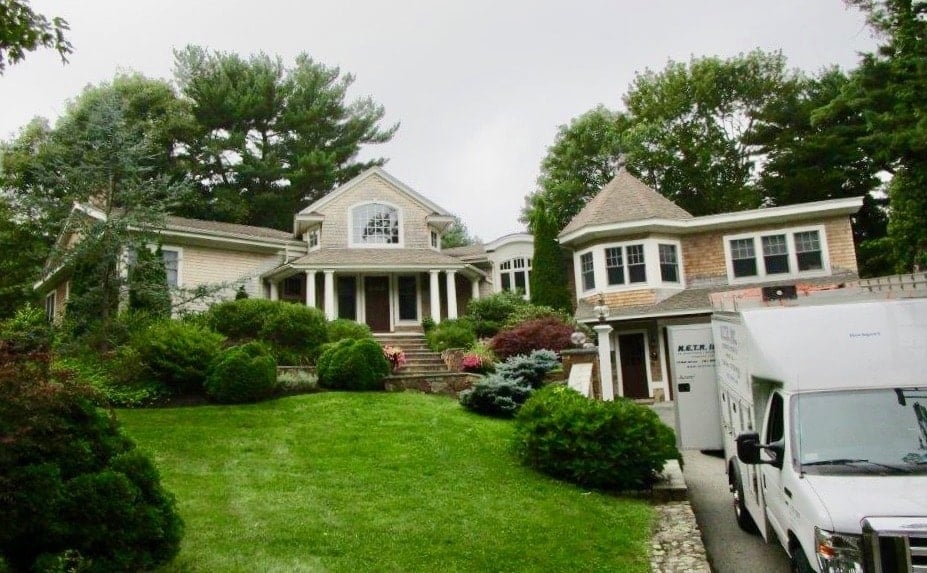 Great homes like this contemporary ranch in Beverly, MA are a true pleasure for their owners. This home had great windows, but they were taken up by window air conditioners for four or more months a year. These were a hassle to install them and put away; the process took up most of a weekend twice a year! On top of that, the units were noisy and inefficient, not providing the cooling the owners craved, while running up electric bills that would make our homeowners cringe.
The homeowners wanted more efficient solution that would bring down their electric bills and help them sleep easy. They did their research and started looking at Mitsubishi ductless systems as an option, due to their efficiency and cost-effectiveness.  After seeing our outstanding reviews and service, specializing in ductless installations, they decided to call N.E.T.R., Inc..  We knew we could provide them with a solution that would keep everyone in the family comfortable for years to come, while keeping those electric bills under control.
---
Problem: The lovely home was relying on window units alone to keep cool in the summer. The units were expensive to run and inefficient and took up window space for almost half the year. The homeowners wanted a better solution that would let everyone in the family sleep more peacefully at night.
Solution: We installed five separate zones of ductless heating and air conditioning, insuring everyone would get a comfortable night's sleep, every day of the year!  We also installed a unit in the main living room area, so the family could enjoy every opportunity to spend together without having to worry about the heat.
---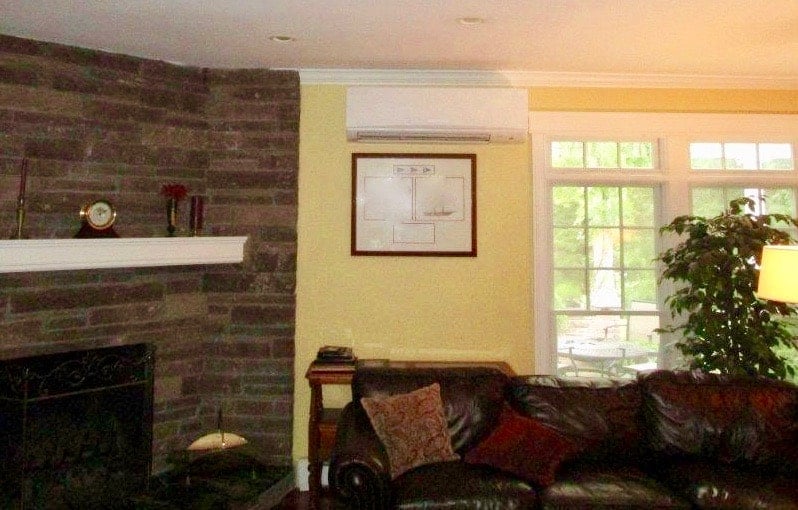 We recommended adding five separate zones of ductless for this home- one unit in each of the four bedrooms and another in the main living area in the home.  This way, each bedroom could be the perfect temperature. These zoned ductless units allow temperature to be adjusted as needed with a convenient remote control. So, if Mom and Dad want it cool in their room, but the kids like it a little warmer, everyone can set their room to the perfect temperature.  This also meant the systems could be essentially shut off when not in use, saving energy by not cooling rooms no one was in for most of the day!
By having separate zones, the family will get the comfort they want, right where they want it without having to adjust the temperature for the whole house!  These ductless AC units also monitor the humidity in each room, so no one will be sticking to wood chairs any more, even in the height of the summer.
Another amazing feature of the Mitsubishi Electric AC ductless units is that they double as heaters. This can be a huge money saver in the fall, when you want to add just a touch of warmth, without having to turn on the furnace to heat the whole house!  These units are so efficient they can save tons of money on heating as well as cooling, helping our homeowners to lower their energy bills no matter what the season.
Best of all, the homeowners will no longer have to spend a whole weekend, twice a year, installing or storing window AC units. The ductless units will provide on-demand heating or cooling all year long, freeing up windows and adding state-of-the-art comfort. This installation gave them customized comfort while adding long term value to their home and saved them money, a trifecta any homeowner will love!
If you have a ranch home like this one in the Boston metro area, give us a call and find out how we can help you make your home comfortable all year round!