Replacing Window Air Conditioners With Ductless AC
The owners of this great Cape Cod style home in Newburyport, MA had a problem shared by many on the North Shore- their homes were built without central air conditioning, and they rely on window air conditioners to try to keep comfortable in the summer, and use oil heat for warmth in the winter. While oil heat with radiators provides great heat, it can still leave you with hot and cold spots throughout the home as it takes time for the heat to work its way to all corners of a room. Likewise, window air conditioning units tend to make certain areas, or closed off rooms comfortable, but they are noisy, inefficient and cost an arm and a leg to operate. Then there's the dreaded chore of installing them every year and then storing them at the end of the season, and for a house this size, that chore could take the better part of a weekend.
Our homeowners have us a call here at N.E.T.R., Inc. looking for a ductless air conditioning contractor to install a better heating and cooling solution that was cost-effective, energy efficient, and solve those nagging comfort problems they were having throughout the home, but particularly in the master bedroom and the two additional bedrooms, where hot, sticky summers were causing them all to lose sleep.
---
Problem: The Owners of this Cape-style home in Newburyport, MA  were losing sleep over the comfort in their home, in the Winter and Summer. They were tired of relying on window air conditioning units that were a pain to install each year and cost a fortune to run, and they wanted additional comfort through the colder months as well.
Solution: By adding three zones of Mitsubishi Electric ductless heating and air conditioning to the bedrooms, every member of the family will finally be comfortable in the quiet comfort ductless delivers.
Ductless Heating and Cooling for a Cape-Style Home
When we came out to look at this great Cape Style home, we knew ductless heating and air conditioning by Mitsubishi Electric would be a great solution for the homeowner's nagging comfort problems. Mitsubishi ductless systems are essentially heat pumps, that can act as both heaters and air conditioners in one unit.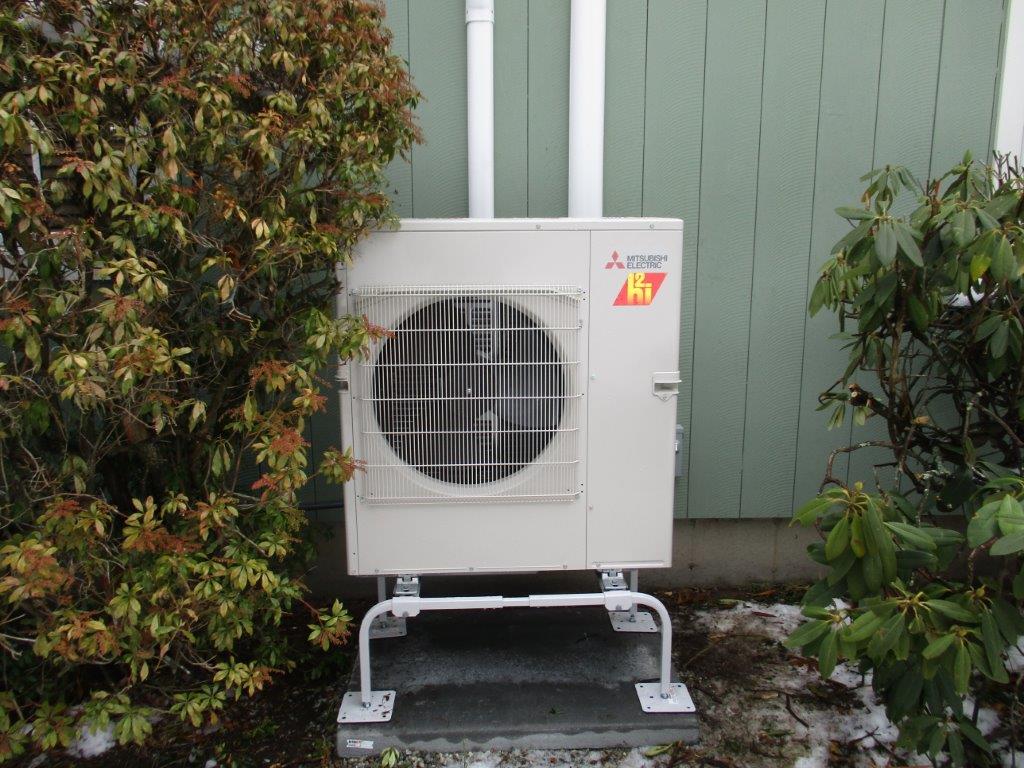 The system is comprised of an outdoor condenser unit and then it can support up to eight individual indoor, wall-mounted units. Each indoor ductless unit can be mounted up out of the way, and each creates a separate zone of comfort that can be controlled individually- meaning each ductless unit can deliver exactly the comfort you want, without affecting the other units in other rooms. That means Mom and Dad can have their Master Bedroom super cool, while the kids need less cooling in their bedrooms at the peak of summer, for example. Likewise, come winter, the kids may want extra heat to keep their rooms cozy, while Mom and Dad sleep better when it's a little cooler. Everyone can adjust the temperature to their own preference with ductless- a step above even traditional central air conditioning systems!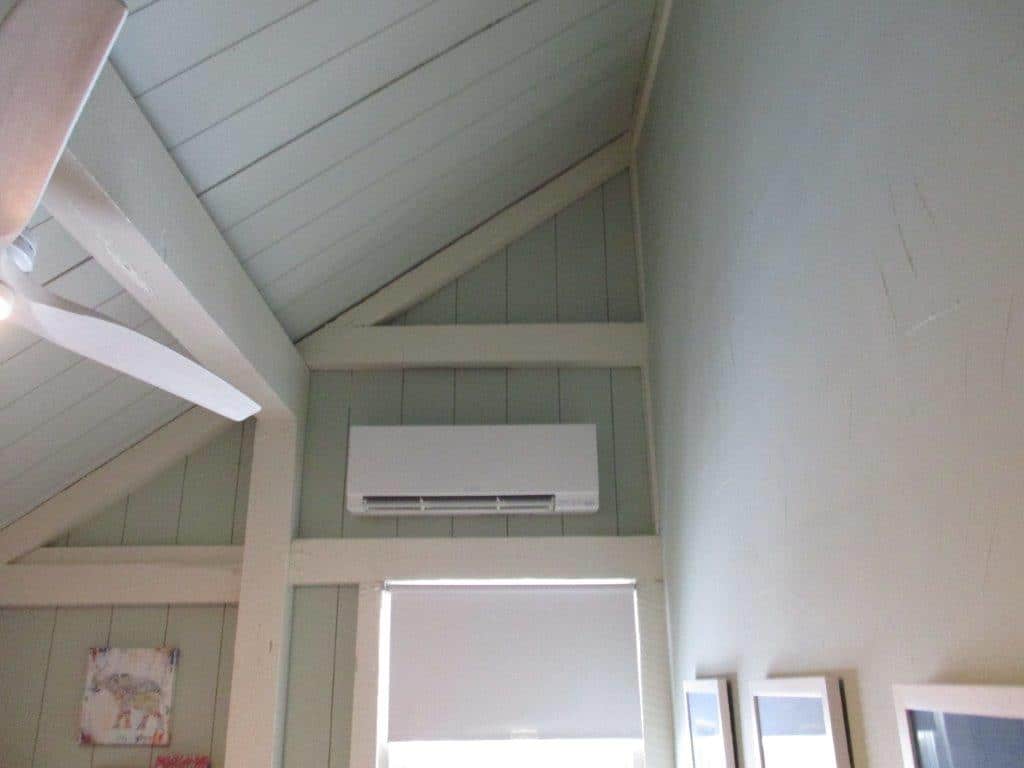 The ductless wall units do a great job of monitoring the temperature and humidity in a room, and they disburse the hot or cool air evenly throughout, eliminating problems with hot and cold spots that often plague homes with high ceilings like this one. Each unit is individually controlled with a hand held remote, but you can also get thermostat type options or even Kumo cloud controllers that let you control the entire ductless HVAC system from your smart phone!
Mitsubishi Ductless Delivers Efficiency Air Conditioning
Our homeowners were mostly concerned about comfort in their bedrooms.  In a shore community like Newburyport, MA, you can get winter storms that make even the best insulated homes chilly, and have added humidity that can make a home sticky in the summer. Getting a good night's sleep is important for kids and adults alike, so ensuring a comfortable and peaceful sleeping environment can make a big difference in your quality of life. Mitsubishi ductless systems are known for being whisper-quiet, operating at about 22db. That's so quiet, we've even had people install them in nurseries and music rooms, where noise really matters.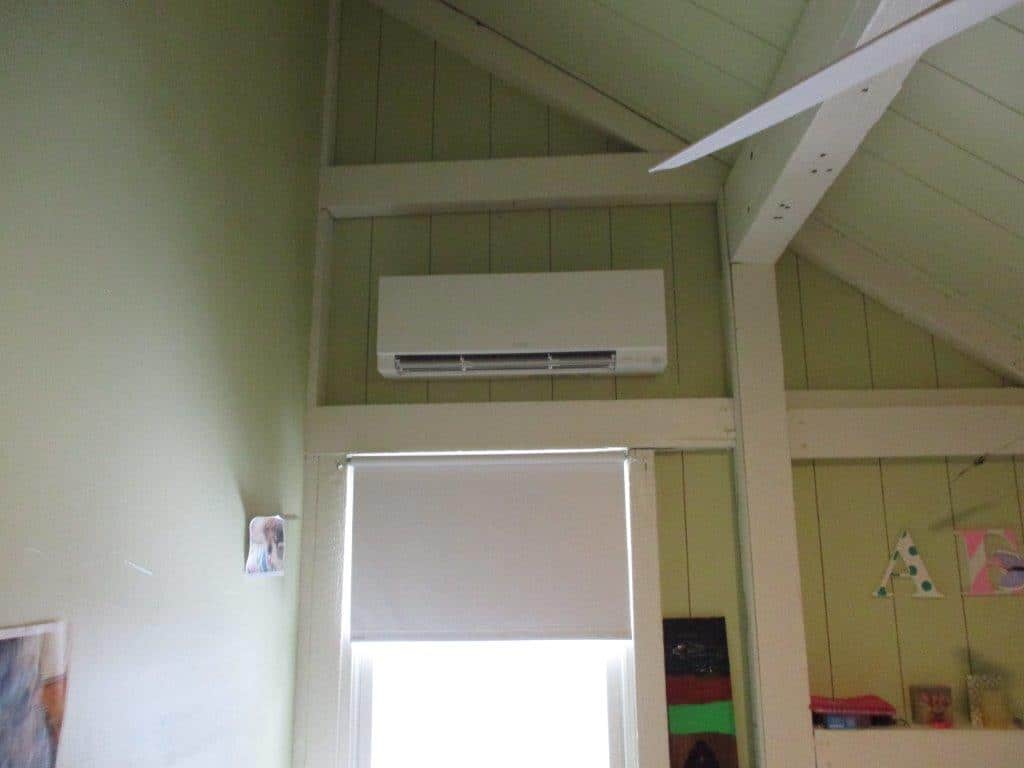 Best of all, these ductless mini splits are so energy efficient, they qualify for rebates because they save so much energy compared to window air conditioning units! These homeowners in Newburyport, MA qualified for a Mass Save rebate of $300 and a Mass CEC rebate of $1,302, for a total of $1,602 in rebates, helping to make this permanent solution to their year-round comfort needs even more affordable.
We can't wait to hear how the ductless HVAC system perform during this first full year they are in use. So many of our homeowners use the heating feature to add just a touch of heat on chilly days, saving them tons of money on not having to heat the whole home to keep one or two rooms warm.  They also save money by simply turning the ductless units off when they're not in use, leading to even more energy savings, and a much lower energy bill each month, something all homeowners can appreciate.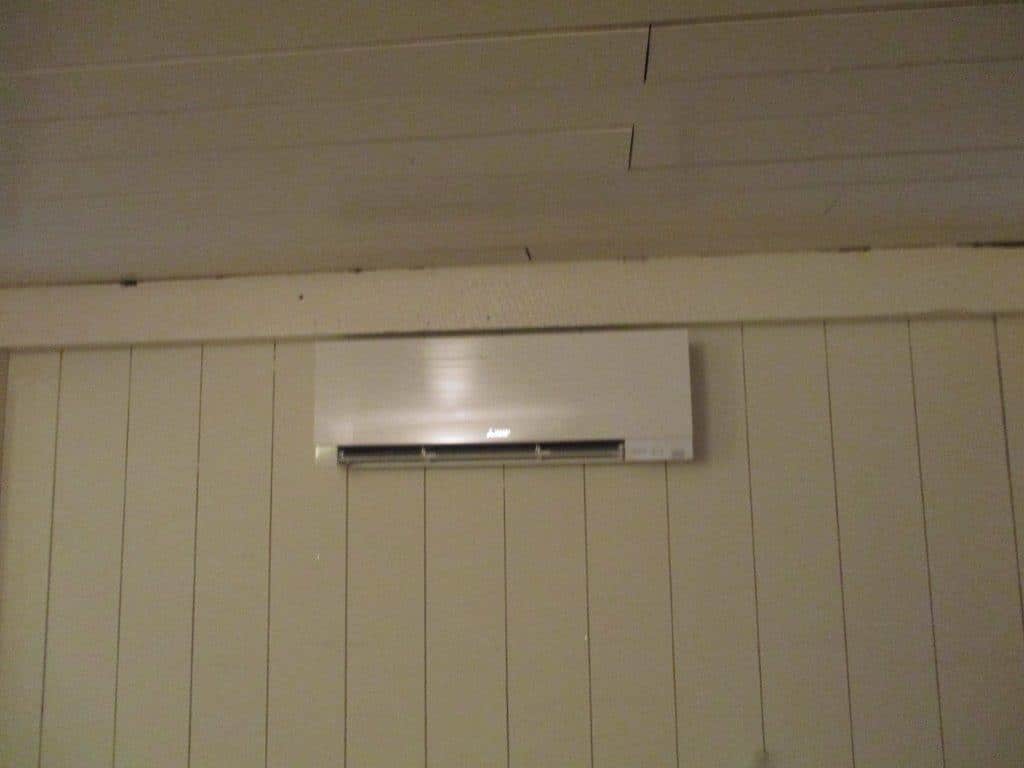 In the end, we also know that a great solution like Mitsubishi ductless will also give the family the gift of time- they will no longer face the chore of putting in and taking out window units twice a year, and that saved time and inconvenience will be much better spent enjoying their home and each other, thanks to our expertise here at N.E.T.R., Inc..
Serving the Greater Newburyport, MA Area Since 1989
If you want to save money on energy bills and finally replace those noisy and inefficient window air conditioning units with a Mitsubishi ductless mini split HVAC system, give us a call today!