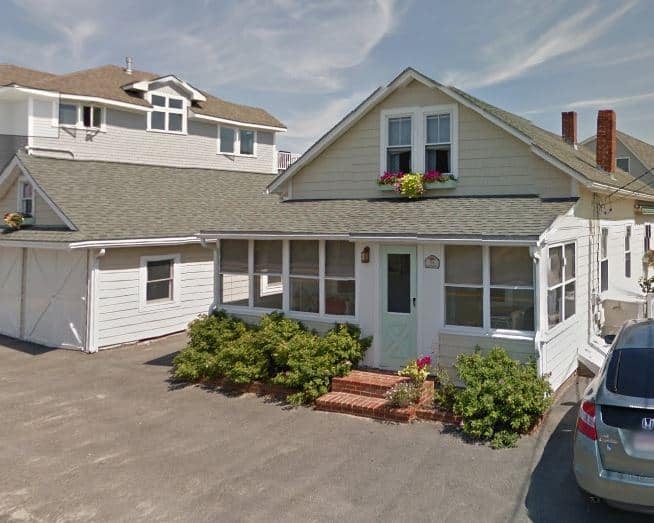 One of the great things about owning a beach home, especially one close to Boston, is the ability to enjoy it year-round. A weekend getaway with family and friends is a joy, but when your beach home is too hot or too cold, it can make you want to stay home instead- which defeats the purpose of having such a great get-away in the first place.
When the owners of this lovely Cape-style home in Newburyport gave us a call, they were relying on FHA-propane for heat, and had no cooling system other than window air conditioners. These window ACs left the owners spending a good part of the summer sticky and uncomfortable.
They were looking for a better solution to heat and cool their home, that would be both energy efficient and cost-effective to run. After some research they read about Mitsubishi ductless systems and their outstanding product reviews and gave us a call to discuss options. They had seen the reviews for N.E.T.R., Inc. online for work we've done in other homes in Newburyport and surrounding areas, and were confident we could help them solve their problems so they could enjoy their home in greater comfort.
---
Problem: This beautiful Cape-style home in Newburyport was heating their home with propane and had no cooling system at all. The owners wanted to increase the comfort in their beach home with a heating and cooling system so they could enjoy the home year-round.
Solution: We installed 5 zones of Mitsubishi ductless heating and air conditioning in the TV room, kitchen, and three bedrooms! This ductless mini split system with heat pump and air conditioning will bring year-round comfort.
---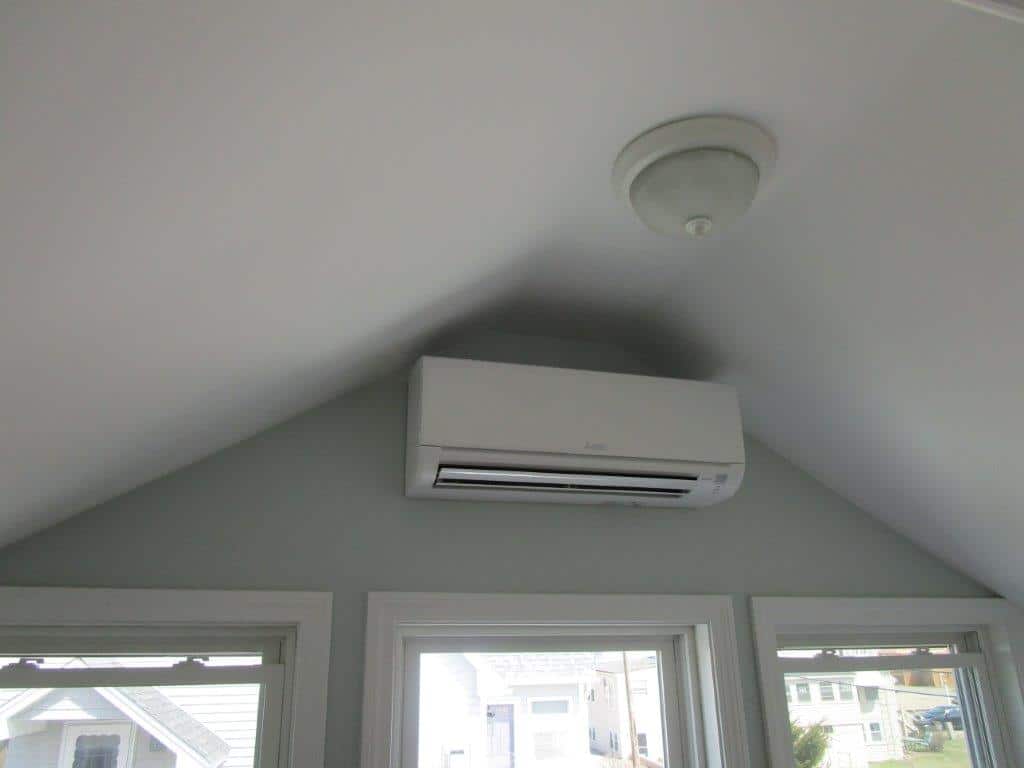 When we sat down with the homeowners, we knew that in order to give them the comfort they wanted to turn their beach home into a year-round getaway, a multi-zone ductless heating and air conditioning system would work best. By creating separate zones, the homeowners can control the level temperature in the TV room and kitchen area, while allowing individuals to control their bedrooms individually. These individually controlled units allow homeowners to avoid heating and cooling areas of the home not in use, saving additional money on energy!
Mitsubishi's ductless heat pump system allows you to install multiple indoor units, like the one in the picture. These ductless ACs are mounted up on the wall, out of the way, hooked up to one outdoor heat pump.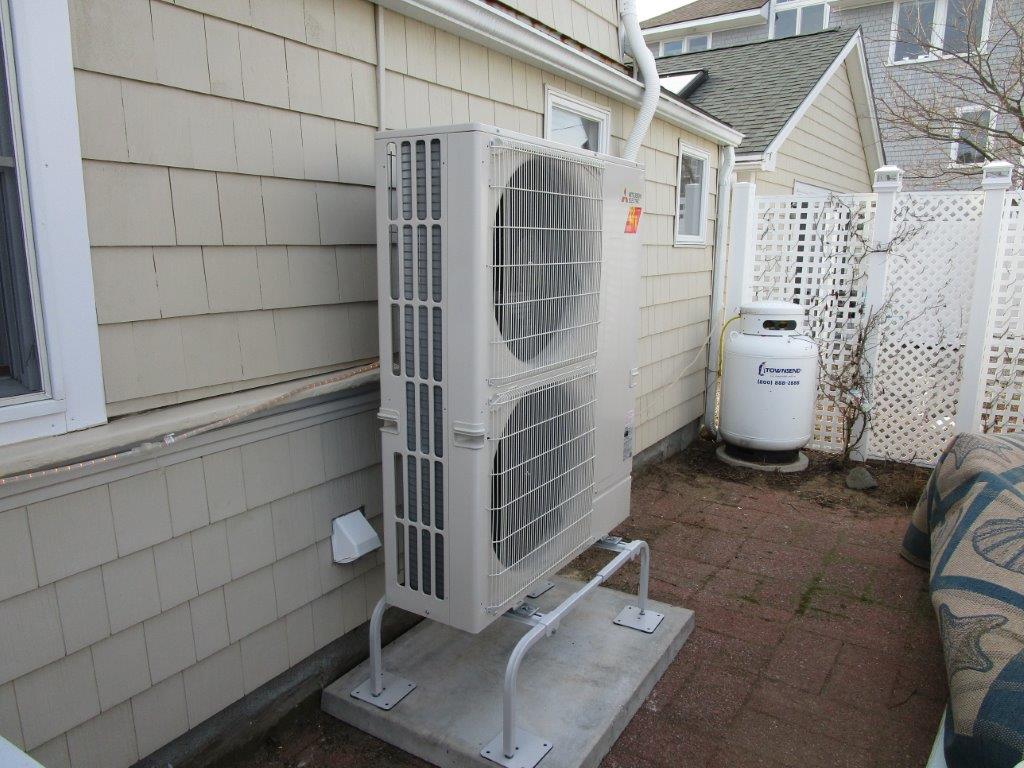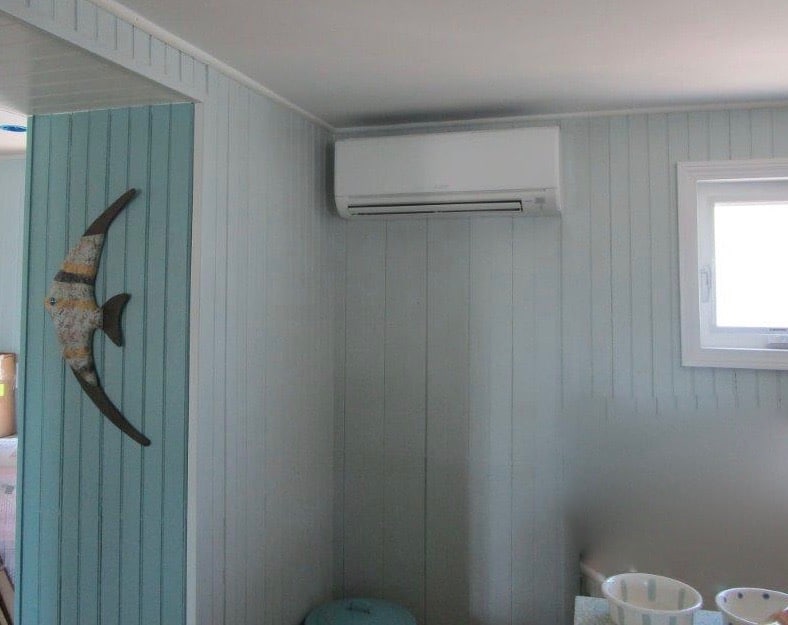 You can set each ductless unit individually with a remote, and the AC unit will adjust the temperature and humidity. Because of the wall mounted design, the Mitsubishi ductless AC distribute the air evenly throughout the space, so no more hot or cool spots but perfect comfort throughout. In addition, these ductless units operate at a much greater efficiency and lower cost than the old propane system they were using for heat. Now the homeowners no longer have to rely on noisy, inefficient window air conditioners to try to get some relief in the summer, they have a system that will provide them with the comfort they want, on demand- making the home a truly comfortable get-away.
We were able to create a total of five zones of ductless heating and air conditioning for the homeowners. Ductless wall units were installed in the TV room, kitchen, downstairs bedroom, and two upstairs bedrooms. This multi-zoned system ensures that the homeowners and any guests will all be able to be comfortable in their beach home, no matter the season.

Ductless Benefits
These homeowners were also able to take advantage of a Mass Save rebate of $500 and Mass Save financing, with 0% interest for up to 7 years for qualifying systems like this one. This helps make energy-efficient upgrades like this an even more affordable investment in the long-term for your home!
Just imagine as it starts to get a little chilly this fall, the homeowners invite the family down to the beach and are able to add just a touch of warmth to the kitchen in the morning, ensuring everyone is comfortable when they come in for breakfast. Each guest will be able to adjust the heating and cooling in their room, so they have slept comfortably all night. And the whole family is together and comfortable, where before adding ductless, they might have avoided going to the beach in the fall because it just got too cold and turning on the propane system was expensive.
In addition, there won't be any more hassle with those noisy and inefficient window air conditioners that are a pain to install and store each year. Even if it gets hot early on, the homeowner will be able to add the cooling they need, whenever they want it, with the touch of a button. Even on the hottest days of the summer, the homeowners will be perfectly comfortable and they'll save money on energy bills at the same time! That's a solution that increases the level of comfort and enjoyment of their getaway, while making each moment more energy-efficient and cost-effective – something any homeowner can appreciate!