Homes like this Colonial Revival with a barrel-tile roof in North Andover, MA were often built without the ductwork a modern heating and air conditioning system requires. As a result, they must rely on other methods to make the home comfortable. Although a ductless AC system was installed many years ago, the home's large, formal foyer dictates the overall comfort of the rest of the house. These homeowners wanted to ensure that the foyer was a comfortable as the rest of the home. The previously installed unit was old, out of warranty, and in need of a replacement for a newer model that could deliver the comfort they had come to expect and enjoy.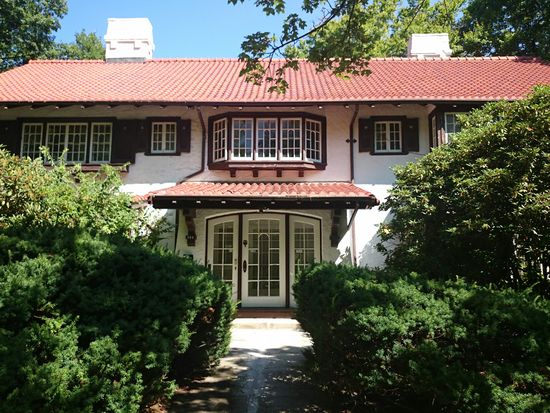 ---
Problem: Our homeowners needed to replace their existing ductless unit that was out of warranty after many years of great service. They wanted to make sure their foyer, the virtual center of the home, was comfortable year-round. 
Solution: They called N.E.T.R., Inc. because of our renowned service and experience. We installed a new Mitsubishi Electric Hyper Heat Ductless Unit to allow pinpoint control of the temperature and a matching indoor unit to ensure comfort throughout the entrance to the home. This newer unit carries an extended 12-year warranty, ensuring many years of reliable comfort for our homeowners. 
---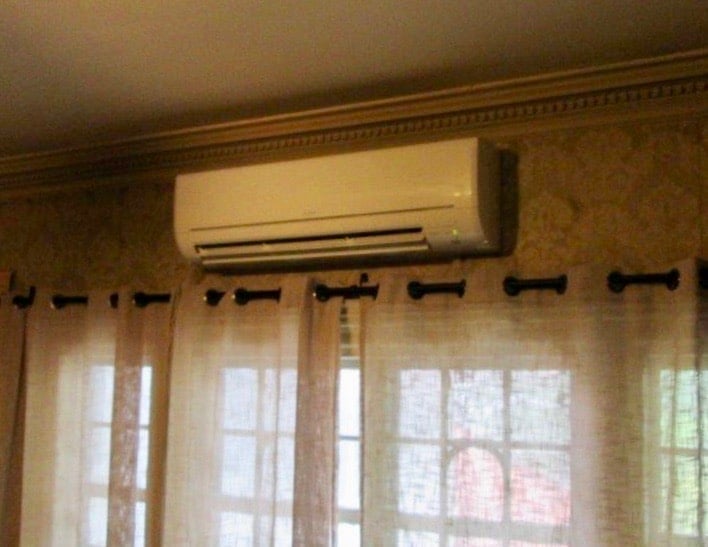 Colonial homes are usually well-insulate, but features like cathedral ceilings, dormers or recessed lighting increase the likelihood of heating and cooling difficulties. In cases like this one, adequately heating and cooling the foyer with a ductless AC and heating unit gives the homeowner comfort that spreads throughout the home.
The previous ductless units were no longer within their warranty period and in need of repairs. The homeowners knew N.E.T.R., Inc. would provide the best equipment and service for their home because of their experience with the first ductless system from years ago, so they called us in again.
The newer Mitsubishi Electric Hyper-Heat ductless systems are even more efficient than before – the new units can work effectively even when temperatures are as low as -13F outside! In addition, they do a fantastic job cooling a home during the hottest days of summer. Best of all, the efficiency of these units ensures your electric bills stay reasonable, even in extreme temperatures, something every homeowner can appreciate.
The performance of ductless AC units is so amazing that our homeowners wanted to stick with it for the new room and replace the older units with the same, reliable solution they had grown to love. They chose to use N.E.T.R., Inc. for this install, because we had provided them with reliable service for years.
We replaced the existing ductless system with a new Mitsubishi Electric Hyper-Heat ductless system, replacing the indoor and outdoor units. These units do a great job at distributing cool air in the summer and hot air in the winter throughout a space. The units also monitor humidity levels to make sure the room is perfectly comfortable. Unlike most window air conditioners or other solutions, the Mitsubishi ductless units are whisper-quiet. The Mitsubishi Electric Hyper-Heat units are just the thing to bring comfort to your home along while lowering your energy bills and increasing efficiency. These added benefits are a huge reason why ductless units are becoming a popular choice for homeowners and business owners throughout North Andover.
Due to the energy efficient technology utilized in these heating and cooling units, many homeowners qualify for rebates when installing these units, because they are helping the environment.  Additionally, the warranties on these systems has been extended to twelve years, giving homeowners like ours in North Andover, peace of mind as well as increased comfort in their home.
Rebates for these energy efficient units are still available, so if you are interested in this type of equipment, be sure to ask your N.E.T.R., Inc. specialist about what sort of rebates you will qualify for with your upgrade.
To recap the key points of this home and our solution:
The homeowners needed a comfortable, quiet solution to replace their existing ductless system. The new ductless units come with a 12-year warranty, so they will get the comfort they want and need for many years to come.
Their energy bills will improve due to the new unit's ability to surpass the older systems in efficiency, bringing even more savings.
A Great Investment
This kind of installation is a great investment in the comfort of this home for years to come. This permanent solution will be quiet and efficient which is a big improvement over solutions like window air conditioners or space heaters that many homeowners might otherwise rely on.
This technology will save these homeowners on energy bills, since it is an energy efficient solution. While many homeowners install units like this for the state-of-the-art efficient air conditioning, they often find it's a perfect way to add that touch of heat when you need it without turning on the whole heating system. Because they operate separately from each other, these unit are the perfect solution on those Spring or Fall days when there's just a tiny nip in the air.
Because they don't have to add heat everywhere, it ends up being cost-effective by reducing the overall heating bill, and the energy-efficiency makes adding that bit of comfort easy on the pocketbook as well!
The warranty on all qualifying systems installed after April 1, 2015 has been extended to 12 years! Click here to see the details.