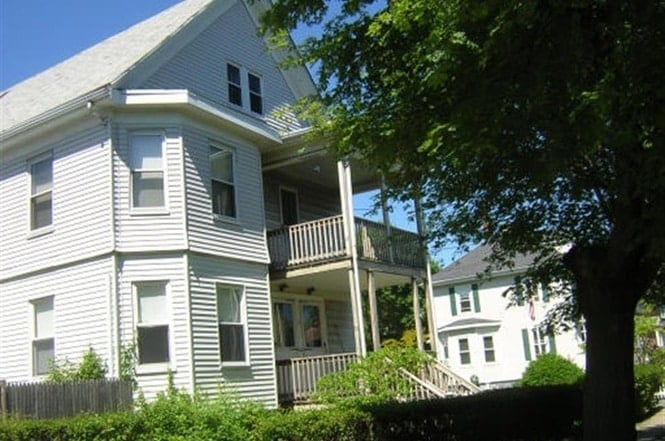 Salem, MA has lovely, older homes throughout the area- and they all share a similar problem- they were built without central air conditioning systems. As our summer weather as tended to get hotter and more humid, more and more homeowners are looking for a better solution than just window air conditioners to keep cool.
The owners of this great colonial in Salem gave us a call here at N.E.T.R., Inc. to see if we could help them with a cost-effective system that would keep key areas of their home comfortable in hot weather, while not breaking the bank with expensive energy bills.
---
Problem: Colonial home in Salem, MA had no cooling system and wanted a better way to keep their living room and master bedroom cool.
Solution: Two zones of Mitsubishi ductless heating and air conditioning will give the homeowners the comfort they want while giving them significant savings on their energy bills.
---
Mitsubishi Ductless Mini Splits Are a Flexible Cooling Solution
When we came out to see the home, we talked with the owners to find out what they needed most. Mitsubishi ductless systems are perfectly suited for older homes without air ducts, and they are scalable, meaning a single outdoor condenser unit can serve up to eight indoor units, or cassettes. Homeowners considering ductless need to make some decisions about what areas of their home are most in need of greater temperature control, as well as how much heating and cooling they need. But because of this flexibility in the number of indoor units that can be supported by a single outdoor unit, a homeowner can install a small number of indoor units and still have the flexibility to add additional indoor units at a later date. That lets us design systems that will bring you comfort and work with your budget, now and in the future.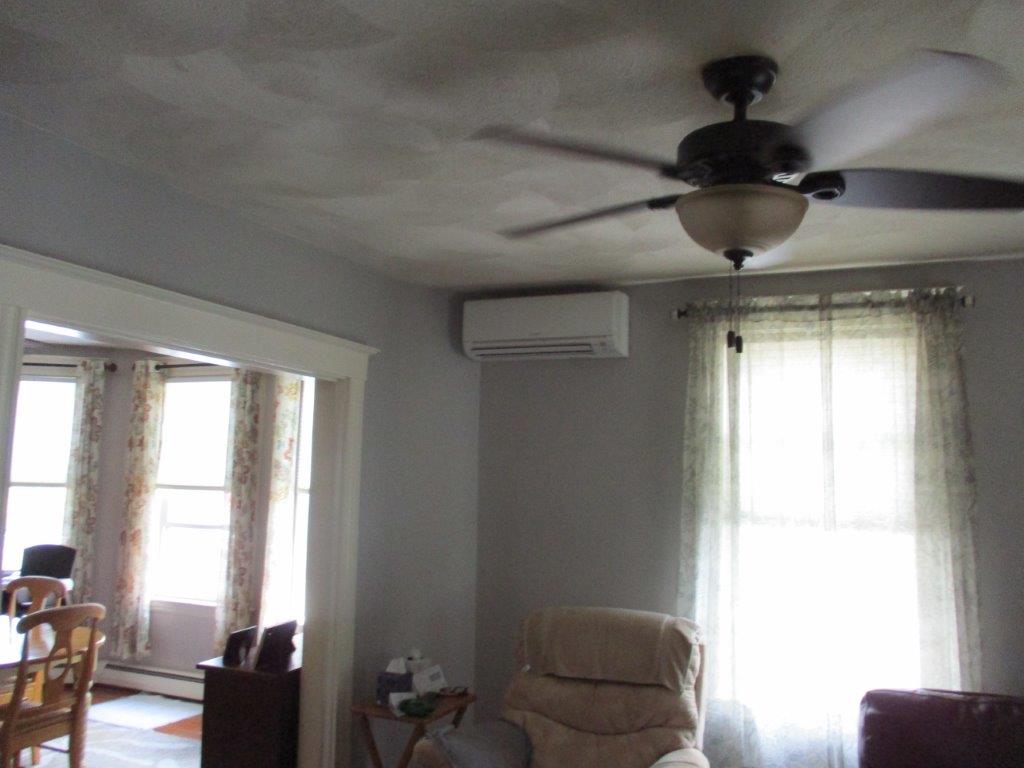 For our homeowners, the rooms they were most concerned about was the living room and the master bedroom. The living room was adjacent to the dining room, and a single unit in the living room would be able to adequately cool both spaces. As you can see from the pictures, we were able to install the unit on the wall in a corner, so it is out of the way, yet is positioned to make sure it can distribute the cool air throughout the space.
The additional unit was placed in the master bedroom. Many homeowners love ductless in their master, because it lets them set the temperature in the room to the optimal level for sleeping comfort, while not spending money trying to heat or cool the rest of the whole house. Mitsubishi ductless units can act as both heaters and air conditioning, which is particularly nice for the master bedroom. It means being able to set the comfort level so that Mom and Dad can get a great night's sleep without waking up hot and sweaty in the summer, and they'll also be able to add a touch of heat on frosty mornings or damp, chilly Spring days, to make getting out of bed in the morning a little less difficult.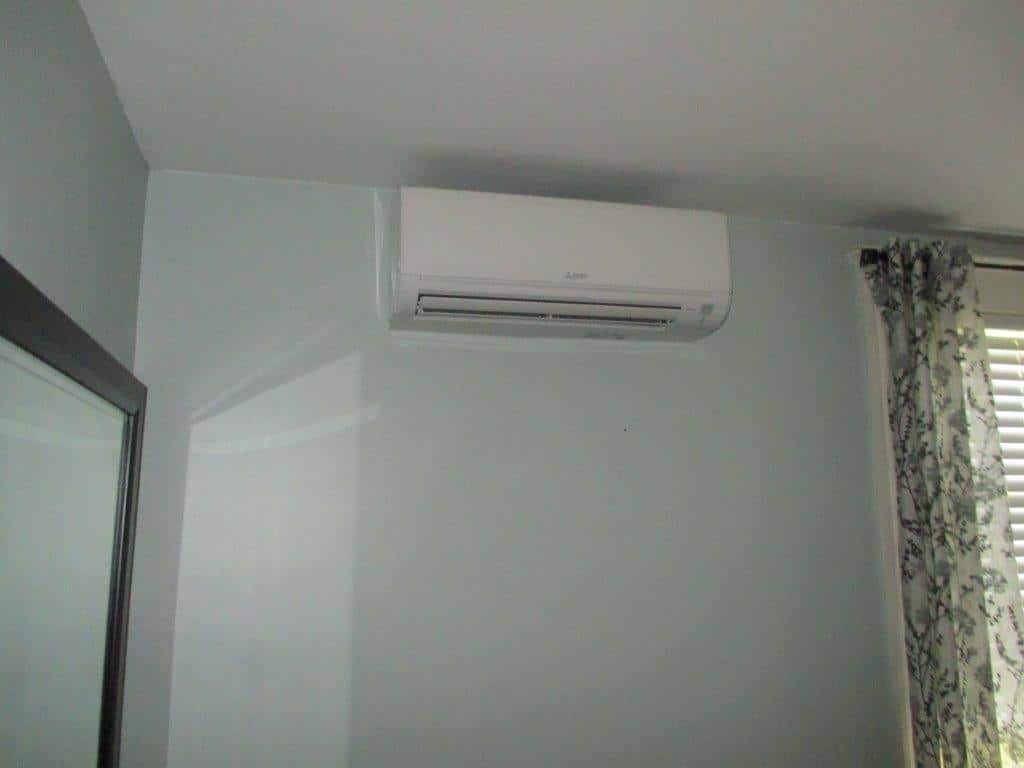 Ductless Mini Splits are Perfect for Zoned Air Conditioning
By creating two separate zones of comfort in the home, the homeowners will also be able to save money by turning off the units when they aren't at use, like when the family is out at work and school during the day, or turning off the downstairs unit when they go to sleep at night.
Zoning can lead to a significant savings in energy bills by itself, but coupled with the efficiency of Mitsubishi ductless, homeowners can see as much as a 40% drop in their energy bills.

Ductless Mini Splits Are Whisper-Quiet
Best of all, Mitsubishi ductless units are quiet. The units operate at a mere 22db- about the sound level of a whisper. Most people barely notice when the unit is on, other than feeling a comfortable breeze in the room. This means no more cranking up the TV to hear it over a window air conditioner or having issues falling asleep due to the noise, hums and rattles of old window air conditioners.
Ductless Mini Split Installation in Salem, MA Since 1989
Getting a peaceful night's sleep and enjoying lower energy bills from the efficient comfort provided by Mitsubishi ductless HVAC is a recipe for a happy, comfortable home.