Woburn, MA is near Horn Pond, which is the head waters of the Mystic River. As a result, many families, like the one in this split-entry home, live near wet areas and are concerned about humidity and air quality. Our family was using window air conditioners to try to keep the temperature and humidity under control in the summer, but the window units just weren't cutting it. They started to look for a better solution for both their living room, where the family spent most of their time.
In addition, they have a lovely sunroom that was hard to keep adequately warm in cold weather. Even with gas heat and baseboards throughout the home, this area still ended up cooler than they liked. Finding a solution that would allow them to address both heating and cooling needs was really important!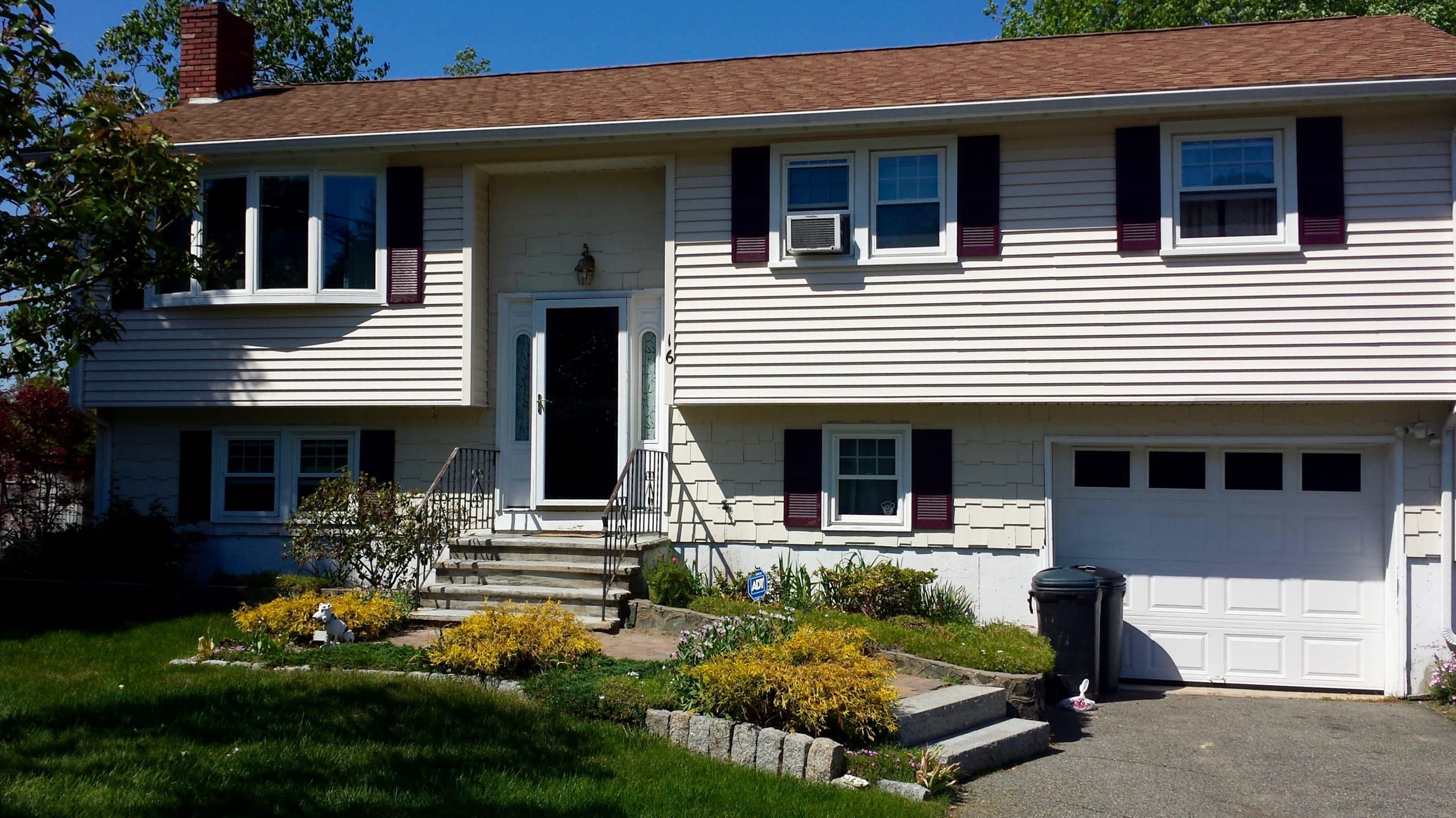 ---
Problem:
Unsightly, inefficient, noisy window units weren't adequately cutting the humidity or providing the air quality the homeowners need.
Solution: A two zone Mitsubishi ductless split system powered by one outdoor condenser and two indoor units, including a floor-mounted model will ensure this home has maximum comfort for their hard to heat and cool areas.
---
Split Entry Homes Often Need Unique Solutions
Split entry homes like this one end up with several smaller floors, but it makes it more difficult for air to circulate well within the space. By adding zones of comfort with ductless split system HVAC, our homeowners will end up being comfortable wherever they are in their home. In fact, our homeowners were so happy, they referred two additional friends to us, and we're helping them solve their comfort problems as well!
The flexibility of ductless split systems is great, but the efficiency as a heating and cooling solution also means that it's cost effective while adding value to your home. In fact, the Mass Save program allowed these homeowners to receive a $250 rebate for adding a more efficient cooling system to their home, helping to make this great upgrade even more affordable.
Increasing the Value of This Home
The owners of this home in Woburn have done a lot to increase the value of their home by choosing some of the best heating and air conditioning technology available to the residential market. They also have gotten rid of the ugly window air conditioning units that are a pain to install and store, but they effectively take a window out of commission for many months of the year! If you live in a great area like Woburn, don't you want to see it through your windows? Getting rid of those ugly window units is just one of the many benefits ductless brings to your home- but one you are sure to appreciate along with the added comfort!
The warranty on all qualifying systems installed after April 1, 2015 has recently been extended to 12 years! Click here to see the details.                                                                                                                                          
Better Air Quality is Important, Especially in Areas Like Woburn
One of the best parts of ductless systems is their flexibility. There are wall-mount units available, and also floor-mounted ductless units like the one we used in this home, pictured below. It looks mostly like a normal radiator type unit, but this system can deliver heating and cooling with pinpoint control any day of the year.
For our family, we could deliver the comfort they needed — cooling in the living room, and heating in the sunroom/family room all with the same system. In fact, they could have one room cooled while the other is warmed. The temperature is controlled independently, allowing each room to be the perfect temperature!
Moreover, the system we installed will help them maintain a better quality of air and filtration of the air in the home, which is important especially if anyone in the home suffers from seasonal allergies or have other sensitivities to air quality.