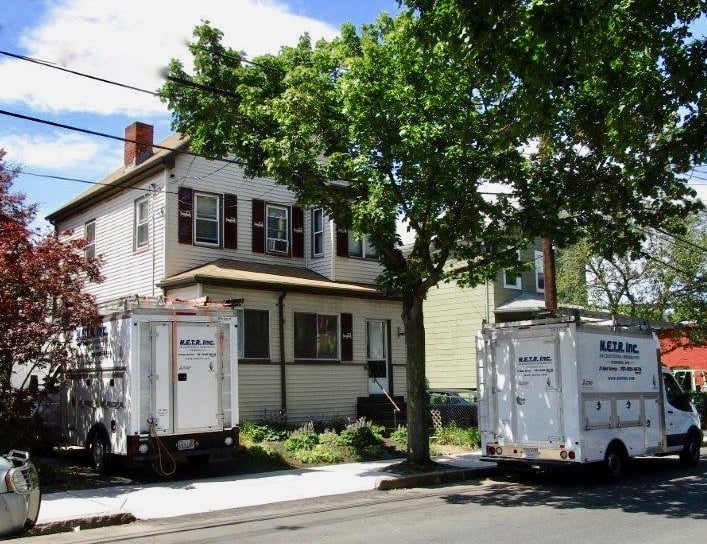 Many of the homes in Somerville are like this one- single-family homes that have been converted into multi-family homes over time.  Each of these condo units have individual heating and cooling needs that cannot be adequately met by window air conditioners or outdated heating systems.
The top floor units typically get hot and humid in the summer and often window air conditioners offer no relief.  That was the case for this family that called N.E.T.R., Inc. looking for a better and more cost-effective solution for their comfort when the weather got hot and sticky.
We have extensive experience with similar homes in the Somerville area that a ductless mini split air conditioner system worked perfectly for in the past, so we knew that would be a great solution for this family.  Not only would it solve their need for individualized air conditioning, but it would deliver quiet relief and efficient air distribution, making sure they could sleep easy at night.  These ductless AC units would also be lighter on their energy bills, giving the homeowners peace of mind.
---
Problem: The family was using window air conditioners to try to keep their kitchen, family room, and master bedroom comfortable, but they were noisy, expensive to run, and couldn't keep up with the hottest summer days.  This family was left hot under the collar and paying huge amounts in energy bills during the summer.
Solution: A three-zone Mitsubishi ductless system provided them with quiet comfort throughout the home.  The increased efficiency lowered their energy bills and the family got a permanent solution that helped them find comfort all year long.
---
There's nothing more annoying that coming home after a long day, and the house is too hot.  Most of us tend to be grumpy when you're so hot you can't get comfortable and trying to go to sleep through the drone of a loud window air conditioner does not help improve sour moods.  Typically, the window AC units leave you waking up hot and sweaty in the morning because the air isn't distributed evenly throughout the room.  These kinds of problems left this family begging for a better solution.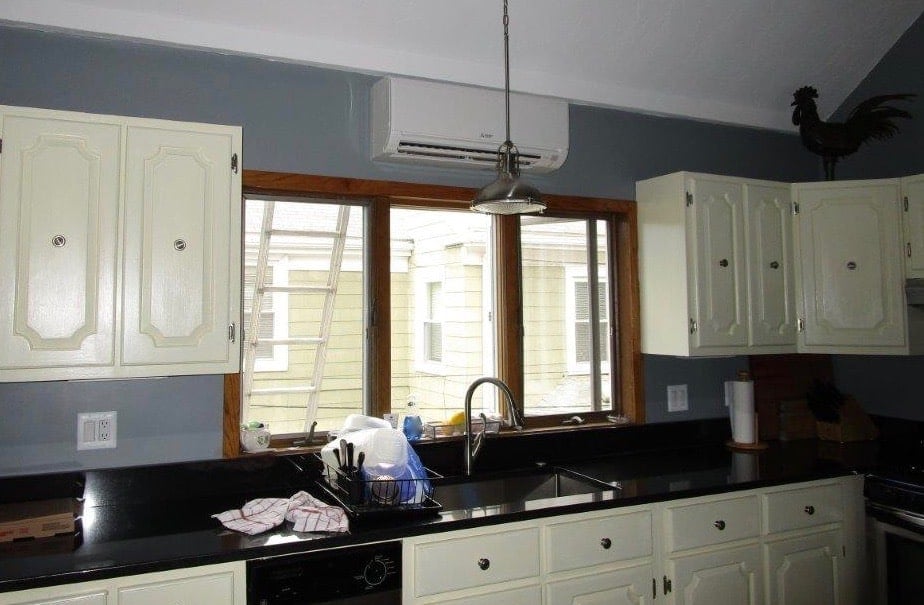 When this family who lived in a unit in this multifamily home in Somerville called us to see what we would recommend, we knew a three zoned Mitsubishi ductless system would work perfectly for them. Installing ductless AC units in the kitchen, family room, and master bedroom, would give the owners the comfort they craved where they needed it most.
As you can see from the picture, we were able to install the units on the wall, to keep them out of the family's way and give them the perfect placement for even distribution.  The kitchen unit went right above the window and took up about as much room as the soffits.  Now, their family dinners could be much more enjoyable, no matter whose turn it was to do the dishes afterwards!
The additional zones of cooling units were installed in the family room and master bedroom, so the family could adjust the temperature to fit their individual needs.  By not heating rooms where they did not spend their time, they could save energy and money on their monthly bills!
At night, the master could be perfectly cool ensuring a great night's sleep, without wasting money to cool the kitchen or family room that were not in use.  The ductless units are operated by a remote control and monitor the temperature and humidity in a room.  This allows the ductless air conditioners to ensure maximum comfort throughout the home – not just in the area next to the window ac unit.
This permanent solution not only provides state of the art comfort, but its efficiency means lower energy costs to operate as well.  These ductless systems also have a twelve-year warranty which means this is a much more reliable solution than the longevity of window units.  In addition, they no longer must spend a weekend in the spring and fall to installing or removing the heavy, bulky window units.  This solution gives the family their windows back for half the year which brings more light into the rooms and makes their whole home more inviting as well as more comfortable.
Best of all, the energy-efficiency of Mitsubishi ductless mini split AC systems helped this family qualify for a $250 rebate through the Mass Save program!  The additional savings helped make this solution even more affordable. Now, between the extra comfort throughout their home, the lower energy bills, and the weekends they've freed up from getting rid of the window units this family is guaranteed many years of perfect, quiet comfort.
Thanks to ductless air conditioning and N.E.T.R., Inc. their home will be the peaceful refuge we all desire, no matter how hot and humid it gets. That's a combination that will pay off for years to come.