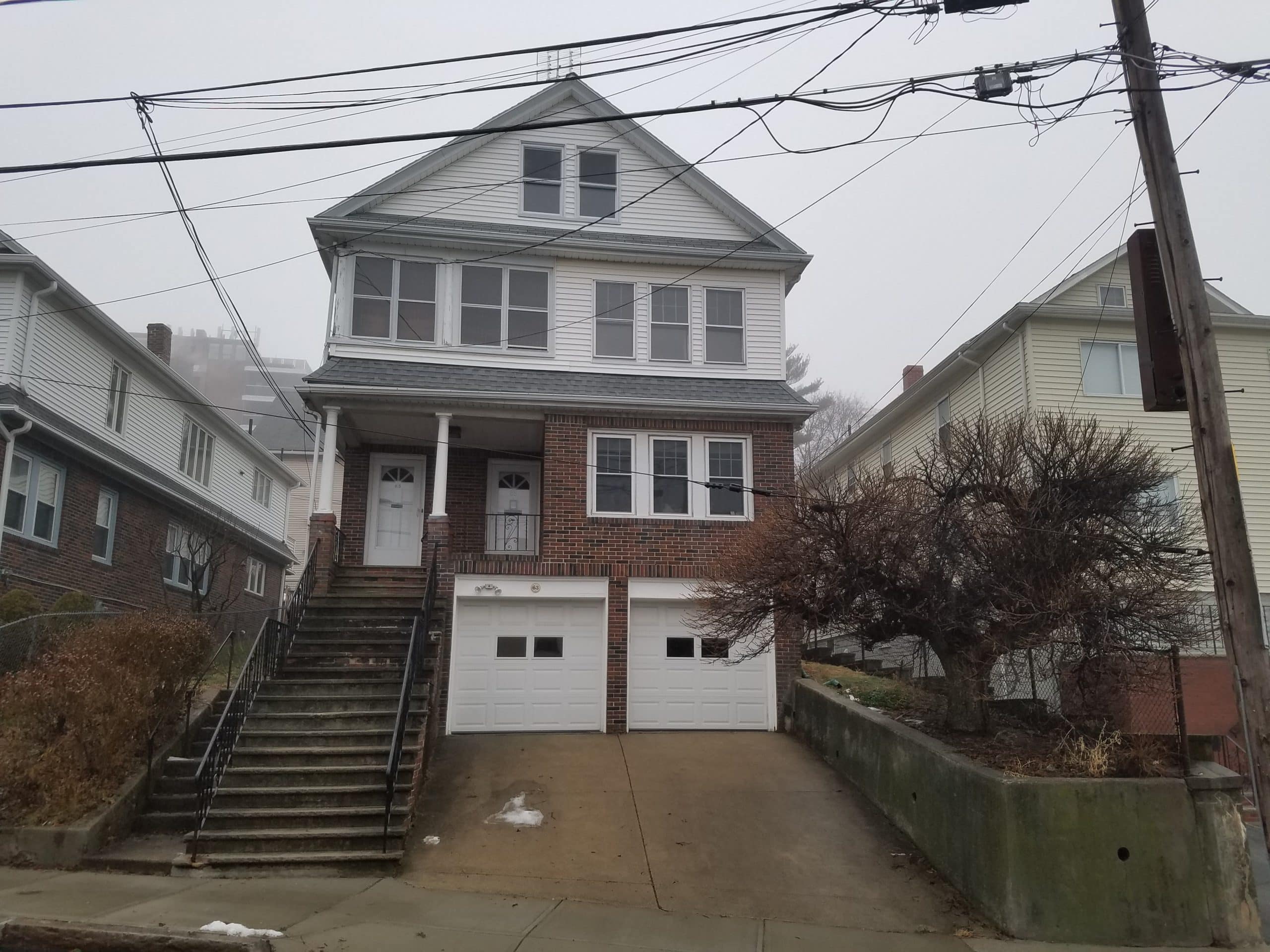 There are many homes in the Somerville, MA area like this two-family home.
The home has a gas-fired boiler with forced hot water heat and radiators throughout.
We love hydronic heat, but we also know that unlike ductless HVAC, radiators can leave rooms with warm spots near them, but there are almost always cold spots elsewhere in the room – without a fan, they just don't distribute heat evenly through a space on their own.
The homeowners had the same sort of problem in the summer as well – the window air conditioners just weren't keeping the room cool enough. On top of that, they are inefficient, noisy, and expensive to run.
Ductless HVAC Installation
---
Problem: This 2 family home in Somerville was relying on their radiators and window air conditioners for comfort, but they still had hot and cold spots throughout their main living areas.
Solution: A single zone Mitsubishi ductless heating and air conditioner will give the homeowners the comfort they crave, by providing supplemental heat on chilly days, and world-class air conditioning during the hot, humid days of summer, all while saving money on energy bills!
---
Mitsubishi Hyper Heat Ductless System
When we came to the home to see what we could do, we knew it was a great candidate for Mitsubishi Electric's Hyper Heat Ductless solutions. Ductless heating and air conditioning can provide the comfort you need, right where you need it, without the expense or hassle of installing bulky ductwork.

The ductless mini-split system consists of two parts – an outdoor heat pump unit, which can control one, or multiple indoor units. The indoor ductless units are installed up on the wall, out of the way. From there, the unit monitors the heat and humidity in a room, and helps distribute the hot or cool air efficiently throughout the space, getting rid of those hot and cold spots for good! Each unit is operated by a handheld remote, or you can choose a thermostat or even cloud-controller option, allowing you to control them from your smart phone!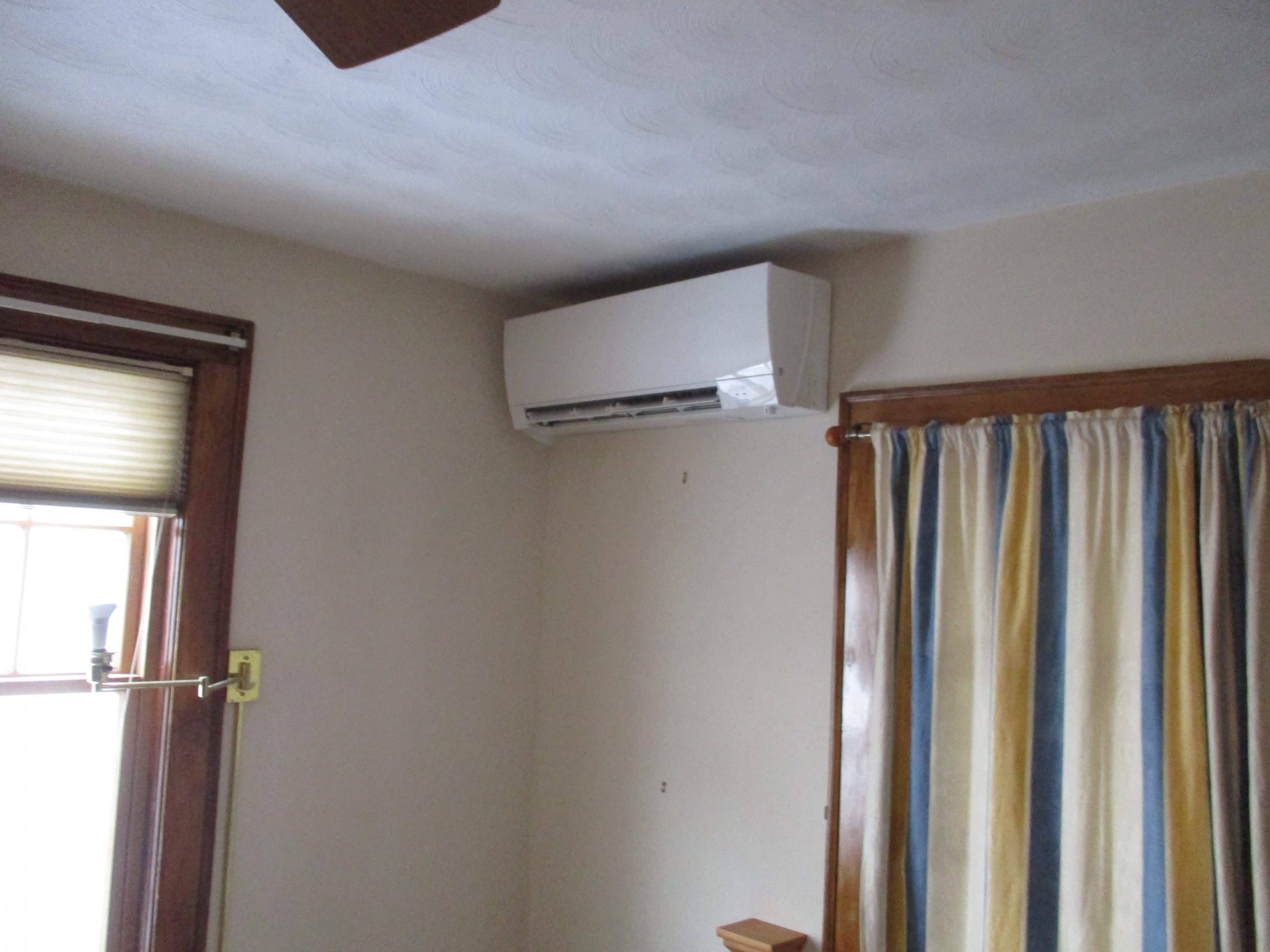 The indoor units are controlled independently, creating a separate zone of heating or cooling, just where you want it. This also means you can save significant money by turning the unit off when not in use, saving additional energy! In fact, these mini split systems are so energy efficient, they qualify for rebates through the Mass Save and Mass CEC program. Our homeowners were able to get a $300 Mass Save rebate and a $625 CEC rebate, for a total savings of $925, helping make this significant comfort upgrade even more affordable.
Our homeowner opted to install a single Mitsubishi ductless unit in their main living room area, which will provide the family with the heating and cooling they want, right where they spend most of their time. On those frosty evenings, instead of cranking up the heat for the whole home, the homeowners will be able to add just the touch of heat they want with their Mitsubishi ductless system, and set the temperature where they want it, and the system will do the rest! These units use inverter technology, which allows the units to use the minimum amount of energy to maintain an even, consistent temperature, outperforming standard air conditioners by a mile!
Whether it's freezing outside, or hot and humid at the peak of summer, our homeowners will get the perfect comfort they want right where they want it with ductless HVAC. And best of all, the systems are also expandable, so if the homeowners ever decide to to add additional heating or cooling for other parts of the home like the master bedroom, all they will have to do is add an additional unit and they will be in business!
Contact N.E.T.R., Inc. for Ductless Heating & Air Conditioning Solutions Today
If you have a multifamily home in Somerville, MA or surrounding areas that could use extra comfort, give us a call here at N.E.T.R., Inc. and we'll design the perfect ductless heating and air conditioning system to keep you comfortable within your budget, while saving you significant money on energy bills each and every month!