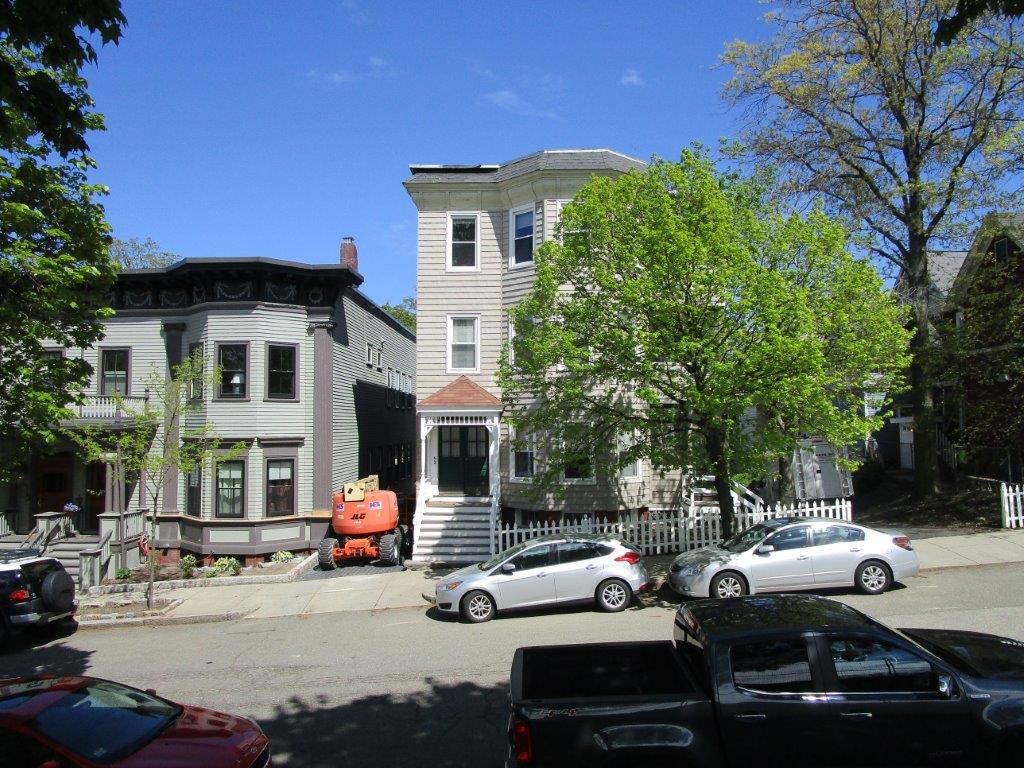 This three-family home in South Boston had a common problem: they were using window air conditioning units and fans to try to stay cool in the summer, and the families were still uncomfortable.
Window units seem like a good idea for homes without central air since each room can have their own unit and control the temperature of their space; however, window units come with downsides as well. The clunky unit take up your windows for a good portion of the year, they are a pain to install and store for winter, worst of all, they are inefficient and cost a fortune to run. Many of these kinds of AC units have trouble keeping up with the heat, so if you turned them off to save money when you leave for work in the morning, it can take all night for your home comfortable once you turn them on at the end of the day.
Our homeowners were looking for a better solution that would keep all the families comfortable and not break the bank to operate, even in the hottest weather. They wanted an energy efficient solution and specifically wanted the bedroom to be more comfortable so they could sleep in peace and not wake up sweaty and cranky.
---
Problem: The homeowners were looking for an inexpensive solution to cool their three-family home in South Boston since the window AC units and fans they were using left them hot and uncomfortable!
Solution: We installed two zones of Mitsubishi  ductless air conditioning to ensure this family had the year-round comfort they need and save them money on energy bills, even on the hottest days of the year!
---
When our homeowners called us, they had done their homework and knew they were interested in Mitsubishi ductless system based on the online reviews that praised this system for being cost-effective and energy efficient. They also had read our reviews and saw our experience with homes like theirs. That is why we're an elite Diamond Dealer and the #1 dealer for Mitsubishi ductless in New England. We have extensive experience throughout the area, and we offer a full 12-year warranty for all our installations!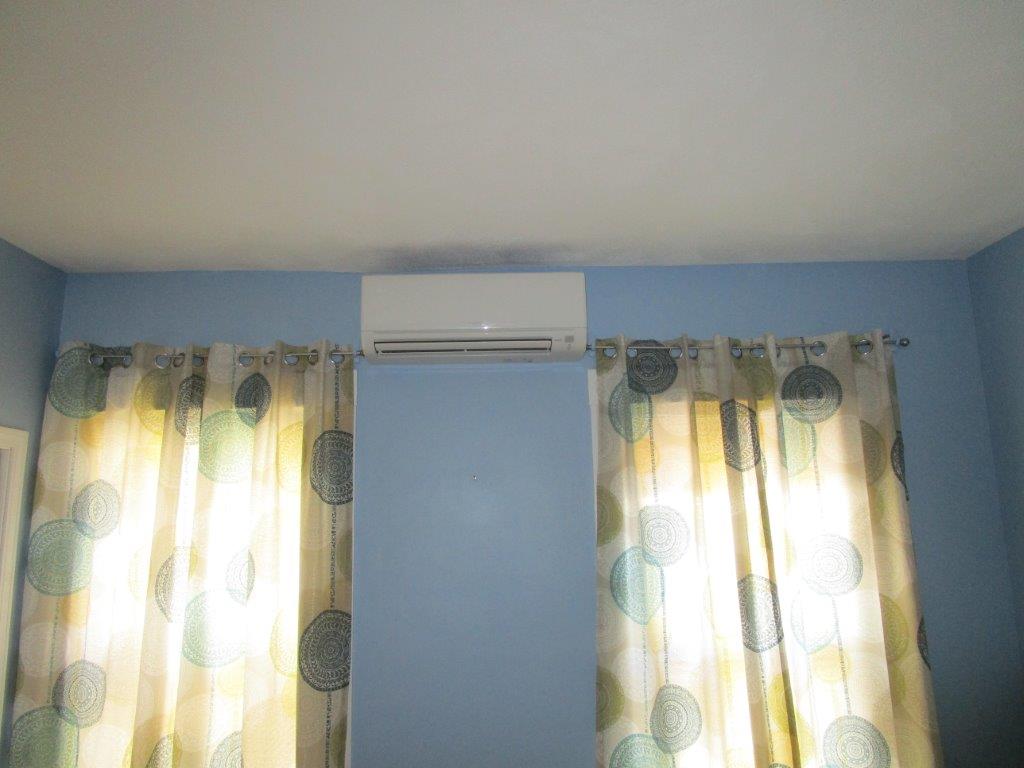 Ductless air conditioning systems consist of two main parts- an outdoor condenser unit, and indoor cassettes, which are usually wall mounted; however, there are floor units available as well.  One outdoor condenser can support several indoor units and each unit can still be controlled independently, allowing you to create separate zones of comfort throughout your home. We knew that we could help our homeowners get comfortable with two zones of ductless by placing one indoor unit in the dining room and another in the bedroom
Each indoor cassette is controlled by its own remote, so the temperature can be set to whatever you want at the touch of a button. The units monitor both the temperature and the humidity throughout the space and adjust as needed to keep it at the perfect temperature. They evenly distribute the cool air throughout the space, ensuring you don't get the hot and cold spots that are so common with window units. This family had even had to use fans, alongside window units, to try to keep the rooms comfortable!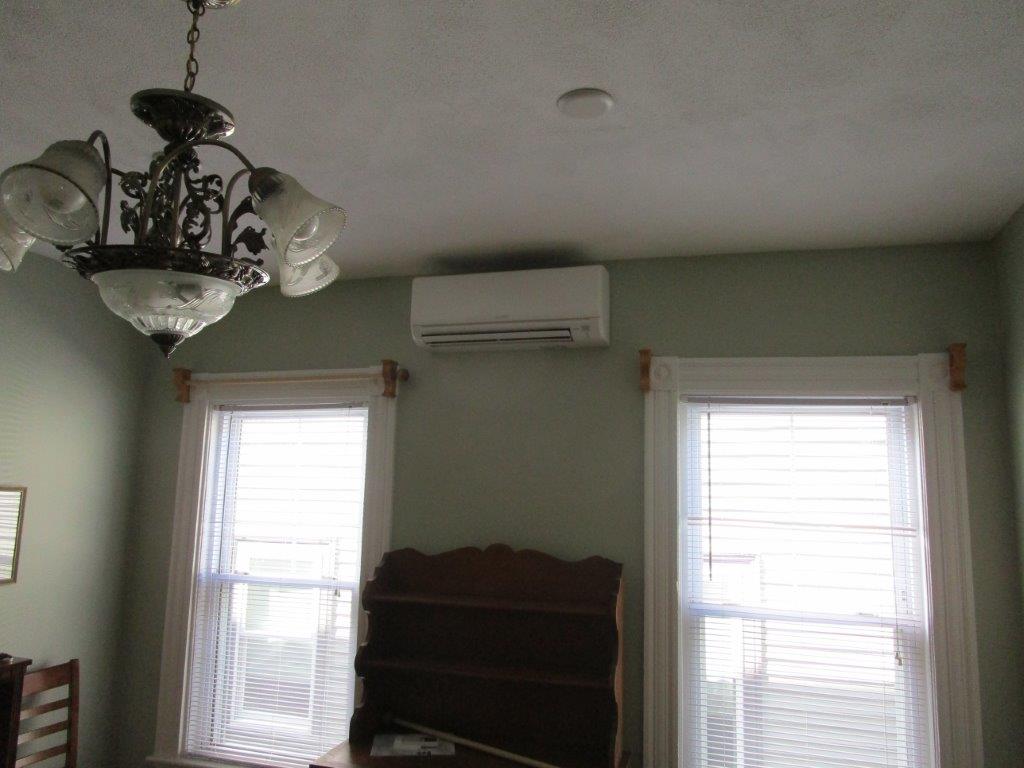 The wall units are mounted out of the way and run almost silently – they only operate at about 22db- the level of a whisper. This means that the family get some much-needed sleep in quiet comfort of their home, without listening to the rattles and loud noises generated by old window air conditioners!
The second cassette was installed in their dining room, which will keep the main living area of the home comfortable. As a bonus, no one will have to raise their voices to be heard over the AC ever again!
Mitsubishi Ductless systems use inverter technology, which allows the units to use precisely the amount of energy necessary to keep a room comfortable which helps save energy.  Additionally, each of the units are individually controlled, allowing the family to turn off the AC in the bedroom, when it's not needed.  Likewise, they can adjust the temperature in the dining room to use less energy at night, while it's not in use, further increasing efficiency and reducing energy bills – something every homeowner can appreciate.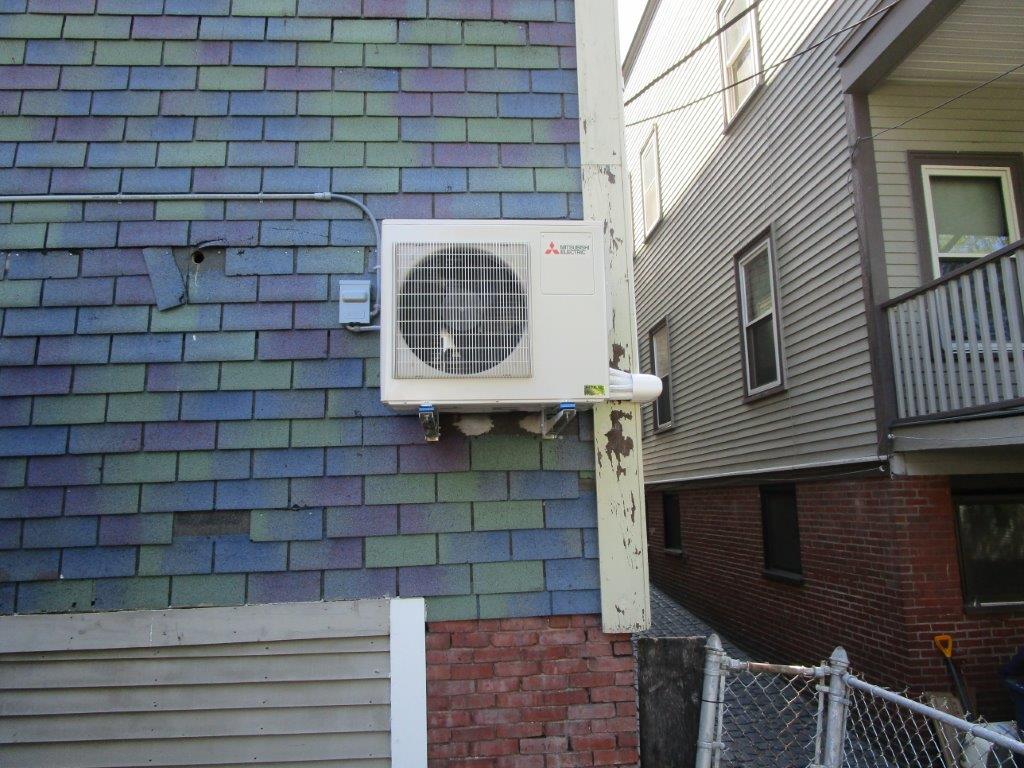 The outdoor unit was mounted on an outside corner of the building, keeping it up off the ground to avoid issues with leaves or snow, and shortening the amount of piping needed to do the installation. This saved the homeowner additional money.
As a bonus, Mitsubishi ductless units like these function as heat pumps and can double as heaters. This means that our homeowners will be able to add just that touch of heat they may want on frosty fall mornings without having to crank up the heat for the whole home. Ultimately, with the Mitsubishi heating and cooling units this family will be able to be perfectly comfortable year-round with just one installation!  These units will keep them warm even if it gets to be -13F outside!

If you're interested in freeing up your windows from air conditioning units and want the kind of comfort that will let you sleep better at night and reduce your energy bills, give us a call at N.E.T.R., Inc.  We can design a personalized system for your home and make sure you get the comfort you want without breaking the bank.