Woburn has a number of cape style homes like this one-great homes that often were built when the heating and cooling needs were much different than they are today. Our homeowners were using a pellet stove to heat their home, but they were finding that it was very dirty and required a lot of cleaning and maintenance that was getting to be a nuisance. They were looking for a solution that would provide them with greater comfort year-round, while also enhancing the charm of their home.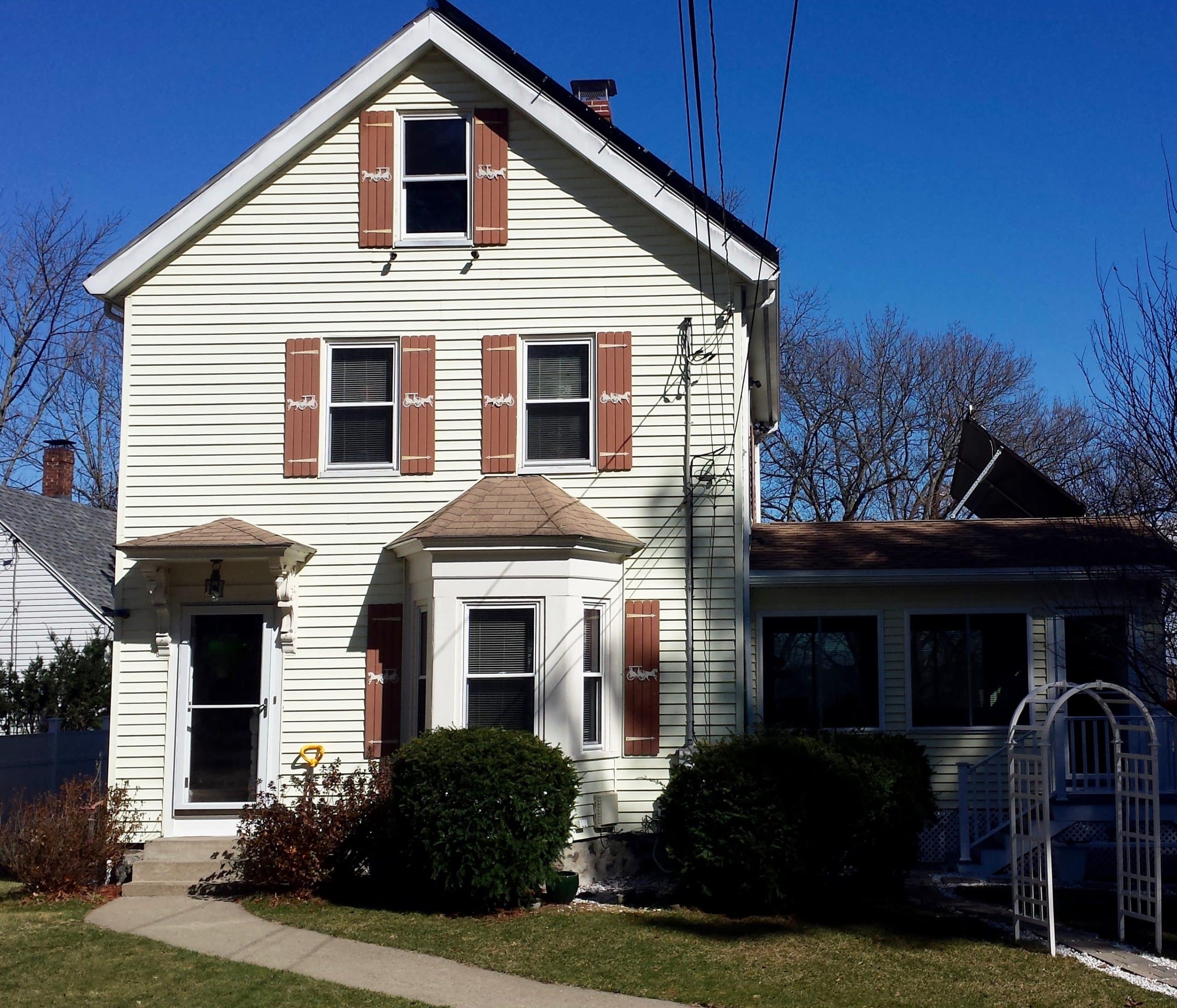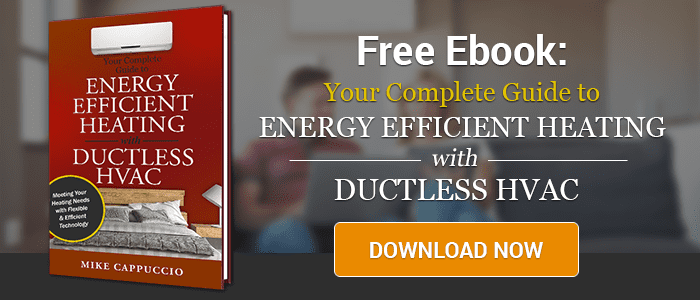 ---
Problem: The Homeowner was looking to replace the dirty pellet stove they were using to heat their home, that was becoming a maintenance headache. They were looking for a more efficient and less costly option to heat and cool their lovely cape-style home.
Solution: We installed a Mitsubishi ductless Hyper Heat HVAC system, to provide excellent and efficient heating and cooling. The Hyper Heat technology allows heating and cooling through one unit and because of its efficiency, it helps keep energy bills low, whether it's winter or summer.
---
The Countless Benefits of a Mini Split Air Conditioner
As you can see from the picture above, the ductless HVAC units are small, attractive and best of all, very quiet!
Not only has the owner improved the efficiency of his heating and air conditioning equipment, saving him on energy bills, but many homeowners, like this one, can qualify for large rebates from Mass CEC and Mass Save due to the efficiency of these Mitsubishi ductless Hyper Heat systems.
Our homeowners were able to qualify for $1,125 in rebates, helping to make this home upgrade cost effective as well!
The hyper heat units are incredibly efficient, so the homeowners should expect to see a drop in the overall heating and cooling costs all year, regardless of what Mother Nature dishes out.
Mini Split Systems Increase Home Value
In choosing this type of HVAC system, the owner has protected his home and increased his long-term property value by going with some of the best heating and air conditioning technology available to the residential market.
The warranty on all qualifying systems installed after April 1, 2015 has recently been extended to 12 years! Click here to see the details.                                                                                                               
A Ductless HVAC Solution for This Classic Cape-style Woburn Home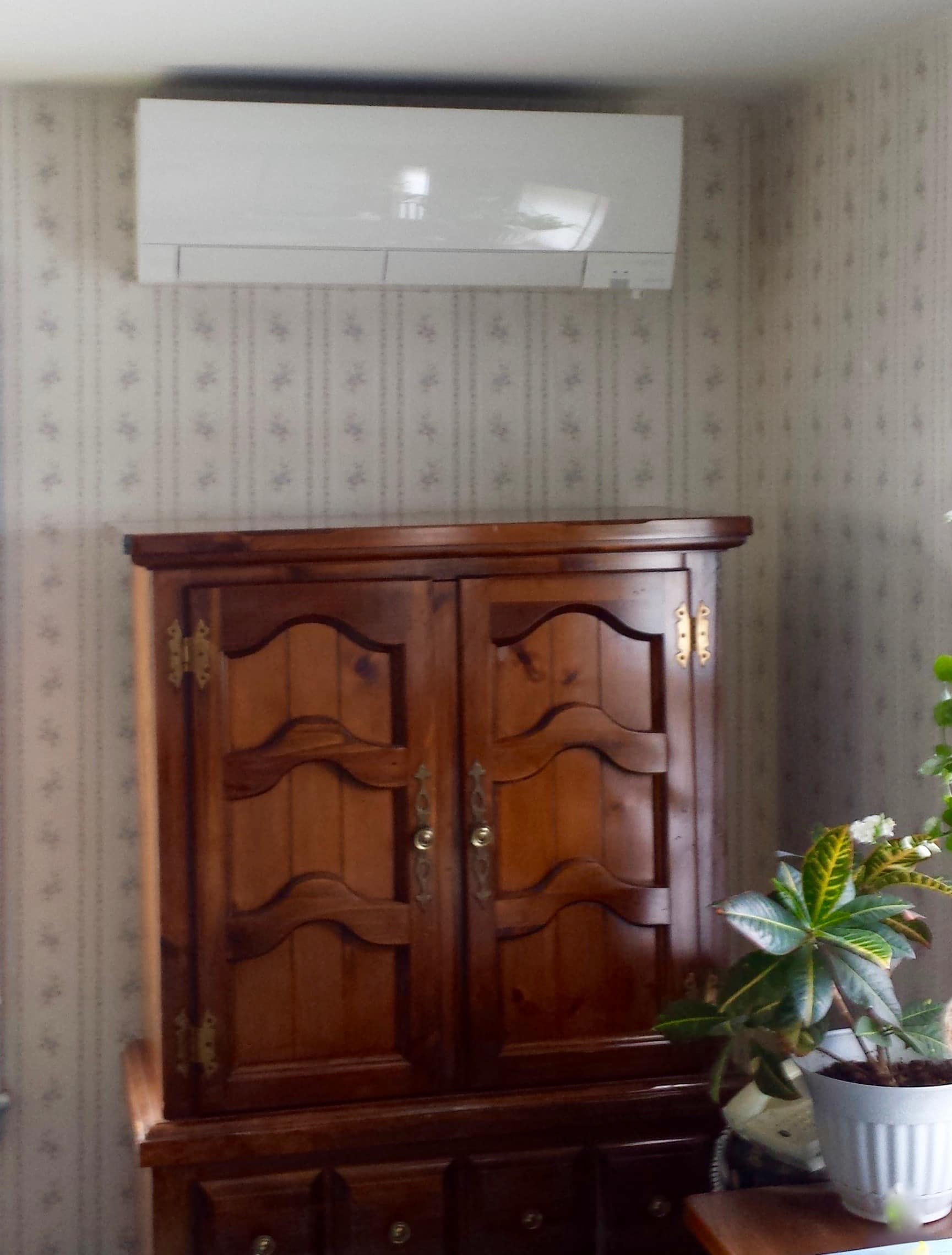 We were able to install a ductless heating and cooling unit to act as a supplement to the current pellet stove. The ductless unit can be relied on for heating and cooling at the touch of a button, winter or summer. The Mitsubishi Hyper Heat pump units provide efficient heat in the winter but can also provide cooling in the summer. In addition, these units are ductless, so all you see is the wall mounted HVAC unit tucked up out of the way near the ceiling.
We did not have to remove the pellet stove but left it in place in case the owners do want to use it during winter for additional heat. By leaving the old equipment in place, we were able to save time and money while disturbing as little as possible in the home itself, making this a high impact, low profile upgrade to the home.
The Mitsubishi Electric Hyper Heat units are operated by a simple remote control, allowing pinpoint adjustments to both heating and cooling at the touch of a button. Now instead of having hot & cold spots in this picture-perfect home, the homeowners will enjoy the comfort you might expect in such a lovely and picturesque surrounding.