---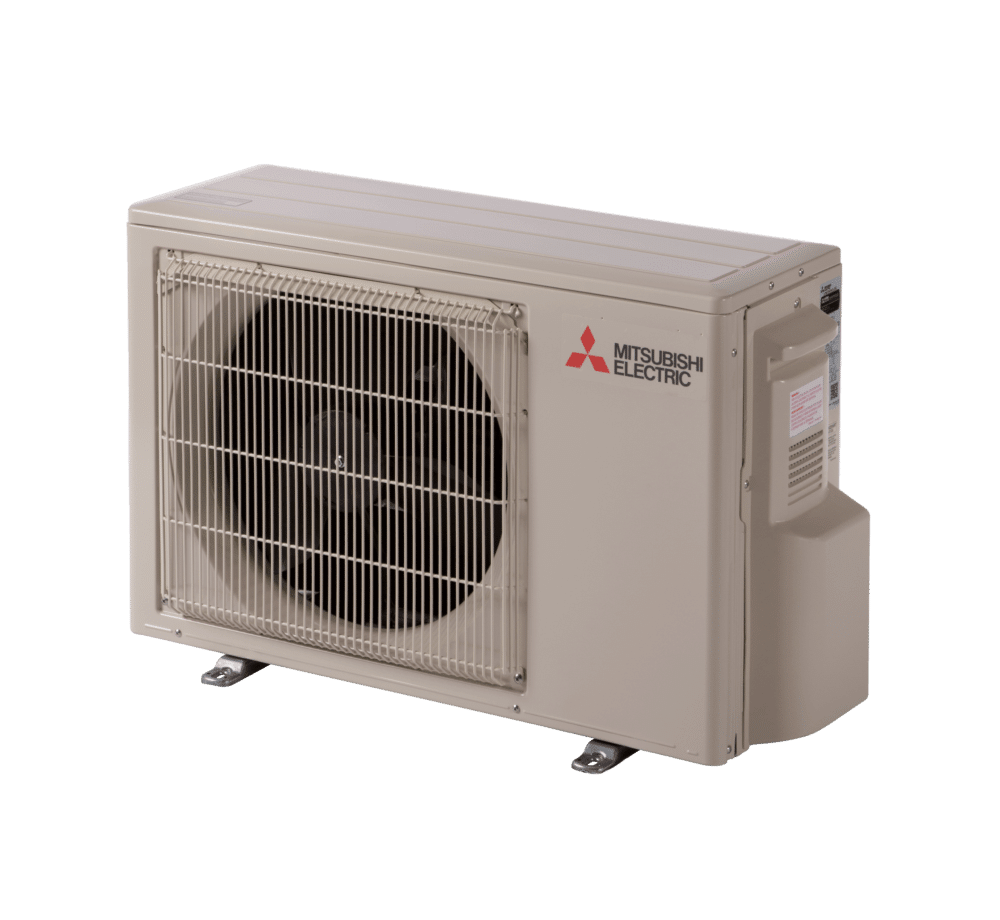 ---
The Mitsubishi single-zone heat pump supports a single indoor unit, making it ideal for additions, attics, basements, and other areas not connected to your central HVAC system. A single-zone heat pump can also be perfect for small homes, condos,  and outbuildings.
When you choose Mitsubishi electric technology, you get to enjoy enhanced comfort with quiet operation and even heating and cooling throughout the entire zone. At the same time, you save money on energy costs and reduce your carbon footprint compared to traditional heating and cooling options. Keep reading to learn more about single-zone heat pumps.
How Single-Zone Heat Pumps Heat Your Home
Single-zone heat pumps use electricity and refrigerant to move heat from one area to another. The outdoor unit takes the heat from the outside air and transfers it to the refrigerant in the system — even in cold temperatures, the unit can find heat somewhere in the air.
Then, the system compresses the refrigerant. The compression heats it up further and allows it to move easily. The heated refrigerant moves through small tubes to the indoor unit. Finally, the indoor unit uses a fan to pass air over the coolant, and the newly heated air goes into the home as directed by the thermostat. The result — comfortable and efficient home heating.
How Single-Zone Heat Pumps Cool Your Home
When you need to cool your home, these systems work in reverse. The interior unit absorbs the hot air in your home, and then, it sends it to the outdoor unit. During the winter, the outdoor coil is the evaporator coil, while the indoor coil is the condenser, and during the summer, these units switch their roles.
Whether you're heating or cooling, an INVERTER-driven compressor in the outdoor unit ensures that you only use the exact amount of energy you need, boosting your home's efficiency all year long.
FAQs About Single-Zone Heat Pumps
When clients contact us about Mitsubishi single-zone heat pumps, they often have a lot of questions. Luckily, the team at NETR has completed extensive training to earn Mitsubishi's highest level of contractor certification, and we love talking with clients about their home heating and cooling needs.
To help you decide if this option is right for your home, we've put together the following FAQs:
---
Can heat pumps replace fuel-burning heat?
Yes. Heat pumps can provide reliable heating even in low temperatures. Some homeowners use heat pumps to supplement their traditional heating systems, but others use the heat pump on its own with no backups. In some climates, you may need to upgrade from the standard heat pump to the hyper heat options.
Can heat pumps reduce my energy consumption?
Yes. Heat pumps can reduce your carbon footprint. They can provide the same or better level of heating as your fuel-burning heat system, and they do so with less energy.
How much does a single-zone heat pump cost?
The cost can vary based on the size of the outdoor unit you need and the features you choose for your indoor unit. When you contact us, we can help you select the right Mitsubishi technology for your heating and cooling needs.
How do single-zone heat pumps connect to the indoor units?
To connect your single-zone heat pump to your indoor Mitsubishi units, the installer will run very small refrigerant and electrical lines between the units. The installation process is very straightforward. It is not disruptive to existing buildings, but it can also work perfectly on new construction as well.
Have more questions about Mitsubishi heat pumps and ductless and ducted solutions? Then, contact us directly. We can answer your questions and help you decide if a Mitsubishi single-zone heat pump is right for your needs.
Related Resources
Case Studies
We've put together the following case studies to show you how Mitsubishi single-zone heat pumps have helped our other clients.
To see more case studies, check out our residential case studies page. There, you can find case studies that are searchable based on location and/or type of home.
Insights and Resources
We don't just sell, install, and service Mitsubishi heat pumps. We also help our clients to become well-informed consumers. To learn more, check out these resources:
Rebates
A single-zone Mitsubishi heat pump is an investment into your home and your family's comfort, but you don't necessarily have to make this investment on your own. There are all kinds of rebates that can help you offset the price.