---
An exercise room is a welcome addition to any home. It gives you a place where you can work off steam, burn calories, and enjoy the feeling of an active body. But these rooms have different needs than the rest of your home.
When you're working out, you often need a space that's cooler than the rest of your home. Or, if you're trying to do hot yoga or dropping weight for wrestling, you might want a hotter space. In both cases, a Mitsubishi ductless heating and cooling system can be the perfect solution. Here's what you need to know.
Benefits of Ductless for Exercise Rooms
When you add ductless heating and cooling to your exercise room, you enjoy a wide range of benefits including the following:
Improved air circulation so you don't have to breathe the air you just exhaled.
Advanced filtration systems remove dust and allergens from the air in your exercise room.
Dry settings let you reduce humidity, a common obstacle in sweaty exercise rooms.
Quiet operation means the sound of the ductless system never competes with your workout beats.
Heating and cooling capabilities for year-round comfort.
Efficient operation keeps costs as low as possible.
Multiple styles of indoor air handling units so you can choose the design that complements your space.
Remote controls and WiFi-enabled apps so you can change settings easily from anywhere.
Want to change the attic, basement, or garage into a work-out zone but don't have ductwork connected to those areas? No problem. Ductless mini-splits can be easily added to areas that don't connect to your ductwork. But they can also improve comfort in exercise rooms that are connected to your ductwork.
Zoned Heating and Cooling in Exercise Rooms
You can add Mitsubishi ductless heating and cooling to a single part of your home such as your exercise room. Or, you can opt to add heating and cooling throughout your entire home.
Mini-splits feature an indoor air-handling unit connected to an outdoor compressor or heat pump. If you just want to add ductless to your exercise room, you need one indoor air handler and a single-zone outdoor unit. If you decide to install ductless throughout your entire home, a multi-zone outdoor unit can support up to eight indoor units.
Regardless of the number of indoor units you select, each unit creates its own zone. You can control the settings in each zone separately. Want your home toasty warm but need a cool exercise space? Ductless zoning makes that possible. Want to sweat your way through a workout without overheating everyone else in the house? Again, ductless is the answer.
Mitsubishi Electric Heating and Cooling Options
Once you decide on a ductless heating and cooling system for your exercise room, you have a few different options. As indicated above, you need to decide between a single- or multi-zone outdoor unit. You can opt for AC only, a heat pump that does both heating and cooling, or hyper heat that provides efficient heating even in very cold climates.
You can also choose between different types of indoor air handlers. They come in a range of capacities that can heat or cool exercise rooms of different sizes. You can also choose wall-, floor-, or ceiling-mounted depending on what works best in your space. There are also different features, finishes, and styles available.
Related Resources
Case Studies
Case Studies About Ductless in Exercise Rooms
At NETR, Inc, we work closely with our clients to solve their unique heating and cooling solutions, and we often draft case studies about our experiences. Our case studies can show you how Mitsubishi ductless systems have improved the comfort and efficiency of homes and businesses throughout Massachusetts.
Check out this case study to get a sense of how we help homeowners:
Homeowners Transform Their Basement into a Cozy Mancave with Home Gym (Saugus, MA)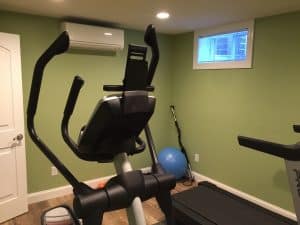 To see more of our work in action, check out additional case studies on our residential or commercial page. You can also search by home type or town.
Resources
Resources and Insights About Ductless Heating and Cooling
Upgrading your home's HVAC system and improving heating and cooling in your exercise room is a big decision. You should know as much as possible before jumping in. We put together these resources to help you:
Mitsubishi Ductless Heat Pumps in 2022 (Podcast) — Heat pumps are a lot more efficient than they used to be. Listen to this podcast about the new generation of heat pumps.
Applications for a Ductless Heat Pump (Podcast) — Beyond the exercise room, look at other applications for heat pumps.
Your Complete Guide to Energy Efficient Heating with Ductless HVAC  (Ebook) — Want to learn all about ductless heating? Then, download the ebook.
Your Complete Guide to Energy Efficient Cooling with Ductless HVAC  (Ebook) — Heat pumps can also work as an AC. Read this ebook to learn all about it.
You can also contact us directly. We love to talk with clients and answer their unique questions about heat pump technology.
Rebates
Rebates for Mitsubishi Heating and Cooling
When you install a Mitsubishi heat pump into your exercise room or other parts of your home, you may qualify for a rebate. Rebates can help to lower the cost of upgrading your home's heating and cooling. Check out the rebates page for up-to-date offers.