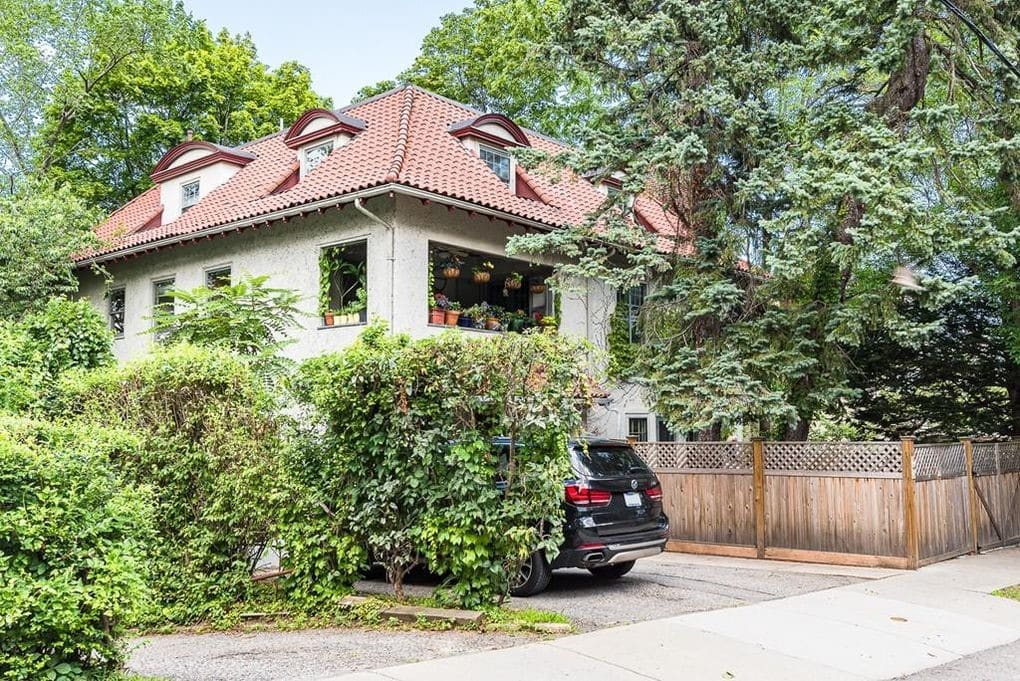 The owners of this condo in Brookline, MA, were tired of dealing with the lack of air conditioning. Their living room was hot in the summer, the master bedroom was humid, and the family room was uncomfortable all year long. They knew it was time to find a solution that would keep their home comfortable throughout the summertime.
The homeowners knew window AC units were an expensive option and are notorious for being inefficient and costly to run. Window air conditioners leave hot and cold spots throughout the home. Because the owners were looking for an energy-efficient cooling solution that would help them save money on their energy bills, window ACs were not an option.
Another problem they faced with their condo was that no central AC had been installed when the building was designed. The condo's lack of ductwork meant that it would be an expensive and extensive project to add central HVAC. If the owners chose a centralized air conditioning system for their condo, massive renovations would need to be made to the living room, family room, and bedroom to accommodate the ducts. This project was more than the family was willing to take on.
Finally, they found outstanding reviews from other families in the Brookline area that had chosen Mitsubishi ductless AC systems for their homes. After learning that N.E.T.R., Inc. is the #1 Elite Diamond Dealer for Mitsubishi Electric in New England, they gave us a call. .
---
The Problem: Owners of this condo in Brookline, MA, had no air conditioning and needed a solution for three rooms in their home that would be cost-effective and efficient.
The Solution: N.E.T.R., Inc. installed a two-zoned Mitsubishi ductless AC system in the living room, bedroom, and family room. Now, the family enjoys perfectly treated air all year long and saves on their monthly energy bills.
---
The Design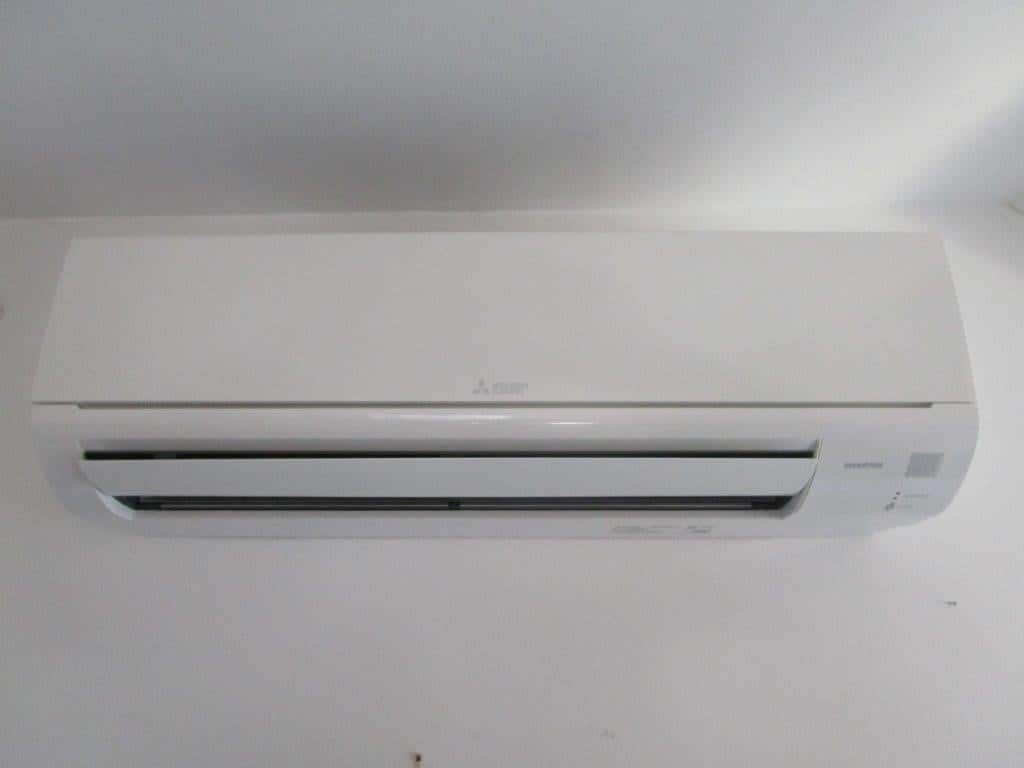 When the family contacted N.E.T.R., Inc., Chip Moeckel knew he could design a system for their condo that would meet their needs perfectly. He met with the family to discuss their situation and proposed a Mitsubishi Electric ductless system that would offer the cooling relief they craved.
Chip proposed a two-zone system with air handlers in the living room and master bedroom. The outdoor compressor unit would be installed outside the home, where it could be easily connected to the two indoor units.
The Installation
The new ductless system was an excellent option for these condo owners because the indoor ductless AC units were highly energy-efficient. The Mitsubishi ductless system's design allows it to provide air conditioning for about the same amount of energy as it takes to power a single light bulb. Additionally, the system will monitor the humidity in the room and make adjustments accordingly.
In the master bedroom, the AC unit was installed high on the wall, where it would be able to provide the best airflow for maximum comfort. The second unit was installed in the living room, where it would provide AC to the living and family rooms. Both of the indoor units were then connected to the outdoor condenser, which was installed beside the home inside the fencing. The condenser placement will allow N.E.T.R., Inc. to access it easily for maintenance or repairs in years to come, but keeps it out of sight.
The Benefits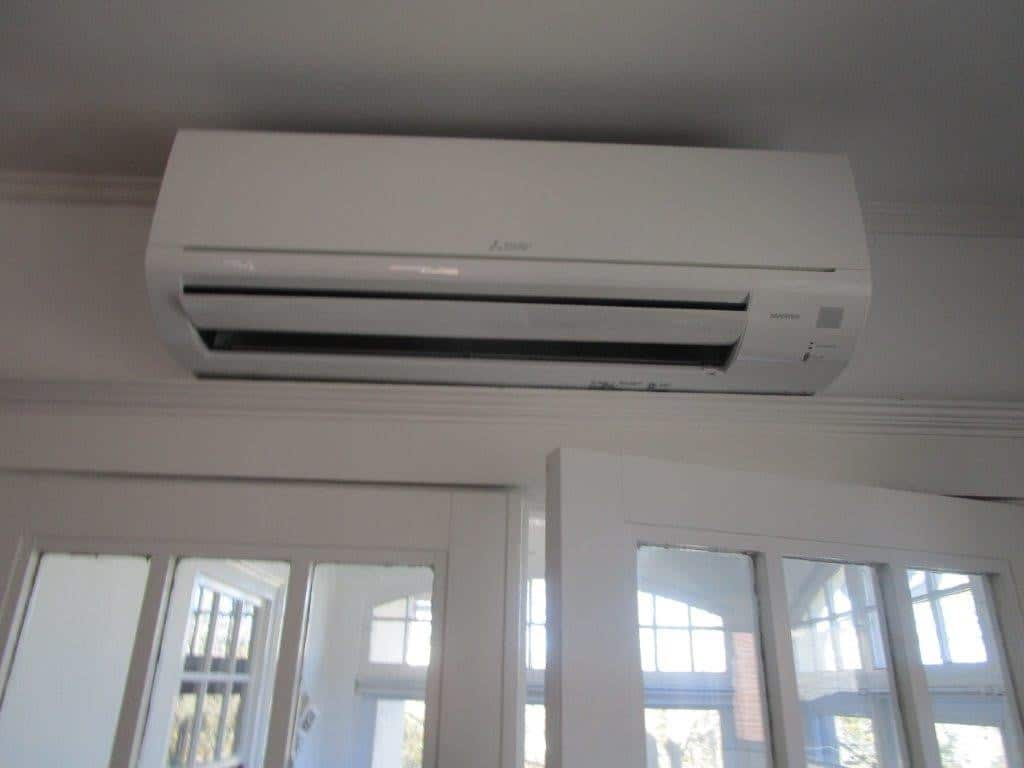 Thanks to the Mitsubishi ductless AC system and N.E.T.R., Inc., this family in Aspinwall Hill, Brookline, will be able to enjoy their summers again! The ductless ACs are easy to control with the remote, which allows the owners to make adjustments to the temperature from the comfort of their couch or bed. Additionally, the Mitsubishi ductless air conditioning units are whisper-quiet. In fact, this system is so quiet that we've even installed them in recording studios!
Another benefit of choosing Mitsubishi ductless for their air conditioning needs is that the system is so energy-efficient that the family could qualify for rebates for installing it in their condo! Programs like Mass Save and Mass CEC are helping families to move to more environmentally friendly options for their homes, so this family saved big on their ductless installation! The condo owners received a $300 rebate from Mass Save and a $2,343 rebate from Mass CEC! That's $2,643 in savings just for installing the system.
But the savings don't stop there! These owners will continue to see savings in their energy bills throughout the year since the Mitsubishi Electric ductless AC units double as a high-efficiency heating system. Now, if the home's existing heating system is leaving them chilly this winter, they can supplement their heat with the ductless system. Using the same technology that provides excellent air conditioning in the summer, the system can switch to heating the home with the same energy savings.
Because of N.E.T.R., Inc.'s status and #1 Elite Diamond Dealers for Mitsubishi Electric, we are able to offer our customers extended, 12-year warranties. This benefit will allow the family to enjoy a perfectly cooled and heated home for years to come.
Is a Ductless System Right for You?
If you're tired of dealing with an outdated AC system or living in a home with no central HVAC, it's time to get the relief you deserve. At N.E.T.R., Inc., we specialize in designing heating and air conditioning systems for homes like yours! Our expert technicians will help you find a solution for your home that is energy-efficient, quiet, and meets all your heating and cooling needs.
You don't have to settle for a home that's always uncomfortable! Your home should be a welcoming place that makes you feel at ease. Contact us today to speak to a professional about a solution for your home.