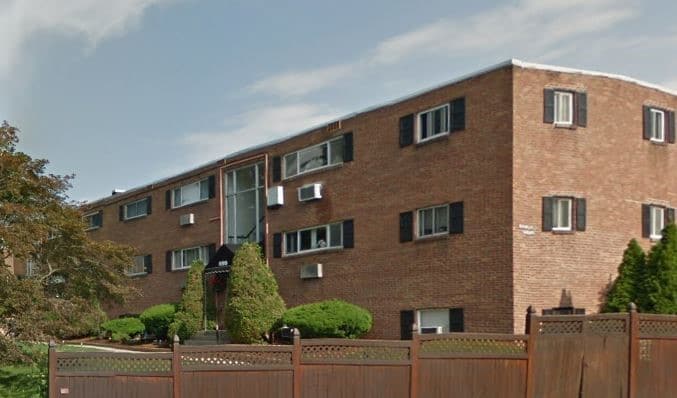 Older condos often use window air conditioners instead of central AC, making keeping the condo cool difficult. They're also unsightly and take up one of the few windows in the condo for half a year.
This condo owner had enough of dealing with lugging the window unit in and out twice a year. Here's what she decided to do.
---
Problem: Not only was the homeowner's window unit cumbersome, it didn't cool the condo effectively during hot New England summers.
Solution: We knew right away that a single-zoned ductless air conditioner would give her the relief she craved while also helping to lower her monthly costs on energy bills.
---
The Installation
The intense heat in Dorchester, MA, was becoming more than this condo owner could bear. Her condo did not have central AC, which left her with the tedious task of installing window AC units throughout her beautiful condo in the spring, to try and keep cool! Every spring she would dig the window units out of storage, install them in the windows, and then pay a fortune in energy bills all to find herself still uncomfortably hot amid the summer heat.
Desperate to find some relief, this condo owner investigated alternative cooling solutions that would help save on her monthly bills, offer efficient cooling throughout the condo, and not cost her a fortune to install. In her search, she came across N.E.T.R., Inc. the #1 Elite Diamond Dealer for Mitsubishi ductless AC in Massachusetts. After reading our library of great reviews from happy customers, she decided to give us a call and see if a ductless AC system was right for her.
Our Mitsubishi ductless specialists have dealt with hundreds of similar cases to this Dorchester condo owner, so we knew right away that a single-zoned ductless air conditioner would give her the relief she craved while also helping to lower her monthly costs on energy bills.
Because the ductless air conditioning system does not require any ductwork, she would have no invasive construction needed for the install. Instead, these systems function with a single outdoor condenser and some thin tubing that is run from the condenser to the wall unit inside the home. We were able to find a place just above the window to install the indoor unit that would maximize its effectiveness and allow us to run as little tubing as possible.
Because the indoor AC wall unit is installed above a window, we were able to run the tubing straight to the outdoor condenser, which was set on the other side of the window. This location was the perfect place for the condenser because it allowed easy access, without being in the homeowner's way.
The Benefits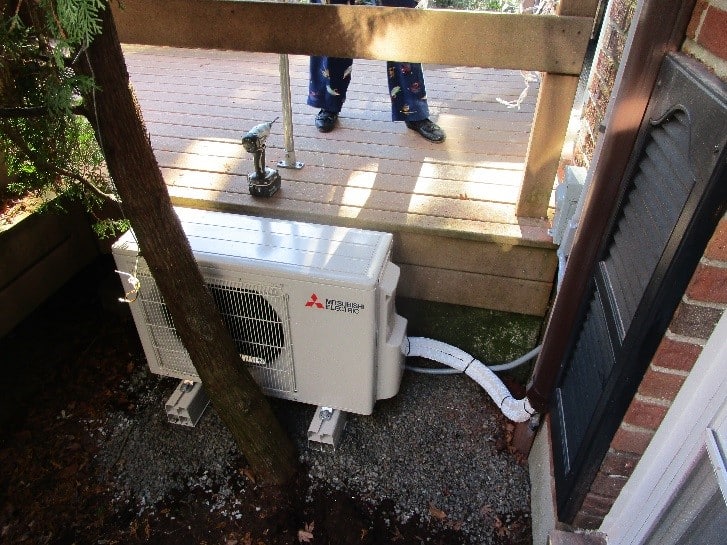 This homeowner was used to the inefficiency and noise of window AC units, so when we told her that the ductless system would be able to offer her whisper-quiet comfort throughout the space with a single indoor unit, she was thrilled. The indoor air conditioning unit is programmed to monitor not only the temperature of the room but the humidity level as well. This condo owner will never again have to sacrifice the beautiful views from her windows for a cooling solution that leaves hot and cold spots throughout her home.
Not only does this upgrade to her home offer her incredible relief during the summer, but because of the Hyper-Heating technology that is built into these units, she will also be able to adjust the warmth in her home come winter. Now, with just the touch of a button, she can have a cozy warm space on frosty mornings to help start her days off on the right foot. These heat pumps have even been proven to function in temperatures as low as -13F!
Because the indoor unit is controlled by a simple remote, our homeowner will be able to adjust the temperature of her home from the comfort of her couch, or even her bed! In addition to that convenience, there is always an option to add an upgrade to the system which will allow it to be controlled via the Kumo Cloud link. This technology would let her download a simple app on her smartphone and then control the temperature of her home from work or even on vacation!
Ultimately, our homeowner was able to get rid of her cumbersome window air conditioners and replace them with this single-zoned Mitsubishi Electric mini-split AC. The new system will provide her with the cooling relief she craved in the summertime and allow her to do away with any supplemental heating systems she was using in the winter. Not only that, but she'll be raking in the savings from month to month with her new, energy-efficient technology!
Is Ductless Right for You?
The Commonwealth of Massachusetts offers rebates for upgrading outdated, inefficient heating and cooling systems for more environmentally friendly options. Often, these Mitsubishi Electric ductless ACs qualify for savings with both Mass Save and Mass CEC.
If you are having trouble with your HVAC system leaving you sweating in the summer and shivering in the winter, contact N.E.T.R., Inc. today! We're happy to work together with you to design a system that is custom fit to your needs.