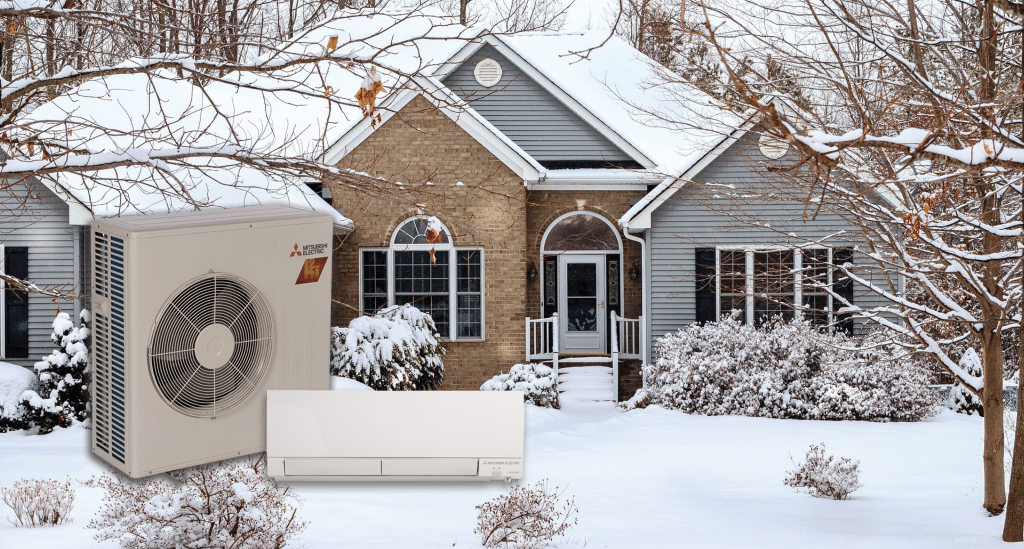 Heating
If you are looking for a reliable heating system to keep you warm during the cold months, you have a variety of options available to you. Many homeowners are turning to ductless HVAC because they can provide a home with comfortable heating without the need for a single foot of ductwork.
For older homes where there is no room to install a central heating system or for newer construction where the property owner wants to save space, a ductless heating system offers an energy-efficient solution.
How Ductless Heating Works
Ductless heating systems are a type of heat pump. Unlike a standard heat pump, which consists of a single indoor and outdoor unit, a ductless heating system has an outdoor unit which connects with multiple air handlers located on the interior of the property.
These air handlers are mounted on the walls of each room as needed. The handlers include a blower and a coil that send warm air straight into the space. True to its namesake, there are no ducts required for this heating system.
Ductless Heat Pumps vs. Baseboard Heaters
If you are trying to decide whether you should invest in a ductless HVAC system or baseboard heaters, it's important to note that the quality of baseboard heaters varies widely. Most baseboard heater models are noisy and provide poor and inconsistent temperature control. They get hot to the touch and children and pets can easily reach them thanks to their placement along the floor.
The two types of baseboard heaters, hot water and electric, are also less efficient than most ductless heating pumps. Although baseboard heating offers temperature control via room thermostats, often it is not possible to deliver a precise temperature to every room. The end result is that smaller rooms are often warmer than larger rooms in the same building when the property utilizes baseboard heating.
Ductless Heat Pumps vs. Central Heating
Indoor air pollutants can build up inside of the ductwork of a central heating and cooling system, which can spread dust, dirt, viruses, and bacteria around to every room where the ductwork is installed. This can cause people to experience allergic reactions, worsening asthma, and other problems.
Ductwork also needs to be periodically inspected for problems, which can become costly once maintenance tasks, such as sealing leaks, adding insulation and cleaning are added to the bill. On the other hand, ductless systems don't have these problems and are also much quieter than central heating systems.
Ductless Heat Pumps vs. Oil Heating
Oil furnaces use heating oil, which is a nonrenewable resource and an environmental pollutant. Annual heating costs are often significantly higher for individuals who use oil to heat a home versus a ductless heat pump.
Ductless Heating vs. Wood & Pellet Stoves
Wood & pellet stoves are a popular heating choice for the Boston area, but they result in uneven heating with spots that are too hot and spots that don't get any heat at all. Additionally, wood and pellets can be costly to buy and may be problematic for individuals with allergies.
Heat Pumps & Solar Power
To improve your residential or commercial energy savings even more, you may want to combine a heat pump with solar power. There are a few different ways you can explore this option. You can invest in solar panels that generate power, give it back to the grid, and offset your heating bill in the winter. But you can also opt for solar panels with batteries that allow you to power your heat pump whether you're connected to the grid or not. Of course, the solar power can also help offset cooling costs when you use the heat pump during the summer. To learn more, check out the following resources.
Mitsubishi Ductless Heating Systems
If you are interested in selecting a heating system that will produce many benefits for your property, then a ductless heating system from Mitsubishi Electric may be the right choice for several reasons:
Reliability
The advances in the heating performance of these units are unmatched in the industry. Mitsubishi's available H2i® technology can heat your space effectively even when temperatures outside are down to -13º F. The Hot Start technology delivers hot air as soon as the unit is powered on with no drafts.
Décor Options
Indoor units may be installed anywhere in the room — on the ceiling, on the walls or on floor. This gives you the freedom to select the option that works best with your space's décor. Choose from ceiling-recessed, horizontal-ducted, and floor-mounted indoor unit options.
Quiet Operation
Both the indoor and outdoor units are specifically designed to provide quiet operation. With the indoor unit operating as low as 19dB, the operation of your heating system will be quieter than a human whisper.
Wireless Control
Wireless control allows you to control your home's heating at the touch of a button. In addition, select M-Series indoor units are also capable of sensing troublesome regions to regulate ambient temperatures more closely.
Cost Savings
On average when you switch to a ductless system with a heat pump, you save approximately 40 to 60% and potentially even more on heating costs. Thanks to zone technology, ductless units never have to be run in an area where they're not needed, and beyond that, their design is also more energy efficient than options such as electric baseboard heating. Unfortunately, baseboards are often installed incorrectly, which allows cool air to seep into your home or building, and that makes them even more inefficient than they could be.
That said, when you choose a heat pump, the exact savings vary based on the cost of electricity, your climate, the size of your home, and other factors. Recently, when one of our clients added two Hyper Heat Mitsubishi heat pumps to their older home, they saw a 51% reduction in heating costs in the first month alone, and they got air conditioning for the first time in the home's 100-year history. Another family cut their heating costs by 60% in their first year with a Mitsubishi Electric system.
Smaller Carbon Footprint
Heat pumps do more than save you money. They can also help to reduce your carbon footprint. Again, the exact carbon footprint created by a heat pump varies based on the climate in your area and the way power is supplied in your area. For instance, if you're getting wind powered electricity, your carbon footprint is going to be smaller than someone who has fossil-fuel powered electricity, even if you have the exact same heat pump in similar climates.
To calculate the carbon footprint of a heat pump, find its HSPF specification. That's an efficiency rating. If you're in Zone 4, use that exact number, but if you live in Zone 3 or a warmer area, you will experience greater efficiency, and in Zone 5 or higher, your efficiency will only be about 85% of the rate in Zone 4.
So, if your HSPF is 11.3, and you're in Zone 4, you start with that number. Essentially, this means your heat pump produces 11,300 BTU per kilowatt hour of electricity used. To figure out the kWh per every million BTU, you need to divide that number into 1 million, which results in this equation: 1,000,000 / 11,300 = 88.50 kWh/MMBTU. Finally, multiply that number by the estimated carbon intensity per megawatt hour for your state. In Massachusetts, as of 2016, that number is 876 lbs/MWh or the equivalent of 0.876 lbs/kWh. When you take 88.50 kWh/MMBTU x 0.876 lbs/kWh, the result is 77.526 lbs/MMBTU.
That's your heat pump's estimated carbon footprint, and you can use these calculations to compare your heat pump to other heating options. Overall, if everyone in the country replaced their electric resistance heating systems with heat pumps, that would reduce residential energy consumption by 2%.
Ductless Heating Maintenance
Ductless heating systems require proper maintenance in order to protect your investment. Make sure to schedule maintenance for your ductless system before the season begins. In fact, we recommend that you have your system reviewed by a technician once in the spring and again in the fall, before colder weather sets in.
Ductless heating systems do require cleaning. A technician will remove and clean any indoor air quality components, build up from the condensate drain, the evaporator coil and more. These tasks ensure that your system works more efficiently, helping you to pay less on your monthly bills.
Maintenance also ensures that your system operates efficiently for longer. You will also save money by avoiding repairs that result from improper or poor maintenance of your system.
N.E.T.R. Inc. employs the Mitsubishi Electric's maintenance recommendations to ensure that your ductless heating system lasts for years to come. We can handle ductless heating systems installed in both residential and commercial properties.
How to Integrate a Heat Pump Into Your Current Heating System
A heat pump can be the perfect complement to your existing heating system. You can put in a heat pump to reduce your energy costs and add cooling to your home or commercial building, but in a lot of cases, you can also maintain your existing system as a back-up for really cold days. The specifics vary based on the type of heating system you currently use, and often, you can even receive rebates or low interest financing for complementing your existing heating methods with an energy efficient heat pump.
Ductless Heating Repair Services in Boston, MA
With nearly 30 years of service, we not only install ductless heating, we also provide repairs and maintenance for these systems. If your heating system is not providing hot air as it should or you need a technician to determine the problem, give us a call right away. We offer around the clock emergency repair services so that you won't be left out in the cold.
N.E.T.R. Inc. is the largest ductless contractor in New England, having installed thousands of ductless heating systems in the region.
We are a 100% compliant Mitsubishi Electric's Elite Diamond Contractor in business since 1989.
To find out if a ductless heating system is the right solution for your needs, get in touch with our specialists at N.E.T.R. Inc. We are familiar with the heating needs of homes and businesses in Boston, MA and we can provide you to with installation, repair or maintenance services that you require, all while providing excellent service.
Want to learn more? Contact us today for a free estimate by calling 781-933-NETR (6387).