Thinking about investing in a wall-mounted air conditioner? Wondering if you should make the switch or stay with your current cooling option? Here are 10 reasons that you should upgrade to a wall-mounted AC before the cooling season starts.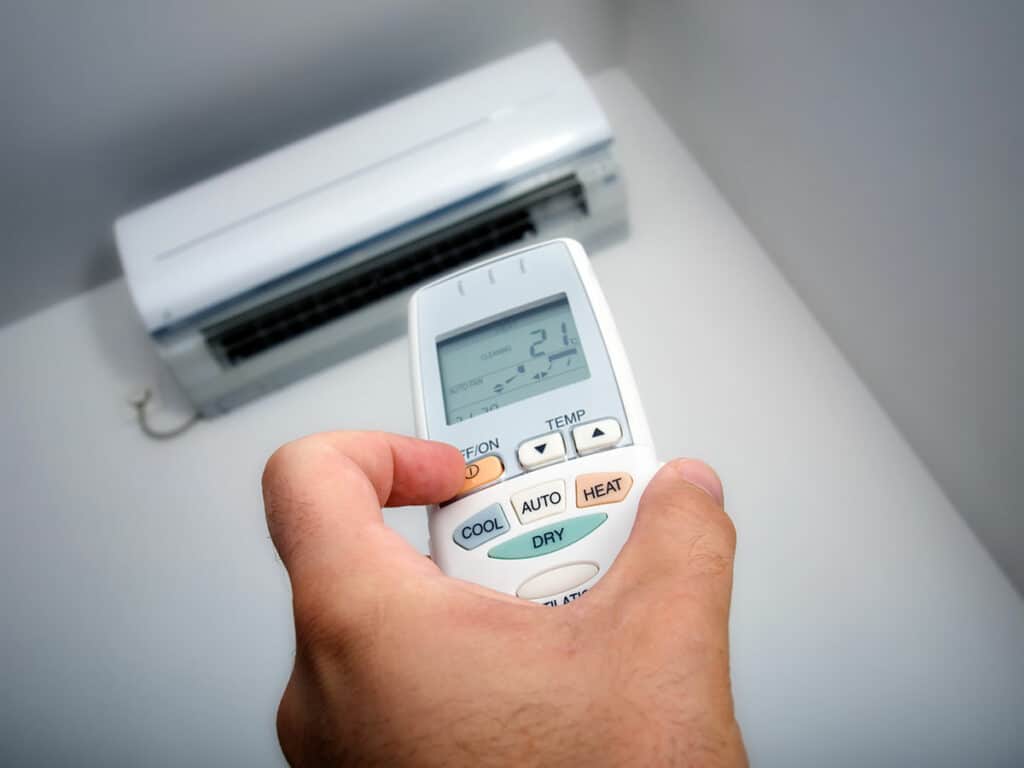 1. Summers are getting hotter in New England
If you've felt a little hotter over the last few summers, it's not your imagination. Over the last 12 years, nine summers have been hotter than average in Boston, and temperatures throughout New England are frequently higher than in Florida. Because of this, many homeowners are adding air conditioning to their homes — treat yourself.
2. Wall-mounted ACs make summer days more comfortable.
Hot, humid summer days can make your home feel unbearable, and wall-mounted ACs can be the answer. This is becoming even more important now that people tend to spend more time at home. If you're going to work from home or the kids are going to be home from school this summer, give yourself the comfort of a new air conditioner.
3. Wall-mounted ACs increase your livable space.
Wall-mounted ACs can also help to increase your livable space. Depending on your situation, you may want to put a wall-mounted ductless unit in a single room such as a home office or a bedroom.
Alternatively, if you already have central AC, you may want to use wall-mounted ACs in areas that aren't connected to your ductwork. For instance, you may want to turn the attic into a guest room or the basement into a playroom.
Similarly, many people put ductless mini splits in sunrooms. Although these rooms are called three-season porches, they're often only comfortable for two seasons of the year, but when you add a heat pump that provides heating and cooling, you get a room that you can use all year long.
4. Wall-mounted ACs don't require ductwork.
The two main choices for residential air conditioning are central air and wall-mounted ACs. If you have ductwork, you may want to consider central AC, but putting central AC in a home without ductwork requires extensive renovations which are often cost-prohibitive.
Wall-mounted ACs, in contrast, don't require any ductwork. They can be installed in any home, and if you already have AC, wall-mounted units are great for rooms that aren't connected to the ductwork.
The traditional option is a noisy, unsightly window AC or a wall-mounted AC that fits in a sleeve that goes into a hole in your exterior wall. However, you can also opt for a ductless heat pump that gets mounted to the wall and provides quiet, energy-efficient cooling.
5. Wall-mounted ACs are better than window ACs.
If you're currently using a window AC, you may want to upgrade to a wall-mounted AC. Ductless wall-mounted units are significantly more expensive than window ACs, but they also cool more effectively and run more quietly. Additionally, window ACs can compromise your security by keeping your window open, and they mar the curb appeal of your home.
In contrast, a wall-mounted ductless AC mounts to your interior wall. It is not visible from the outside of your home, and you can choose from many different designs to complement your home. Ductless offers a lot of advantages when you look at ductless heat pumps vs. window ACs.
6. You only need to install wall-mounted ACs where you want them.
You don't have to install wall-mounted ACs throughout your entire home. Instead, you just need to install them where you want them. For instance, if your basement is naturally cool, you may only want units on your above-ground floors. Or if you have trouble sleeping, you may want a wall-mounted AC in the bedroom, but you may feel fine without it in the rest of your home.
If you opt for a ductless heat pump AC, keep in mind that it connects to an outdoor condenser. There are single and multi-zone condensers. If you just get a single ductless wall unit, you only need a single-zone condenser, but if you want multiple units or if you want to be able to add additional units in the future, you will need a multi-zone condenser.
7. Wall-mounted heat pumps can also provide heating.
If you opt for a wall-mounted heat pump to provide your air conditioning, you can easily add heating. Surprisingly, it's not that expensive to add heat to a ductless air conditioner. If you just want supplemental heat, you should expect to spend about $200 to $400 more. With this option, you use the ductless heat pump until the outside temperature reaches about freezing, and then, you switch to your existing heat source. This improves efficiency without sacrificing comfort.
You can also choose to add hyper heat — this allows your heat pump to efficiently heat your home in sub-zero temperatures, and it doesn't require a backup heating source. This adds between $1,000 and $1,500 to the cost of a single-zone wall-mounted AC, and the price is higher if you add multiple zones to your home. However, when you consider the cost of furnaces, radiators, or other traditional heating equipment, the additional cost is not that expensive.
8. Wall-mounted air conditioners can improve your indoor air quality.
A ductless wall-mounted air conditioner can also improve the air quality in your home. These systems feature advanced filtration capabilities which remove dust, dander, and allergens from your home.
All wall-mounted ACs have filters, but heat pump ACs tend to have better filtration systems. They are also better for your home's air because of the way they handle condensation. With a standard window or wall-mount AC, the condensation drips into a pan, and then, it drains outside of the unit.
With a window unit, the condensation runs down the side of your home, and with a wall-mounted unit, it often leaks into the inside of the wall. Many homeowners find years' worth of decay and rot when they remove these units.
In contrast, with a wall-mounted heat pump, the condensation travels through a drainage pipe from the indoor unit to the outdoor condenser. You don't have to worry about the risk of water going into unwanted places or mold building up inside your unit.
9. Winter installations can be less expensive.
In some cases, when you upgrade to a wall-mounted AC before the cooling starts, you can access better prices. Some HVAC companies offer lower prices on off-season installations, maintenance, and repairs. However, this varies from company to company — when you call an HVAC company, they'll talk more with you about pricing.
10. You may qualify for rebates.
When you upgrade your cooling system to a more efficient AC, you may qualify for rebates. Groups such as Mass Save offer a variety of rebates for installing energy-efficient heat pumps, water heaters, integrated controls, and other equipment. You can also get rebates for tightening up your home's envelope or putting in ENERGY STAR-certified windows.
As of 2023, there are no MassSave rebates for most types of ACs, but you can get up to a $10,000 rebate for installing a heat pump that provides both heating and cooling.
Why You Should Choose a Ductless Mini Split AC
A wall-mounted AC with a heat pump can make your home more comfortable for the summer. Compared to window ACs and central ACs, wall-mounted ductless units also offer greater efficiency, more flexibility with layout, and more consistent comfort levels.
When you use a heat pump to air condition your home, it runs fans continuously to make subtle adjustments to the temperature in your home. This creates a more consistent cooling experience, and it helps to improve the efficiency of the system.
In contrast, window ACs, traditional wall-mounted ACs, and central ACs don't maintain a consistent temperature in your home. Instead, they power on when the temperature exceeds the target temperature on your thermostat, and then, they power off after they cool your home a couple of degrees. This constant on-off cycle leads to inconsistent temperatures, and it consumes a lot of energy.
Contact NETR, Inc to Talk About Wall-Mounted ACs
At NETR, Inc, we have 30+ years of experience in the HVAC industry, and we have also completed the highest level of dealer training with both Mitsubishi and LG. Want to talk more about the advantages of wall-mounted ACs? Want to set up a consultation with a comfort consultant to find the best options for your home? Then, contact us today.
Our goal is to make our customers as comfortable as possible. We customize all of our heating and cooling solutions to meet our customers' unique HVAC needs, and we also leverage financing and rebates to help our customers get AC that works with their budgets.