You've decided that you want a ductless heating and cooling system, and now, you get to choose your indoor air handling units. There are several different options in terms of capacity, style, and color, but perhaps the first decision you need to make is the type of mount. Ductless units can be mounted to your ceiling, wall, or floor. To help you out, this guide explains when you might want to choose a ceiling-mounted ductless unit over a floor or wall mount. If you have additional questions while reading, then contact us directly. At NETR Inc, we have extensive experience with all types of ductless mounts.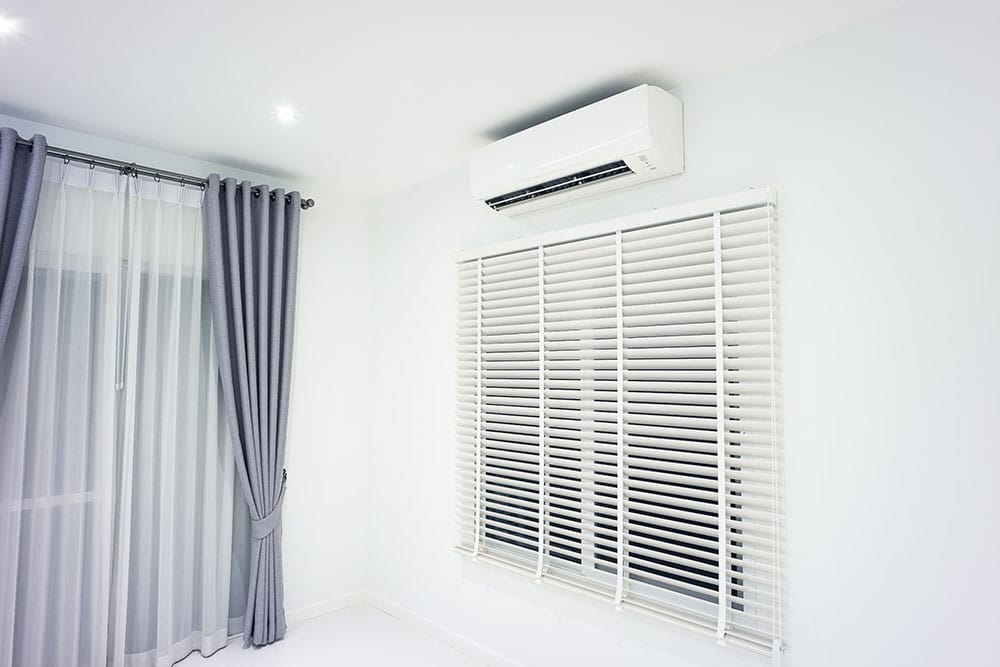 We can answer your questions over the phone or send a comfort consultant to your home to help you select the best option for your unique situation. In the meantime, here's what you need to know:
Ceiling Vs. Wall and Floor-Mounted Ductless Heat Pumps
The main distinction between ceiling, wall, and floor-mounted ductless units is where they are placed in your home. There are a few nuanced differences explained in the following sections, but the main difference is placement.
As indicated by the name, wall-mounted ductless units go on your wall. Floor-mounted units such as the MFZ-KJ floor-mounted indoor unit also go on the wall, but they're designed to sit very low on the wall and close to the floor. Ceiling-mounted units go in your ceiling.
Regardless of how they are mounted, ductless heating and cooling units feature similar technology — they all rely on a heat pump to heat and cool your home. They also all connect to a condenser located outside of your home.
Signs You Should Choose a Ceiling-Mount Vs. a Wall-Mount
Now, you understand the main difference between ceiling vs. wall-mounted ductless units. But how do you decide which option is right for you? Here are seven signs you may prefer a ceiling-mounted ductless unit over a wall-mounted unit.
1. You have minimal wall space.
One of the most popular reasons homeowners choose a ceiling-mounted ductless unit is because they have minimal wall space. For instance, this can apply if you are installing ductless in a three-season porch with big windows, in an attic with very short walls, or in a room that just doesn't have a lot of wall space due to fireplaces, built-in shelving, or wood paneling.
This isn't just about having ample space. In some cases, it's about the efficacy of the placement. To work properly, wall-mounted units need to be relatively high on the wall. This isn't possible if you're trying to heat and cool a room with short walls and sloped ceilings.
2. You prefer a cleaner aesthetic.
Many people opt for ceiling-mounted vs wall-mounted units because they simply prefer a cleaner aesthetic. Wall-mounted units come in a wide range of sizes and colors — you can even get units that let you put a picture in the unit so that it looks more like art than an appliance. But despite these options, some people simply don't want a ductless unit on their wall.
A ceiling-mounted ductless unit is much less noticeable than a wall-mounted unit. It hides the functional components in the cavity above the ceiling, and the grille sits flush with the ceiling. Whether you choose a rectangular or square-shaped ceiling-mounted unit, you get a clean, uncluttered aesthetic.
3. You don't want line hide running down the front or sides of your home.
Both ceiling and wall-mounted ductless units are connected to refrigerant lines, suction lines, drain lines, and electrical lines. These lines run from the indoor unit to the outdoor unit, and they go through a line hide that attaches to the side of your home.
With a wall-mounted unit, the lines run through down the side of the house next to the wall where you have installed the unit. A ceiling-mounted unit gives you more flexibility. With a ceiling mount, you can choose which side of the house you want the line to be on. You just need to run the lines through the ceiling to the desired side of the house.
To give you an example, imagine that you put a ceiling-mounted ductless unit in the middle of the ceiling on the top floor of your home. Then, you run the lines through the ceiling toward the rear of the house, and they run through a line hide on the back of your house. In contrast, if you put a wall-mounted unit in that room, the line hide would have to go along the wall where the unit was attached.
4. You have ample space in your ceiling cavity.
All of the above points are relatively subjective. They boil down to personal preference. Beyond that, you need to consider if your home can support a ceiling-mounted ductless unit.
Ceiling mounts work fine on the top floor of most homes, but if you want to put a ceiling-mounted unit on the first floor of your home, you need at least 10 inches between the ceiling and the floor. You also need to ensure that you have room to put in the unit — you may need to work around recessed lights or existing ductwork.
Note, however, that this only applies to recessed units. You can find ductless ceiling units that mount to your ceiling. These are called suspended units. They give you similar advantages to a recessed unit, but they are more noticeable.
5. You want multi-vane airflow.
Generally, ceiling-mounted ductless units blow the air in more directions than wall- or floor-mounted units. The rectangular unit features dual-vane technology that blows air in two directions, while the square unit offers multi-vane technology that blows air in four directions. The multi-vane airflow makes ceiling-mounted units ideal for large rooms or open spaces. This can be more comfortable than a wall-mounted unit that must blow air across the room.
6. You can afford a slightly higher price.
The exact price of a ceiling-mounted unit varies significantly depending on the unit you select, but in general, you should expect to pay a little more if you opt for a ceiling mount. If you're trying to keep your cost as low as possible, you should opt for a wall-mounted unit.
Ceiling-mounted units feature slightly more sophisticated technology than many wall mounts. As a result, they tend to cost a bit more. They also involve more labor during the installation process. The installer has to remove some of your drywall to fit the unit in, and if you opt for a square unit, a carpenter will need to cut through the rafters or ceiling joists and frame a box to support the unit.
7. A ceiling mount is the best option for that room.
If you're putting in whole home ductless, you will likely end up with multiple indoor units. Very small homes and apartments may be able to handle all of their heating and cooling with a single indoor unit, but in most cases, you need multiple indoor units.
You can choose to use the same unit throughout your home, but you don't have to. You may select a variety of units to meet the different heating and cooling challenges throughout your home. For instance, you may want a large-capacity ceiling-mounted unit for your open-plan kitchen and living area, while you may want smaller wall-mounted units for your bedrooms. Or you may decide that you prefer a ceiling mount for your attic or the extra room above your garage but you may want wall-mounted units for other parts of your home.
Contact NETR, Inc to Learn About Ceiling-Mounted Ductless Units
A ceiling-mounted ductless unit can provide air conditioning and heating to your home. Interested in learning more? Want help deciding whether a ceiling or wall-mounted ductless unit is right for your needs? Then, contact us today.
At NETR Inc, we have 30+ years of experience with heating and cooling. We work with both residential and commercial clients, and we have completed countless hours of dealer training from both LG and Mitsubishi — that means that our staff has completed extensive training to bring you the best products and the highest level of service.