When you have a ductless HVAC system installed, you can choose to have the outdoor condenser at ground level or it may be mounted on the wall. Ground-level condensers are the most common, but there are also benefits to wall-mounted units. Which is best for your home? Here's how to decide.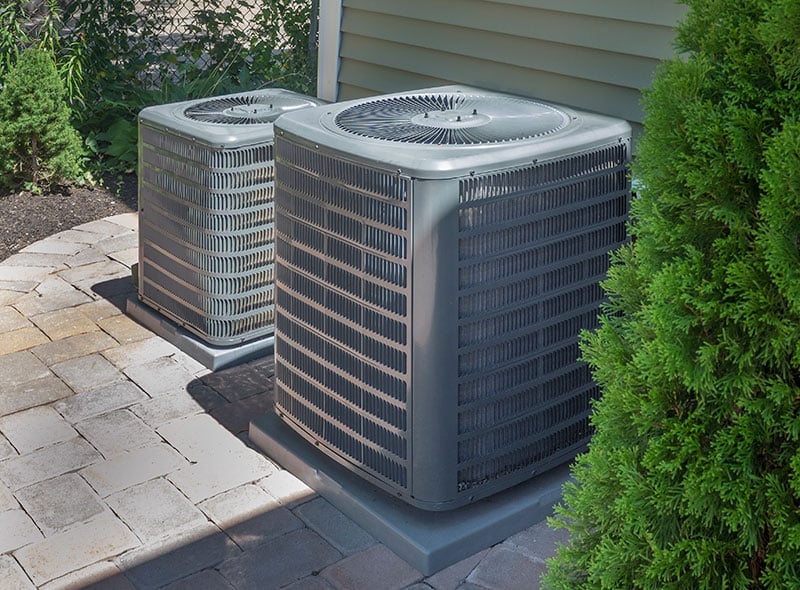 Ground-Level Ductless Installations  
Ground-level ductless installations are generally easier and less time-intensive than wall-mounted installations. No mounting brackets are needed; instead, this type of unit is placed on a flat concrete slab. It can also be placed on top of a layer of bricks or patio squares.
Having the outdoor condenser on the ground makes it easy to access for cleaning and maintenance, but offers no protection against insects, rodents, and other small animals. It should be mounted a few inches off the ground to allow adequate drainage of rainwater and condensation.
Other things to consider before choosing a ground-level installation are snowfall during the winter and vegetation growth during the spring and summer. You'll need to be able to keep snow from piling up on the top of the condenser, which can be tough during New England's frigid winters. When the weather is nice, you'll need to make sure the base of the unit stays free of weeds, leaves, and debris.  
Wall-Mounted Ductless Installations
Although a wall-mounted installation takes a little more time than a ground installation, it may be a better choice for your layout depending on where you live and the style of your home. Wall-mounted condensers are mounted on an exterior wall using metal L brackets, usually a few feet above the ground. In buildings with multiple stories, they can be installed even further up. The primary benefits of a wall-mounted condenser include deterring insects and rodents and preventing snow or weeds from obstructing the unit. Most homeowners that have a wall-mounted outdoor unit have to clean their units off much less frequently than homeowners with ground-level condensers. Not only is this more convenient, it makes heating and air conditioning more accessible to people who may not be able to go out and clean their unit off.
However, there are also some downsides to choosing to have your outdoor condenser mounted on the wall. You may not like the way it looks to passersby or it may interfere with the aesthetic of your home's exterior. It may also cause the wall to vibrate, particularly if your walls were built using poor-quality materials or the unit was installed by an inexperienced HVAC contractor. A properly mounted condenser should not cause excessive noise or vibration, even when placed on an outside wall.  
Which Ductless HVAC System Design Should You Choose?
In this case, one type of mount isn't inherently superior to the other. Rather, each mount has benefits and caveats that must be carefully examined and compared to the needs of the customer. Each home has unique factors to consider, such as climate, aesthetics, home materials, and more. 
If your home is in an area with a lot of snowfall and you have a rear-facing side of your house, a wall-mounted outdoor unit might be ideal. You can have the unit installed on the rear side of your home so it cannot be seen from the street. Or, you may want to choose a ground-level condenser if your walls are thin and are more likely to transfer noise and vibration from the unit.
Call the Boston HVAC Specialists at N.E.T.R., Inc. Today
It can be difficult to know which type of ductless HVAC setup is the right choice for your home and your heating and cooling needs. This is where an experienced contractor comes in and why they're one of your most valuable assets. Your contractor will conduct a comprehensive evaluation of the outside of your home and the grounds to determine which installation would be best. 
At N.E.T.R., our team of Mitsubishi Elite Diamond Contractors can help you decide where your outdoor condenser should be mounted and if you need more than one to achieve your desired home comfort. To learn more about ductless HVAC installation or to schedule a home visit to get a quote, contact our office by dialing (781) 933-6387. Before diving into why we recommend Mitsubishi Electric over other brands of HVAC equipment, let's recap the basic benefits of ductless heating and cooling: 
Unparalleled energy savings. Although the upfront investment in a ductless HVAC system can seem steep, the cost savings in electric bills over time will help the system pay for itself.
Independently controlled temperature zones. Don't worry about hot and cold spots or different people in your home feeling too hot or too cold. Ductless heating and cooling allows you to have independently controlled temperature zones, so you can have the room you're in set at a toasty 72 degrees Fahrenheit and another set at a cool 67 degrees when you're not using it or if someone else likes their space a bit chilly.
Improved indoor air quality. Window air conditioners, space heaters, wood stoves, and central heat and air all cause indoor air pollution, which can worsen allergies and put you at risk of developing chronic health issues. Ductless HVAC is the cleanest available heating and cooling.
Easy to clean and maintain. Central HVAC systems require duct cleaning from time to time, and wood and pellet stoves are almost impossible to get all the grime and soot off of. Ductless systems, on the other hand, require very little maintenance comparatively.
Reduced carbon footprint. Ductless heating and air conditioning generates the fewest carbon emissions compared to other options.
Why Mitsubishi Electric Edges Out the Competition
Newer Mitsubishi Electric ductless models include advanced comfort technology that makes your heating and cooling both better and less expensive.
Instant Hot Start gives you a burst of heat immediately upon turning on the unit, instead of getting an initial draft of cold air and having to wait for the system to warm up. This can be helpful during New England's bitterly frigid winters when you come in from the cold.
The 3D i-see Sensor® detects people in the vicinity and automatically adjusts the system's temperature level and airflow so you don't have to.
Kumo Cloud® controls allow you to control each ductless unit in your home independently via an app that can be downloaded to your tablet or smartphone. This enables you to adjust your HVAC settings from anywhere, so your space is at the right temperature whenever you arrive.
Hyper-Heating INVERTER® (H2i®) allows Mitsubishi Electric ductless HVAC systems to deliver consistent, comfortable heating in temperatures down to -13 degrees Fahrenheit.
Voted #1 Greenest HVAC. Variable speed compressor technology reduces energy consumption by about 40%, saving on electric bills and reducing environmental impact.
Multiple indoor unit designs allow you to place your air handlers on the wall, in the ceiling, just above the floor, or even above the ceiling or underneath the floor for great aesthetics.
Best-in-class warranties mean that when you work with a Diamond Contractor on your Mitsubishi ductless installation, your system is protected for 12 years.
N.E.T.R. Is a Mitsubishi Diamond Elite Contractor
N.E.T.R., Inc. is proud to be a Mitsubishi Diamond Elite Contractor. Mitsubishi offers in-depth, multi-stage training for contractors to become certified by the company. There are three certification levels: Diamond, Preferred Diamond, and Diamond Elite. Each level has a number of unique criteria that builds upon itself and touches on the five most important performance indicators in an HVAC contractor – training, marketing, sales, service, and customer satisfaction.
Customers can have full confidence in their HVAC installation when working with a Mitsubishi Diamond Contractor of any level. However, working with a Diamond Elite Contractor means you'll enjoy superior knowledge and unparalleled service.
Contact Our Expert Heating and Cooling Contractors Today
If you're considering your heating and cooling options, a Mitsubishi Electric ductless HVAC system should be on your list of solutions to explore. Our veteran contractors can come to your home or office and offer a comprehensive quote for a Mitsubishi Electric system designed specifically to meet your unique needs. Call today to speak with one of our heating and cooling experts by dialing (781) 933-6387.