A ceiling-mounted mini split is more discrete than a wall-mounted unit, and it offers better airflow for large rooms. However, in exchange for these benefits, you will end up dealing with a slightly more involved installation process. To help you prepare, this guide outlines what to expect.
Have questions? Want to talk more about the installation process for your unique home? Then, contact us directly. At NETR, Inc, we have the highest level of dealer training for the top ductless heating and cooling brands, and we work closely with our clients to customize their comfort solutions.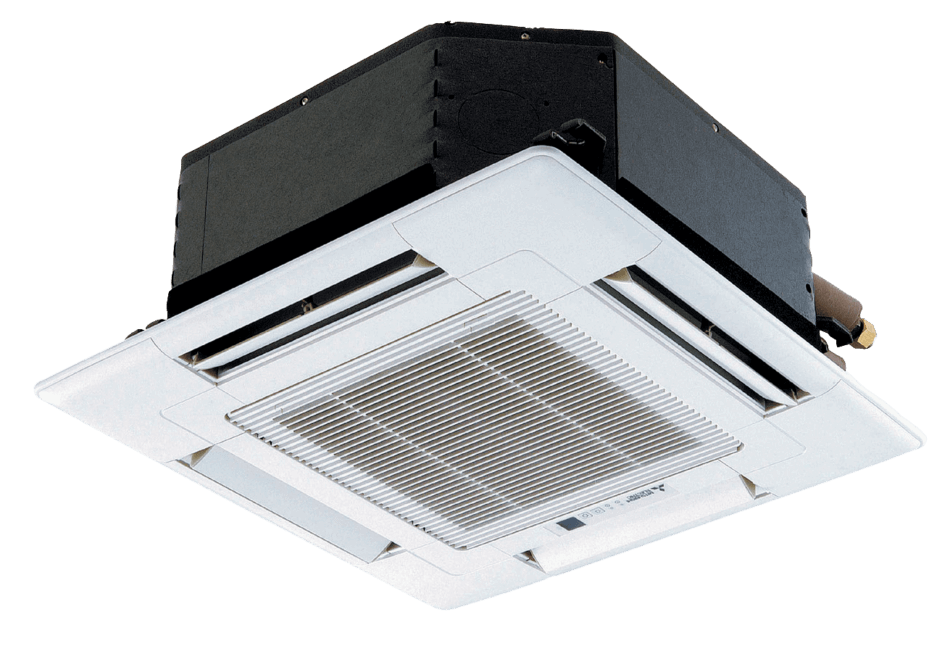 Can You Install a Ceiling-Mounted Unit in Your Home?
Most homes can accommodate a ceiling-mounted mini-split. However, to make sure that it works for you, we will send a comfort consultant to your home. They will help you determine how many indoor units you need as well as the capacity and location for each unit.
Ceiling-mounted units almost always work on second floors. They can easily recess into your attic or the space between your ceiling and the roof. For first floors or basements, you simply need to make sure that you have at least 10 inches of space.
Your comfort consultant can check this by removing a recessed light, and if that's not possible, they can make a very small hole in your ceiling to assess how much space you have. If your ceiling cavity can't accommodate a recessed mini split, you may want to consider a ceiling-mounted unit. These units are more noticeable than the recessed units, but they provide you with most of the other advantages of a ceiling mount.
The Basics of Mini Split Installation
Mini-splits consist of an outdoor compressor and one or more indoor air handling units. With most homes, the installer puts the outdoor unit on the ground on the side or back of your home. They typically choose the same spot you would normally put an AC condenser. However, in cases where space is limited, the installer may need to put the condenser on the roof of your home.
Once the outdoor unit is in place, the installer mounts the ceiling cassette and any other indoor units that you have selected. Then, they connect lines carrying refrigerant, electricity, and condensation between the two units. They make a very small hole for the lines to exit your home, and the lines run through conduits on the outside of your home.
Considerations for Ceiling Mounts
Because ceiling-mounted units recess into your ceiling, the installer will have to cut a hole in the ceiling. A lot of ceiling-mounted ductless units such as the Mitsubishi MLZ are designed to fit between the joists. These units are generally about 14 inches wide and 33 inches long. So, once the installer cuts the hole, the unit easily slides into the ceiling.
Other ceiling-mounted units, however, are squares instead of rectangles. For example, the Mitsubishi SLZ is about 22 inches by 22 inches square. This unit only has a slightly larger footprint than the other unit, but because of its square shape, it can't fit between the joists.
As a result, your installer will need to bring in a carpenter to prepare the ceiling. The carpenter will cut through the joists, and then frame a box to hold the unit.
The square ceiling-mounted unit requires more work during installation, but it offers multi-directional airflow which you don't get with the rectangular unit. If you have a drop ceiling with 2-foot x 2-foot tiles, you may be able to put a square unit directly in there without needing much carpentry work.
How Long Does Ceiling Mount Installation Take?
Generally, mini-split installation can be completed in a single day. However, if you need a lot of carpentry work, the process may take two days or more. For instance, the carpenter may prepare your ceiling one day, and then, the next day, the HVAC team can come out and install the mini split units.
Similarly, if you need to pour a concrete pad or do any other prep work for the outside condenser, that also increases the installation time. If you need to upgrade your electrical panel, that will also increase installation time. When you work with us, we can provide you with a very accurate estimate of installation timing.
Contact NETR, Inc and Improve Your Home's Comfort
Want to improve the efficiency of your home? Want more consistent heating and cooling? Then, a ductless ceiling-mounted mini-split may be the perfect solution. We can help you select, install, and maintain the ideal equipment for your home. To learn more or to set up an appointment, contact us at NETR, Inc today.