---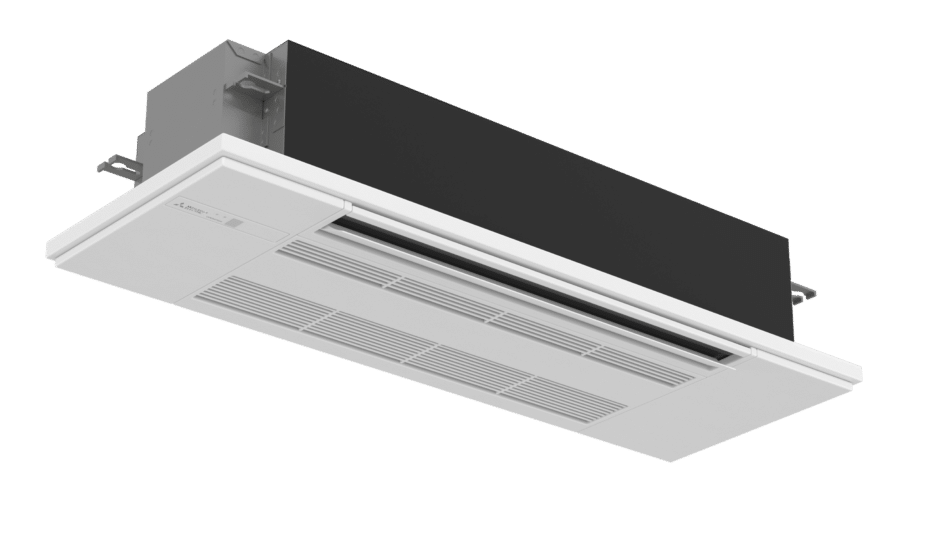 ---
The MLZ-KP EZ FIT® Ceiling Cassette recesses between your ceiling joists. It boasts a flush-mount appearance that doesn't distract from your decor, and it easily fits into shallow ceilings, allowing it to work perfectly in existing homes and new construction.
A single ceiling cassette can heat or cool a zone of your home— or use multiple indoor units for whole-home heating and cooling.
Features of the MLZ-KP EZ FIT® Ceiling Cassette
If you want to improve efficiency and make your home feel more comfortable, the MLZ-KP EZ FIT® may be the perfect solution for your needs. Check out the features of this ceiling-mounted ductless heating and cooling unit.
High/Low Airflow Settings
Customize the airflow on this unit to achieve the desired comfort levels for anyone in your home. The high setting increases airflow, heating or cooling your space quickly. The low setting provides a gentler heating or cooling experience.
Automatic Vane Control
Easily change the direction of the ceiling-mounted unit's airflow by adjusting the vane controls. With automatic vane controls, you can direct the unit to blow air directly toward you or away from you.
Econo Cool
The Econo Cool setting adjusts the amount of air blowing toward the occupants of the zone based on air outlet temperature. This allows you to reduce the temperature settings while still maintaining the same comfort level.
Swing Fan
Like an oscillating fan, the unit's swing fan moves the air through the room, maximizing comfort and reducing energy consumption.
MLZ-KP EZ FIT® Ceiling Cassette: Capacity, Volume, and Efficiency
The MLZ-KP EZ FIT® Ceiling Cassette boasts the following ratings for capacity, volume, and efficiency:
Capacities: 9,000 to 18,000 BTU/H
Choose indoor units with capacities ranging from 9,000 to 18,000 BTU/H. These capacities provide enough power to heat or cool areas from 350 to 1000 square feet.
Sound: as low as 21 dB(A)
With an operating volume as low as 21 dB(A), this ceiling-recessed unit makes about the same level of noise as the background noise in a library on a quiet day.
SEER: up to 22.3
The Seasonal Energy Efficiency Ratio (SEER) measures the unit's heating or cooling output in relation to how much energy it uses. Higher ratings are more efficient.
HSPF: up to 13.3
Heating Seasonal Performance Factor (HSPF) measures the heating efficiency of the heat pump. Again, higher numbers indicate higher levels of efficiency.
COP: up to 4.1
The coefficient of performance (COP) measures the useful heating or cooling in comparison to the energy consumption of the unit. The higher the COP, the more efficient the unit. Most ACs range from 2.3 to 3.5.
ENERGY STAR®: Yes
Due to its efficient SEER, HSPF, and COP ratings, the MLZ-KP EZ FIT® Ceiling Cassette has earned ENERGY STAR® certification. Only the most efficient products earring this rating.
Compatible Outdoor Units
The MLZ-KP EZ FIT® Ceiling Cassette is compatible with several different outdoor units. The right option depends on how many indoor units you need and the climate in your area.
---
Single-Zone Heat Pump
The single-zone heat pump can support one MLZ-KP EZ FIT® Ceiling Cassette. Use this outdoor unit if you're adding a ceiling-mounted indoor unit to just one zone in your home.
---
Single-Zone Hyper-Heat
Hyper heat capabilities allow this heat pump to work efficiently even in very cold temperatures. If you need single-zone heating or cooling in a cold climate, you may need to upgrade to hyper heat technology.
---
Multi-Zone Heat Pump
The multi-zone heat pump outdoor unit can support multiple MLZ-KP EZ FIT® Ceiling Cassettes, allowing you to heat and cool your entire home.
---
Multi-Zone Hyper Heat
This outdoor unit also supports multiple indoor ductless units, but it boasts hyper heat technology, allowing the ductless units to be your primary heating source regardless of cold levels.
Controller Options
Access all the great features of the MLZ-KP EZ FIT® Ceiling Cassette and easily change its settings by choosing one of the following controllers: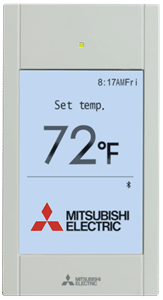 Touch MA Controller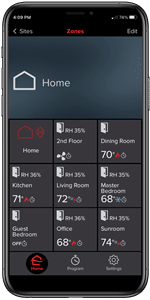 kumo cloud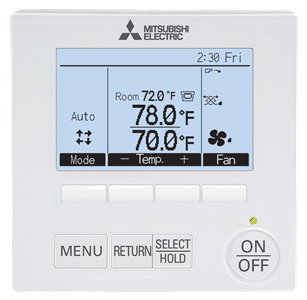 Deluxe MA Controller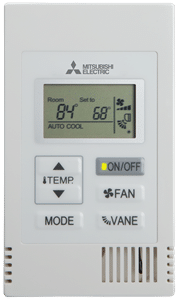 Simple MA Controller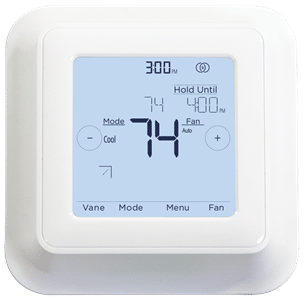 kumo touch Wireless Controller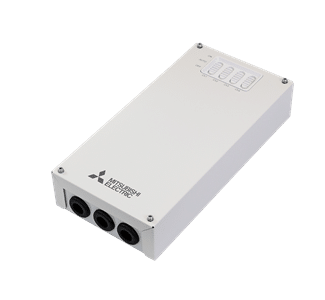 kumo station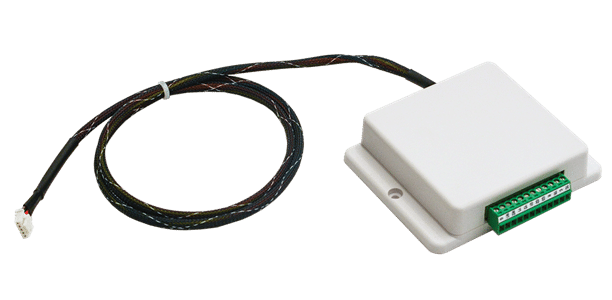 Thermostat Interface
Related Resources
Case Studies
When we take on new residential clients, we get to know their heating and cooling challenges, and then, we guide them toward the best heating and cooling solutions for their unique situations. Take a look at these case studies to learn more:
Want to look at more stories about how ductless heating and cooling systems have helped families in Massachusetts? Then, check out our residential case studies page and look for case studies based in your town or your type of home.
Insights and Resources
To help you learn more about ceiling-mounted ductless units and other ductless options, we've put together the following resources. Check out these blog posts or dive into one of our e-books.
Rebates
There are many great rebate programs that can help to offset the cost of installing Mitsubishi ductless systems in your home. Check out the rebates page to learn about the latest offers. At NETR, Inc, we also help our clients navigate the rebate process to ensure they get the most value possible.