A mini split with a ceiling cassette can cost anywhere from $4,000 to $20,000. With such a wide range, how can you possibly know what to expect? Ultimately, most homeowners discover that a mini split costs the same or slightly less than most traditional heating and cooling options, and it costs less to run.
However, there are many elements that affect the final cost. To help you out, we've put together this post that looks at the factors shaping the cost of a mini split with a ceiling cassette.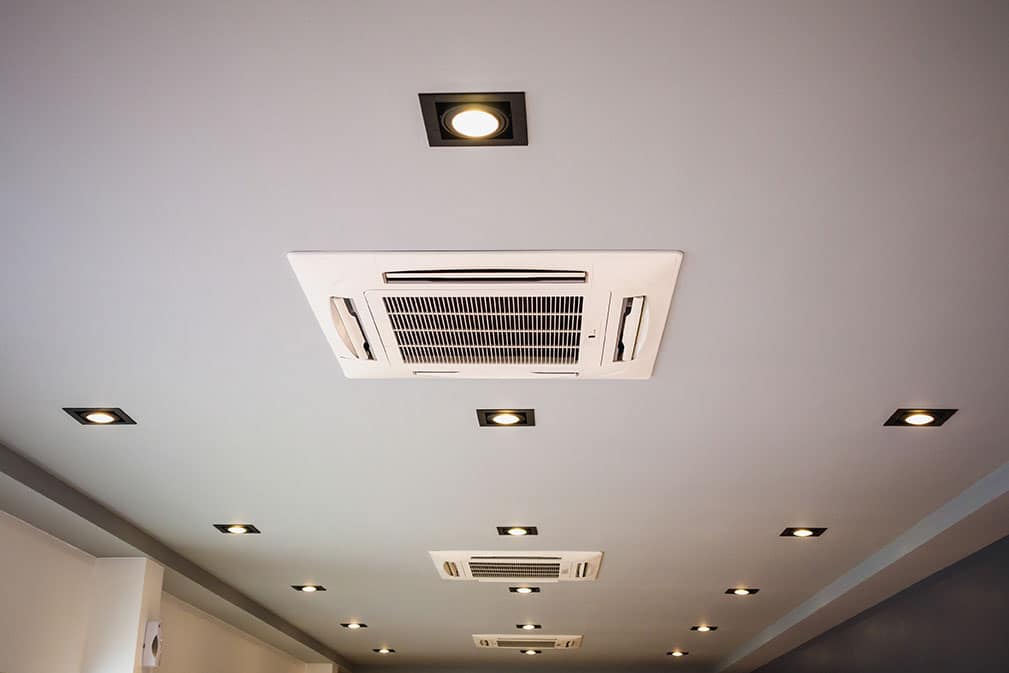 1. Number of Zones
The most significant factor affecting the cost of your mini-split is the number of zones. A single zone system only features one ceiling cassette, and that is the cheapest option. However, that really only works for small homes or for homeowners who only want to add ductless to one part of their home such as a basement, sunroom, attic, or garage.
Two or more zones increase the cost substantially. Unfortunately, you typically can't add one zone now and then increase the number in the future. Outdoor compressors are designed as single or multi-zone units, and you need to make this decision before you purchase your equipment.
2. Integrating Ductwork to Reduce the Number of Zones
Keep in mind that the number of zones your home needs is subjective. For instance, some homeowners opt to put a large capacity ceiling cassette in a great room, while others may turn that room into two zones.
Similarly, some people put a separate zone in each bedroom. Others put an air handling unit in the attic, and then, they duct the air to the bedrooms below. This allows the bedrooms to be in a single zone, but each room gets its own register that delivers hot or cool air through the ceiling. This can help to reduce the overall cost of your system.
3. Capacity
The capacity of your ceiling cassette also affects the cost of your equipment. The larger the capacity, the more you should expect to pay. However, you may end up with a range of capacities throughout your home.
For instance, if you put your main level on a single zone and then you put each upstairs bedroom in its own zone, the main level will need higher capacity equipment than your bedrooms.
4. AC Only or AC Plus Heat
All mini splits provide AC, but only some of them provide heating. Many of our clients in North Andover and the Greater Boston area turn to ductless because they want to add air conditioning to their homes, and a mini split with a ceiling cassette makes it easy to add cooling if your home doesn't have ductwork.
However, if you want to upgrade to a system that also provides heat, it's surprisingly affordable. Adding heat to a single zone often just increases the price by a few hundred dollars. The price goes up from there for multiple zones.
5. Climate and Heating Preferences
When you add heat to your mini split, you can choose between a standard system and hyper heat. If you only want something to supplement your existing heating method, you can install the standard equipment. With this option, integrated controls allow your mini split to heat your home most of the time. Then, when the temperature drops below a pre-set level, your furnace or other existing heat source kicks in.
Alternatively, you can opt for a hyper heat outdoor unit. This allows your ceiling cassettes to provide all of the heat that your home needs. Thanks to new technology, these systems work efficiently in sub-zero temperatures. Although most people think of the Boston area as very cold, there are only about 23 days every year where the temperature stays below freezing for the entire day, and you can measure the area's sub-zero temps in hours rather than days. In other words, a mini-split is a perfect heating solution for this climate.
6. Equipment Features
There are different types of indoor air handling units, and the features you select will impact the price you pay. For instance, a Mitsubishi ceiling cassette with four-directional airflow costs more than a cassette with dual-vane airflow.
7. Labor
Labor is one element that increases the cost of a ceiling cassette compared to a wall-mounted unit. With a wall mount, the installer simply connects the unit to the studs in the wall. They don't have to make any structural changes or do any carpentry work. In contrast, a recessed ceiling cassette must be put into the ceiling.
The installer must cut a hole in the ceiling to install the unit. Then, depending on the shape of the unit, they may have to do additional work. This podcast about ceiling cassettes explains the differences between installing a cassette that slips between the joists versus a square-shaped unit that is wider than the joists in your ceiling.
8. Compressor Installation Challenges
In some cases, you may need to add a concrete pad to host the outdoor compressor. This can add a few hundred dollars to the installation cost. If you live in a multi-family home or a home without a yard, you may need the compressor installed on the roof or attached to the side of your home. This also increases the overall cost of your system.
9. Electrical Upgrades
Some homeowners need to upgrade their electrical systems so that they can support the mini split. This generally only happens with homes that have old electrical systems, but you should keep the possibility in mind.
10. Distance Between Ceiling Cassette and Outdoor Unit
Beyond those installation considerations, you also have to consider the distance between the ceiling cassette and the outdoor unit. The installer runs refrigerant, drainage, and electrical lines between these pieces of equipment. The longer the lines, the higher the cost.
Contact NETR for a Quote Today
Want an accurate quote for a mini split with a ceiling cassette? Then, contact us today. At NETR Inc, we are a proud Mitsubishi Diamond Elite Contractor and an LG Pro Platinum Dealer. We can help you find, install, and maintain the best heating and cooling equipment for your home.