So, you've decided to buy a wall-mounted AC that cools your home with a heat pump — Congrats! Get ready to enjoy comfort and efficiency. Now, you just need to decide where to place your new AC. To help you out, we've put together this list of mistakes to avoid.
Want to talk with an expert about where to put your wall-mounted unit? Then, contact us today. Armed with 30+ years in the HVAC industry, we specialize in mini split ductless AC units, and we can help you find the best equipment and the best installation options for your needs.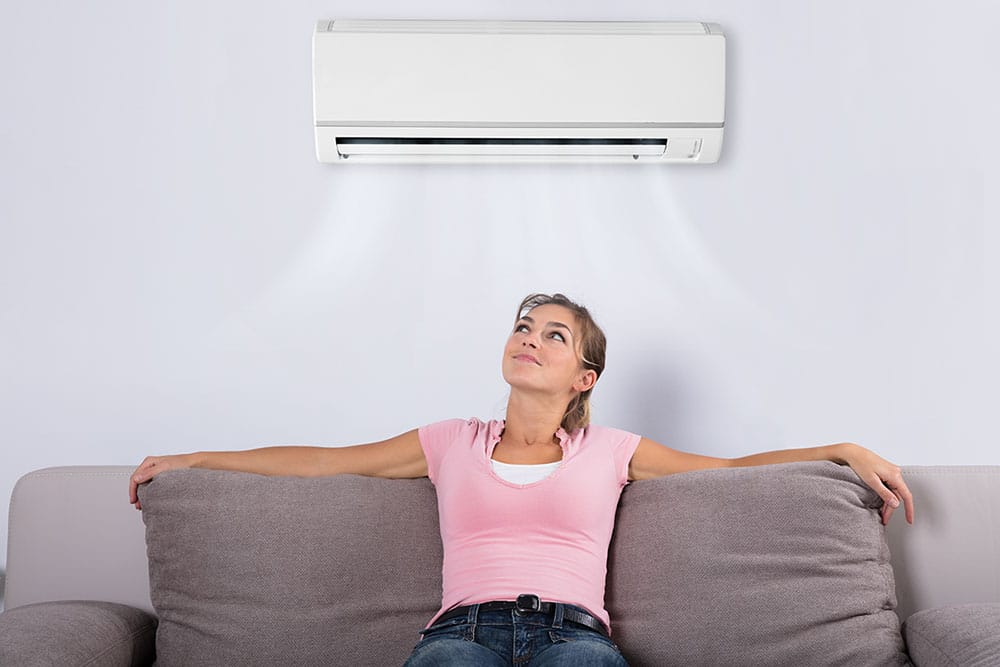 1. Don't Cram the AC Into a Tight Spot
You should avoid putting your wall-mounted AC in corners or other tight spots. That makes it hard to clean the filters and service the AC, and it can also compromise the airflow needed for efficiency.
Ideally, you should leave a minimum of about 2 inches around the sides, top, and bottom of your AC unit. However, this is just an estimate, and the exact amount of space can vary depending on the type of AC you select.
2. Don't Put the AC Too Low on the Wall
If your AC unit is too low on your wall, it won't be able to distribute cool air around the room as effectively as it should. For optimal cooling, most wall-mounted ACs need to go on the top third of the wall.
Dealing with short walls and sloped ceilings? Then, you may need to consider a floor-mounted heat pump rather than a wall-mounted unit. Floor-mounted ACs feature the same technology, but they're just designed to work a lot lower on your wall.
3. Don't Install the AC Unit on Sheetrock
You can put a wall-mounted heat pump AC on any wall. It doesn't need to go on an exterior wall like a traditional wall-mounted AC. However, you need to ensure that the wall has studs.
Most wall-mounted ACs weigh about 40 pounds, and they need to be stabilized to studs. Even if you find a model with a lighter weight, it generally still needs studs. If you don't have a wall that works in the place where you want the AC to go, you may want to consider a ceiling-mounted ductless unit.
4. Don't Put the AC by a Heat Source
Your wall-mounted AC has a built-in thermostat. If you place your unit by anything that generates heat, that will increase the temperature around your AC and cause the AC to run more often than necessary This includes kitchen appliances, very sunny windows, and anything else that creates a lot of heat in your home.
5. Don't Forget to Think About Airflow
To cool your home, the unit must be able to blow air into your room. To make this possible, don't place the unit behind furniture or anything else that may compromise its airflow.
6. Don't Place Wall ACs Across From Doors
If you mount your AC across from a door, it will blow air right out of the door. This will compromise the comfort of your room, but it will also reduce efficiency by forcing the unit to work harder than it should. Ideally, you want to place the wall-mounted AC so that it's directly across from a wall with no openings.
In most cases, you should mount the AC to the longest wall in the room. However, if there are doors on the wall opposite the longest wall, you should mount the AC to one of the shorter walls.
7. Don't Place ACs Opposite Each Other
If you're putting multiple wall-mounted ACs in a large room, you need to make sure that they can complement each other. If you place them opposite from each other, that can lead to non-uniform airflow. That will cause one unit to work harder than it needs to, which wastes energy and creates unnecessary wear and tear. Typically, in this situation, the best option is to place the ACs on the far edges of the same wall.
8. Don't Overlook How You Use the Space
Don't just put the wall-mounted AC into the middle of the wall. Instead, put it in the middle of your living space. To give you an example, imagine a living room where one side of the room is basically used as a thoroughfare and the furniture all sits to the side of this area.
To achieve maximum comfort, you should disregard the thoroughfare and place the AC so that it faces the middle of the area that contains the furniture.
9. Don't Try DIY AC Installation
The spot you select for your wall-mounted AC affects its efficiency and your comfort levels. To ensure your AC works as effectively as possible, you should opt for professional installation. Professional installers receive advanced training from companies like LG and Mitsubishi, and they know how to select the best possible spot for your wall-mounted unit.
They can also ensure that you select the right capacity for your cooling needs. Beyond that, if you install your own AC, you will usually end up negating the warranty. Before installing your own equipment, think very carefully about the differences between DIY and professional installation.
FAQs About Wall-Mounted AC Placement
Still not sure where you want to place your wall-mounted AC. To help you out, we've put together answers to some of the questions we hear most frequently from our customers.
1. Why is it better to put the AC on the upper part of the wall than the lower part of the wall?
Heat rises and cool air sinks. When your AC is too close to the floor, it won't cool your room as evenly. That is why it needs to be on the top third of the wall.
2. Should wall-mounted ACS be placed high or low?
To cool your room effectively, wall-mounted ACs should be at least five or six feet from the floor, but you also need to leave a bit of room for air circulation between the unit and the ceiling. If you don't have high enough walls, consider a floor-mounted air conditioner. These also go on the wall, but they're designed to be placed low on the wall.
3. What height should a wall-mounted AC be?
If you have 10-foot walls, your mini splits should be at least seven or eight feet high on the wall. Window ACs or wall-mounted ACs that go into a hole in the wall only need to be about three to four feet off the floor.
4. Can AC units be placed in the corner of a room?
Putting your AC unit in a corner compromises its airflow. Ideally, you want your wall-mounted AC in an unobstructed spot near the middle of the longest wall in the room.
5. Do wall-mounted ACs need to go on exterior walls?
Traditional wall-mounted ACs work like window ACs and must be on exterior walls. Installing a mini split ductless AC on an exterior wall is the easiest option, but you can install these units on any wall as long as it can support the weight of the unit.
Get Help Installing a Wall-Mounted AC Unit
At NETR, Inc, we are focused on the comfort of your customers. We can help you select the best wall-mounted AC for your home, and we'll install it in the optimal spot for your cooling needs.
When you contact us, we'll answer your questions, and we'll send a comfort consultant out to your home to help you decide on the best solution for your situation. We can also talk with you about upgrading your wall-mount AC so that it can provide supplemental heating or even replace your existing heating method.