A wall-mounted heat pump is the same thing as a wall-mounted ductless mini split. This type of ductless HVAC system can be used for both heating and cooling and helps home and business owners save money on their utility bills and reduce their carbon footprint.
Below, we discuss the benefits of wall-mounted heat pumps versus other styles of ductless installation and how you can get help from one of New England's most trusted heating and cooling providers.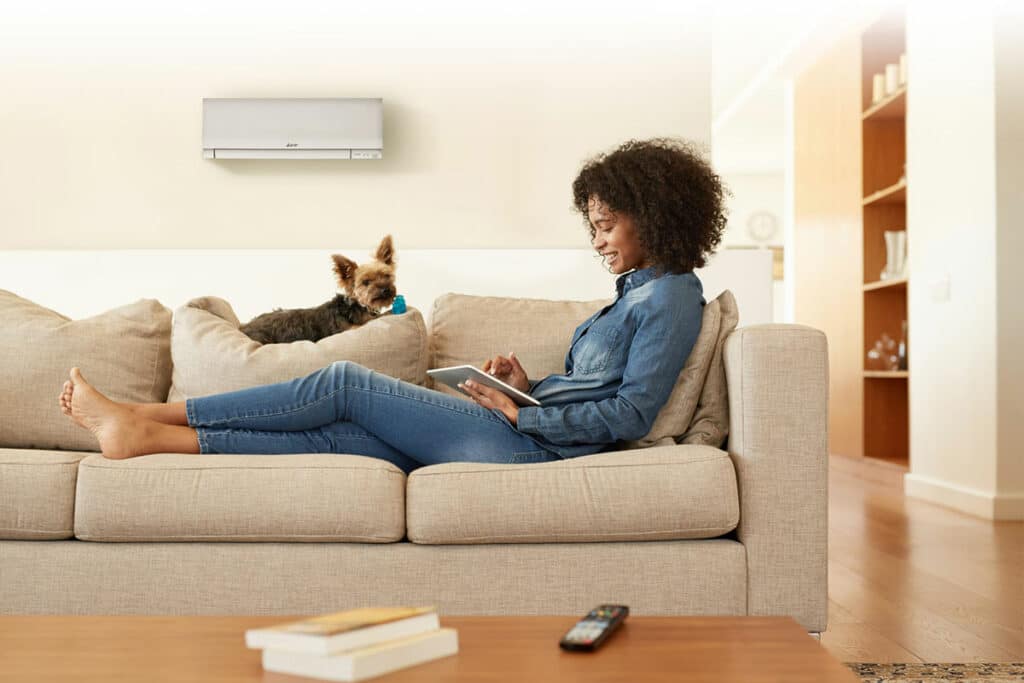 Heat Pump Technology Basics
Ductless HVAC uses innovative technology to capture heat and move it from one place to another instead of generating its own heat or air conditioning like other systems. In the winter, a heat pump collects warmth that is still present outdoors and pumps it into your home. In the summer, a heat pump collects warmth inside your home and transfers it outdoors. During this process, a ductless system is able to achieve better humidity control during the hotter parts of the year.
How Does a Wall-Mounted Heat Pump Work?
A heat pump that is mounted on the wall provides the best overall air flow, especially if the unit placement is designed to serve more than one space. A ductless unit on the wall sits horizontally in the center of the wall and vertically about 8″ to 12″ down from the ceiling. From here, airflow is unrestricted and when not installed in the vicinity of a door or window, there is no interference from warm or cool air that enters from outside drafts.
Thin metal tubing called refrigerant lines are run from the outdoor condenser inside to the wall-mounted ductless cassette, which only requires a very small point of entry into your wall. Up to five wall mounted sets can be connected to a single outdoor condenser unit.
Other Types of Heat Pumps
Although wall mounted heat pumps may be the most popular ductless HVAC setup, it's not the only one. Which type of mini split installation you choose depends on several factors, including but not limited to the layout of your home and budget.
Floor-mounted heat pumps. These ductless units are mounted about 6 in above the floor on the wall and are about the size and shape of an old-style radiator.
Recessed ceiling heat pumps. Recessed ceiling heat pumps are the most discreet type of ductless installation and the vents are set deep into the ceiling, not unlike recessed lighting.
Concealed duct heat pumps. Heat pumps can be placed in the wall near the ceiling in a duct for discreet use. The vents for a concealed duct heat pump looks similar to a floor register for a central heating and cooling system.
Benefits of a Wall-Mounted Heat Pump
There are a wide variety of benefits gained from having a ductless heating and air conditioning system, such as:
Energy savings. Switching to a ductless heat pump of any variety can save you between 30% and 40% on your overall energy costs.
Independently-controlled temperature zones. Each wall-mounted heat pump will have its own remote and can be set to a different temperature than other units in your home or office.
Reduced fluctuations in home temperature. Ductless HVAC technology allows you to keep your home at a controlled temperature and eliminate spots in your home that are too hot or too cold.
Better air quality. Because a ductless system does not push air through dirty and dusty ductwork to different rooms in your home, having a heat pump installed can drastically improve the quality of your home's air.
Some benefits that are specific to wall-mounted mini splits include:
More even air flow. Air from a wall mount flows downward from near the ceiling, which creates an even stream of warm or cool air. Compare this to floor mounted heat pumps, which need to push air upwards.
Easy maintenance access. A wall-mounted ductless cassette is easier to clean and maintain regularly than recessed ceiling units and concealed duct heat pumps.
Better aesthetics. Many people prefer the unobtrusive look of a wall-mounted ductless unit in their home compared to other styles of ductless installation.
N.E.T.R,., Inc. Is Your Trusted New England Heat Pump Provider
N.E.T.R., Inc. Is a veteran New England HVAC contractor that specializes in wall-mounted heat pump installations. Contact our office today to get answers to your questions about ductless heat pump technology and how it might benefit you, or to schedule a home visit from one of our experienced technicians to provide you with a quote for the cost of switching to ductless in your home.
Call now by dialing (781) 933-6387, or fill out our simple online contact form and our team will reach out to you as quickly as possible. Serving Boston, Massachusetts, and surrounding metropolitan areas on the North Shore.