---

---
The Mitsubishi MSZ-EF Designer-Wall-Mounted Indoor Unit provides an efficient way to heat and cool a single area of your home, or install multiple units for whole home comfort.
The sleek design of this wall-mounted unit makes it an unobtrusive and attractive addition to any room of your home. Choose from three great finishes to perfectly complement your space — glossy black, matte silver, or glossy white.
Features of the Mitsubishi MSZ-EF
This designer wall-mounted indoor unit doesn't just look great. It provides highly efficient heating and cooling at a very low operating volume, and its advanced filtration system protects the health of your home's air. Check out its great features:
Capacity: 9,000 to 18000 BTU/H
Boasting a capacity ranging from 9,000 to 18,000 British thermal units per hour (BTU/H), the Mitsubishi MSZ-EF can heat and cool spaces from 350 to 1,000 square feet.
Sound as Low as 21dB(A)
This sleek unit operates at a noise level of 21 decibels A (dB(A)). This is quieter than a whisper but a little louder than breathing. Most people think it's the same volume as leaves gently rustling outside your window.
Econo Cool
This intelligent temperature control feature improves comfort and efficiency by adjusting airflow in the room based on the air outlet temperature. Econo cool lets you raise the temperature on your AC setting by a few degrees without sacrificing any comfort.
Nano Platinum Filter
The nano platinum filter uses nanotechnology to absorb odors and pollutants at the molecular level. For maximum benefits, clean as needed and replace every 12 months.
Electrostatic Anti-Allergy Enzyme Filter
After the first filter removes odors, viruses, and bacteria, this anti-allergy enzyme filter uses enzymes to break down allergens like dust, pollen, and dust mites.  Advanced filtration removes particles that are a thousand times smaller than the diameter of a strand of hair, giving you and your family healthier, purer air to breathe.
Swing Fan
Swing fan operation ensures that air reaches all corners of the room you're heating or cooling. You don't have to worry about uneven heating or cooling like you often experience with ducted central HVAC systems.
To learn more about the great features of the Mitsubishi MSZ-EF Designer-Wall-Mounted Indoor Unit, contact us at NETR, Inc today. We would love to answer your questions.
Compatible Outdoor Units
The Mitsubishi MSZ-EF Designer-Wall-Mounted Indoor Unit can be supported by the following outdoor units. We can help you decide which option is right for your heating and cooling needs.
---
Multi-Zone Heat Pump
The multi-zone heat pump can support multiple Mitsubishi MSZ-EF Designer-Wall-Mounted Indoor Units so you can easily heat or cool multiple areas or your whole home. This option tends to be best for people in moderate climates or homes with a backup heat source such as a gas furnace.
---
Multi-Zone Hyper Heat
Hyper heat technology allows this multi-zone outdoor unit to heat homes in very cold climates, efficiently all winter long. Multi-zone means that it can support multiple wall-mounted indoor units.
Deluxe Handheld Remote
The deluxe handheld remote comes with this unit. It allows you to easily change the temperature or other settings. You can use the remote to adjust comfort levels without walking to the unit.
Controllers
A range of controllers can work with the Mitsubishi MSZ-EF Designer-Wall-Mounted Indoor Unit. Choose the controller or thermostat that works the best for your situation and enjoy the ability to conveniently change your settings. The following controllers are all compatible with this attractive wall-mounted unit.
See our Mitsubishi controllers page for more details.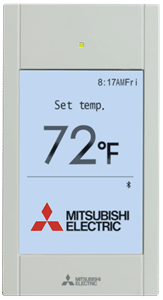 Touch MA Controller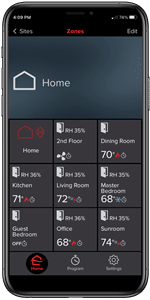 kumo cloud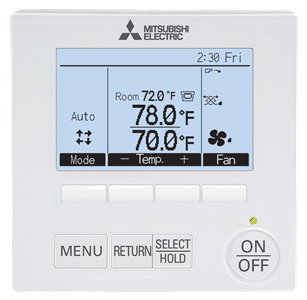 Deluxe MA Controller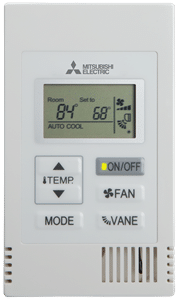 Simple MA Controller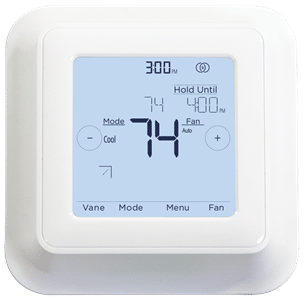 kumo touch Wireless Controller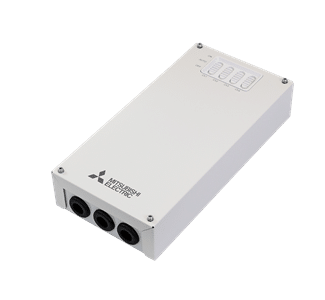 kumo station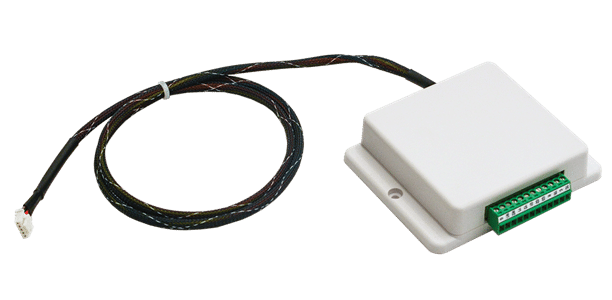 Thermostat Interface
Related Resources
Case Studies
We have worked with numerous homeowners in the Massachusetts area. Look at our case studies to see how these wall-mounted units have improved efficiency and comfort for our past clients. Or check out the residential case studies page to find more success stories in your area.
Insights and Resources
Want to learn more before deciding if the Mitsubishi MSZ-EF Designer-Wall-Mounted Indoor Unit is right for you? We've put together a few resources to help you learn more about wall-mounted units and hyper heat technology.
Rebates
The Massachusetts government is committed to improving the energy efficiency of the state, and to help homeowners upgrade to energy-efficient heating and cooling solutions, the state and other entities offer a number of rebates. Check out our rebates page to learn how you can save when installing a wall-mounted unit with a heat pump.