---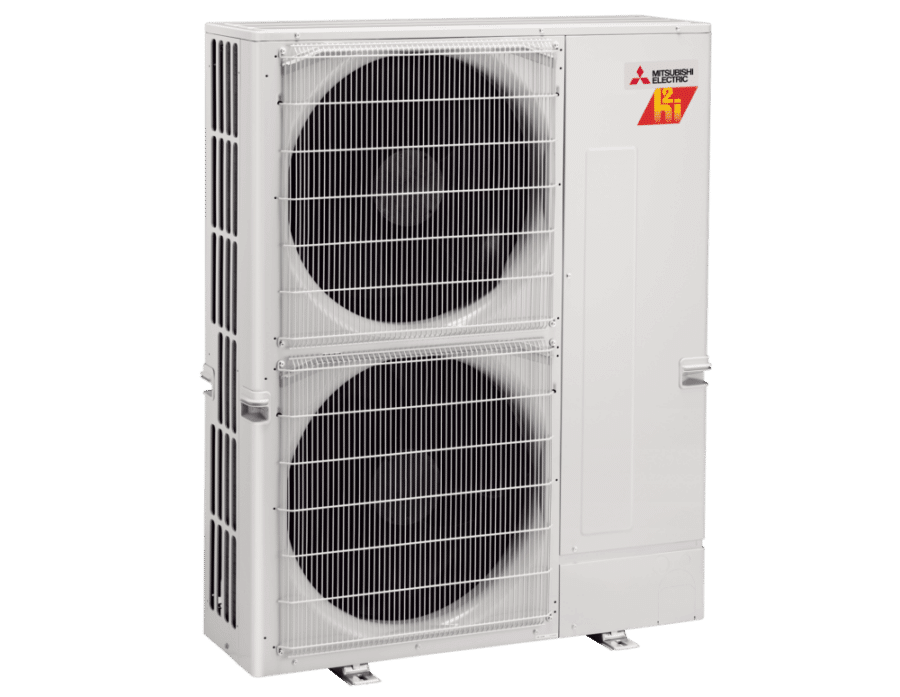 ---
The Mitsubishi multi-zone hyper heat pump can heat and cool multiple zones of your home. Even in frigid, New England winter temperatures, the hyper heat technology keeps your home warm and cozy all season. Use this technology to make your home more comfortable all year long, and enjoy savings of up to 40% on your home's energy bills. Its compatibility with a variety of indoor units makes it the perfect outdoor unit for keeping your home comfortable in every season.
To help you decide if the leap to Mitsubishi electric is right for you, we've put together the following guide. Or you can contact us directly — We love talking with homeowners about the benefits of Mitsubishi heating and cooling.
How Hyper Heat Multi-Zone Units Work
An indoor air handling unit gets placed in each zone of your home. Up to eight indoor units can attach to a multi-zone outdoor unit. Once installed, the hyper heat pump can cool your home during the summer and keep it warm during the winter.
The system uses electricity and refrigerant to heat and cool your home. During the winter, the refrigerant extracts the warm air from the outside and brings it into your home. In the summer, the process flips and the refrigerant carries the warm air away from your home.
Inverter-Driven Technology Reduces Energy Consumption
To help you save money all year long, the heat pump uses inverter-driven technology. The inverter runs all the time, and as needed, it gently adjusts its power levels to address minute discrepancies in temperature. This process keeps each zone in your home at a comfortable, consistent temperature.
In contrast, traditional systems generally run on full -power until your home reaches the temperature on the thermostat. Then, they turn off and only thunder back on when the temperature changes. The constant on-and-off uses a lot of energy, makes a lot of noise, and creates inconsistent cooling or warmth.
With a heat pump, you don't have to worry about any of these issues. The system provides even heating and cooling. It uses as little energy as possible. And it runs very quietly. Most outdoor units are about the noise level of a whispered conversation, while indoor units are as quiet as gently rustling leaves.
When to Choose Multi-Zone Hyper Heat
The right heating and cooling solution depends on your unique needs. Here are some signs you should consider a multi-zone hyper heat solution.
You live in a cold climate and you need a high-powered heat pump.
Your home has multiple zones that need to be heated and cooled.
Your existing heating solution is old and inefficient.
You don't have AC or are tired of using window AC units.
You want to improve the qualify of your indoor air with advanced filtration.
You want an HVAC solution that doesn't require you to disrupt the architecture of your home with ductwork.
You're struggling with unwanted hot and cold spots.
If you just want to heat and cool a single zone, you can still enjoy the power of hyper heat technology. There are single-zone hyper heat outdoor units designed specifically for homeowners who need single-zone heating or cooling.
Related Resources
Case Studies About Hyper Heat in MA Homes
Clients from all over Massachusetts have worked with us to solve their heating and cooling challenges. Take a look at these case studies to how we have helped homeowners improve comfort and efficiency.
Or search by town or home type to see residential case studies that mirror your situation. We also invite you to contact us directly for a consultation.
Learn More About Hyper Heat Technology
Hyper heat technology has been around for decades, but it has changed and improved significantly during that time. Now, you can use hyper heat as a supplemental heating solution or as a standalone heating method.
To help you learn more, we've put together the following resources:
We also encourage you to download the hyper heat brochure to learn more about this technology. This brochure explains the benefits of Mitsubishi heating and cooling, and it outlines the features of the indoor units that are compatible with these systems.
Rebates for Hyper Heat Outdoor Units
When you decide to improve your carbon footprint with a hyper heat outdoor unit, you may earn a rebate. Rebates can help you offset the cost of investing in this technology. We keep an up-to-date rebates page so our customers can learn more, and we can also help you apply for rebates.